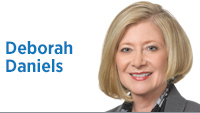 Seeking to preserve the rights of individual residents of Indiana, our legislators have made it more difficult for law enforcement officers to protect members of the public from crime.
They passed a bill that will make it unnecessary for any person over 18 to obtain a gun permit to carry a handgun in Indiana, joining 22 other states with similar language. The majority have adopted it just since 2016.
I choose to believe that the bill was passed with good intentions. The Supreme Court in recent years ruled that the language of the Second Amendment to the Constitution secures the individual's right to bear arms, and I do not disagree with that interpretation. In order to reach a different interpretation, one would have to ignore the plain language of the framers.
I would point out, however, that our constitutional rights come with qualifiers. Slander and libel are exceptions to the First Amendment right of free speech, and we all know that to yell "fire" in a crowded theater is not protected by that amendment. We maintain laws that prohibit some people from carrying handguns; they are limitations on the Second Amendment. But the new law will complicate the tasks of determining who is not permitted to carry a gun and of getting illegally possessed guns off our streets.
No one can deny the obvious impact of the new law on law enforcement. At a time when we are demanding that our law enforcement officers do a better job of protecting us from the violent crime plaguing our cities, suburban and even rural areas, we now make it impossible for officers to determine at the point of a traffic stop or other encounter with an armed individual whether that person is permitted to carry a weapon.
And reducing crime, especially violent crime, is critical to both the safety of our residents and the strength of our economy. People won't come here if it's not safe.
In researching this article, I discovered that, in recent years, Indiana has complicated the job of law enforcement in other ways as well. For decades, we have appropriately protected the right of individuals to use reasonable force, including deadly force when justified, to prevent harm to themselves or other persons.
That law, originally passed in 1976, has been amended several times in recent years. We have added a "castle doctrine"—the right to protect one's property from invasion. We have added the trendy "stand your ground" provision, clarifying that a person has no duty to retreat in the face of an imminent threat to himself or another person or his property. I take no issue with these but don't think they were necessary; the new language is merely surplusage.
Of greater concern to me: Another recent amendment states that individuals have a right to use force, including deadly force, against law enforcement officers—unless they "reasonably believe" the law enforcement officer is acting lawfully or is engaged in the execution of his official duties.
So, now, law enforcement has to prove a person's subjective belief about their intentions if that person used force against them while they were lawfully engaged in their official duties—and the law seems to encourage forceful resistance to police officers. This is a prescription for tragedy.
We need to be more cautious about legislative language and consider carefully its unintended consequences to our society and our economy. And while we're at it, we might cut law enforcement some slack as they do their best to protect us despite these handicaps.•
__________
Daniels, an attorney with Krieg DeVault LLP, is a former U.S. attorney, assistant U.S. attorney general, and president of the Sagamore Institute. Send comments to ibjedit@ibj.com.

Click here for more Forefront columns.
Please enable JavaScript to view this content.