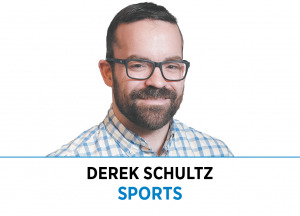 As their 20-point lead shrank to 3 nearing the two-minute mark of their critical game against the hated New England Patriots two Decembers ago, the Colts needed to be rescued.
Indy's defense was gassed, having been on the field for most of the AFC-leading Patriots' second-half rally, including an effortless, 82-yard touchdown drive the previous possession. Carson Wentz, then Indy's erratic quarterback, had thrown a costly interception earlier in the quarter and had accounted for an anemic 57 passing yards on the night. From the fan in the very last row of the 600 level at Lucas Oil Stadium to a sloppily dressed Bill Belichick brooding on the opposing sideline, everyone packed in the building at that moment knew the Colts were about to call upon star running back Jonathan Taylor to save the day.
Head coach Frank Reich and offensive coordinator Marcus Brady were so worried about the predictability of calling another run play for Taylor that they considered throwing on 2nd and 8 from Indy's own 33-yard line. That was until Reich thought better of it. "I thought, 'There's no way anyone is catching him,'" Reich told reporters after the game, and he was exactly right.
Facing a loaded box, with nine Patriots defenders knowing exactly who was about to get the football, Taylor took the handoff from Wentz and exploded through the powerless New England defense, winning a foot race with Pro Bowler J.C. Jackson for a 67-yard touchdown run—the knockout blow in a 27-17 Colts victory. The euphoric eruption from the crowd signaled not only a long-awaited respite from the Patriots' dominance in the one-sided rivalry, but also the national arrival of a new face of the franchise in Taylor, Indy's second-year superstar.
For a fleeting moment on that December night in front of a prime-time TV audience, it appeared Jonathan Taylor and the Colts were rising to championship contention together, aligning to put the NFL on notice like those Peyton Manning-led teams did for so many years in this town. However, 18 months, five total Colts wins, and a messy contract dispute later, perhaps those hopes are gone forever.
This column isn't going to be a discussion of how Jim Irsay has handled Taylor's contract dispute, the cratering running-back market in today's NFL, or ill-conceived tweets from Taylor's mouthy agent, desperately trying to create leverage for his client who has no good cards to play. You already know how we got here with the Colts running back—what's important is that we're here.
Other high hopes dashed
This latest crumbling relationship with an Indianapolis sports star has become another example of how things in the sports world can seem to be heading in one direction, before turning on a dime and rapidly retreating the opposite way. Indianapolis fans are no strangers to this occurrence, as it has frequently befallen them in recent years.
They went through it with Andrew Luck, whose healthy first three seasons were supposed to be a harbinger of the next era of Colts Super Bowl contention. Instead, Indy would make the playoffs just once more in his final four seasons on the roster, as injuries cost Luck half of the 2015 campaign and the entire 2017 season.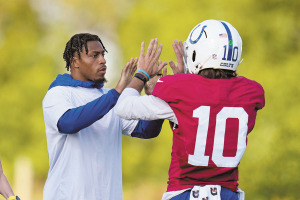 It's happened to the Pacers, too. When a young Paul George sat down on stage with Jimmy Kimmel in January 2014, Blue and Gold fans were excited to show off their diamond in the rough to the rest of the nation. George shined in that appearance and on the court the rest of that season, earning All-NBA and All-Defensive honors as the best player on an Indiana team that earned the top seed in the Eastern Conference.
After a third straight elimination by LeBron James and the Heat in the conference finals, George snapped his leg in half with Team USA that summer, and a tidal wave of well-wishes from Pacers fans followed. PG healed but the team didn't, failing to win a playoff series in each of his next three seasons, and George chose an exit over an extension, forever fracturing his relationship with Indiana in the process.
Fans were given hope again when George's replacement, Victor Oladipo, immediately took the city by storm in the months afterward. The beloved former Hoosier standout was rocketing to stardom while leading a surprise 2017-2018 campaign for the Pacers until a ruptured quad tendon halfway through his encore season took him out of commission for over a year. A back-and-forth with the team over whether he'd return to the NBA's COVID-19 bubble in 2020 and increasing rumors that Oladipo was trying to orchestrate a departure behind the scenes, led to his trade in early 2021.
Fast downhill slide
For all three of those former Indy stars, it was more of a slide from grace than a spiral. For Taylor, though, last week was certainly the latter. Even if some hurt feelings were carried over from the weeks and months prior, for Taylor to end up as a surprising and late addition to the physically unable to perform list (how he landed there is currently up for debate), to his agent sparring with the team's owner on social media, to a trade demand going public after the two sides were unable to reconcile during a face-to-face meeting on Irsay's luxury bus, is a shocking chain of events.
Clearly, the relationship was going south before then, but the heat got turned up from a two to 10 over the course of just six days.
The biggest question right now isn't whether the Colts will trade Taylor or what exactly his financial demands are, but whether this once-prosperous relationship remains salvageable.
If Taylor chooses to hold out, he costs himself money and becomes unable to accrue a fourth NFL season, meaning he would be a restricted free agent (Colts could match any offer) rather than an unrestricted one next winter.
Even after this loud and public kerfuffle, Taylor's best option is to swallow his pride and try to parlay a healthy and productive 2023 season into the contract extension he's not currently being offered. Building a strong rapport early with rookie quarterback Anthony Richardson could make Taylor more valuable in the Colts' eyes, and returning to All-Pro form like he was in 2021 would make Taylor more attractive on the open market.
Perhaps that offer, from either the Colts or one of the other 31 NFL teams, never comes, and Taylor is forced to accept the dwindling market conditions all running backs are facing. Maybe Taylor and the Colts bury the hatchet, and he flourishes this season and beyond—he's still only 24 years old, a prime window even for a position with a notoriously short one. Or, perhaps, like so many recent Indy stars that came before him, his peak here came early, and we've already seen the best of Taylor in a Colts uniform.
Hopefully, a reconciliation between the Colts and Taylor is still on the table, because that December night against New England was supposed to be a beginning, not an end, for the two sides. Having already seen this movie many times over the years, sports fans in the Indianapolis theater deserve to finally see a full show from one of their beloved stars.•
__________
From Peyton Manning's peak with the Colts to the Pacers' most recent roster makeover, Schultz has talked about it all as a sports personality for more than 15 years. You can follow him on Twitter, @Schultz975.
Please enable JavaScript to view this content.