It could be months—maybe longer—before downtown is bustling again with the office workers who help restaurants and other retailers thrive. And the wait might be a death knell for some of those retailers.
While the Mile Square has started to ramp back up after the coronavirus pandemic sent workers home in March, many large companies say they're not rushing to bring employees back.
Some employers have made returning voluntary through the end of the year. Others won't require workers to come back until a vaccine is available.
Brad Segal, president of Progressive Urban Management Associates, a Denver-based group of real estate economists and planners, said it might be 12 months before offices return to full capacity, depending on the virus's spread. A second wave of infections in the fall might prevent employers who planned a return to the office then from doing so.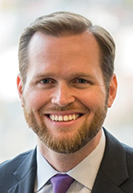 About 155,000 people normally work downtown, fueling the economy by parking, eating out and shopping. When those employees started working from home, downtown businesses were crippled.
"Generally, we have this downtown ecosystem that has been built with the downtown commuter in mind. We have parking garages, restaurants, coffee shops, business services that support businesses downtown," said Bob Schultz, vice president of marketing for Downtown Indy Inc. "It's the urban center of our community. When that workforce is not physically there, the ancillary services that are there to support them will go without support or patronage."
Based on a quick survey of business executives last month, Downtown Indy expects 35% to 40% of the Mile Square's workforce to return by the end of summer. But a rise in virus cases, which many states adjacent to Indiana are already experiencing, could lead employers to extend the period of remote work.
Downtown Indy is now conducting a more thorough survey, to gain a better idea of what employers are thinking and how long they might wait to bring staff back. The results could put Downtown Indy in a better position to help struggling service providers.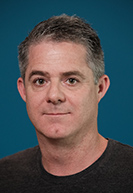 The organization estimates that only 5% of the downtown workforce—basically essential workers—was in the office in March when stay-at-home orders went into effect.
"It was truly a ghost town," Schultz said.
Trickling back
Slowly, those numbers started to tick up as the state moved into Stage 4 of Gov. Eric Holcomb's Back on Track Indiana plan, but there's still a ways to go.
Some large employers, including Eli Lilly and Co. and Salesforce, have already said they won't require employees to return to the office before the end of the year. And the state and city governments, which employ more than 15,000 people combined downtown, have not yet instituted a full staff return.
Ken Clark, controller for the city of Indianapolis, said most of the 2,500 employees in the City-County Building began working remotely in March when the building closed to the public.
City services began reopening to the public in phases on June 15, he said. For example, some court services and property tax collections are now offered in person. The City-County Building now sees 1,200 to 1,800 visitors a day, Clark said, and a few hundred staff members are there to serve them.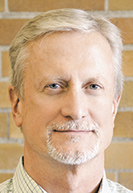 He expects most departments to bring staff back between mid-July and August.
"My expectation is, those [who] are still working from home will probably start coming into the office one or two days a week and slowly increase that over time," he said. "Our No. 1 priority obviously is the health of the community at large and the employees, too. How do we minimize the spread of COVID-19?"
However, he added, "We, of course, very much care about [bringing] people back downtown and helping the economy recovery. Those things are very important."
Eric Burch, communications director for the state personnel department, said state employees have been returning to work for "some time now." About 13,600 state employees work in Marion County, many of them downtown at the Statehouse, two state office buildings and ancillary offices in privately owned buildings.
Each agency is responsible for coordinating its own staff's remote work and its own timeline on a return to the workplace, he said. Those plans are based on individual agency needs, coinciding with efforts to comply with sanitary and social distancing recommendations from the Indiana State Department of Health and the U.S. Centers for Disease Control.
Because of the agencies' independent decision-making, no overall data on remote work is available, he said.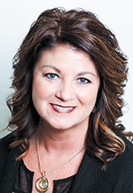 OneAmerica, a financial services company with 1,600 employees in Indianapolis, doesn't expect its full workforce to return to its offices until fall, said Lou Ann Baker, director of public relations. About 95% of OneAmerica's staff continues to work remotely, she said.
OneAmerica owns the OneAmerica Tower, at the foot of Indiana Avenue, where other tenants also lease space. Baker said most of those tenants are still working remotely, although some have returned on an alternating schedule.
Voluntary
Smaller downtown employers IBJ spoke to are also holding off on bringing workers back.
DemandJump, a tech company headquartered on the 19th floor of Market Tower on Monument Circle, opened its offices in mid-June, but founder and CEO Christopher Day said only three or four of the company's 33 employees come in on a regular basis. Another four or five come in occasionally. Everyone has the option to continue to work remotely, he said.
"We've learned a lot about ourselves and our ability to productively work remotely," Day said. "We are definitely of the mindset that we will keep an open mind to the end of the year. … we will keep this voluntary," he said. "Our employees have been appreciative that we have been understanding."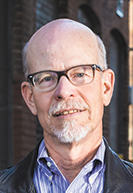 Other offices started reopening, then paused plans out of concern about the increase in cases in other states. Paul Knapp, CEO of Young & Laramore, one of the city's largest advertising agencies, said the health of his employees and customers—not the health of downtown—is his primary concern.
Young & Laramore, which has 67 employees and is headquartered on the northeast side of downtown, was set to start bringing employees back this month but slammed on the brakes last week when both Holcomb and Mayor Joe Hogsett took steps to adjust to increasing virus cases.
During the stay-at-home orders, Y&L made many changes to its office in anticipation of workers' return. The agency installed a touch-free, secure door system. It built a more protected reception desk. It created a screening station. And Y&L designed, printed and posted an array of COVID-related signs around the office.
"From the beginning, our priority has been the health of our people," Knapp said. "Our goal is that no one will catch the virus in our office. And with our team working so well from their homes, there is no reason to rush back to the office."
For now, the Y&L office is open as a resource station for anyone who needs it. Knapp said he has no idea when the office will fully reopen.
'Slow down a bit'
Emmis Communications Corp. is on the forefront of bringing people back to the office.
The company normally has about 150 people working out of its headquarters on Monument Circle. Currently, 40% to 50% of employees come into the office at least a couple of days a week. Each gets his or her temperature checked in the lobby; it must be below 100.4 degrees.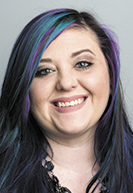 Emmis has outlined a five-phase return plan—which it started in mid-May. It is currently in phase three. Emmis officials anticipated each phase would last two weeks, but Traci Thomson, vice president of human resources, said each phase has actually taken three to four weeks.
"With the spikes, we've made the decision to slow down a little bit," Thomson said. "Our operations are working well with people working from home, so we haven't seen the need to push it."
Emmis' current plan calls for phase four to start July 20. Originally, phase four called for having 80% of workers back in the office at least part of the time, but Thomson said it now will likely be maxed out at bringing 60% of the staff back.
"All of the people that are coming back into the office are doing so voluntarily," Thomson said. "We won't compel anyone to come into the office who doesn't feel safe."
She said the company has no timetable for compelling employees to come in. "I think we'll be open to having people work off-site for the rest of the year."
Emmis CEO Jeff Smulyan "is adamant about bringing people back slowly," Thomson said. "He's interested in downtown, but the No. 1 priority is the employees' safety. Jeff has been the No. 1 driver to bringing everyone back slowly and safely."
The Lumina Foundation, which has been headquartered downtown since its inception 20 years ago, is on the cautious end of the curve.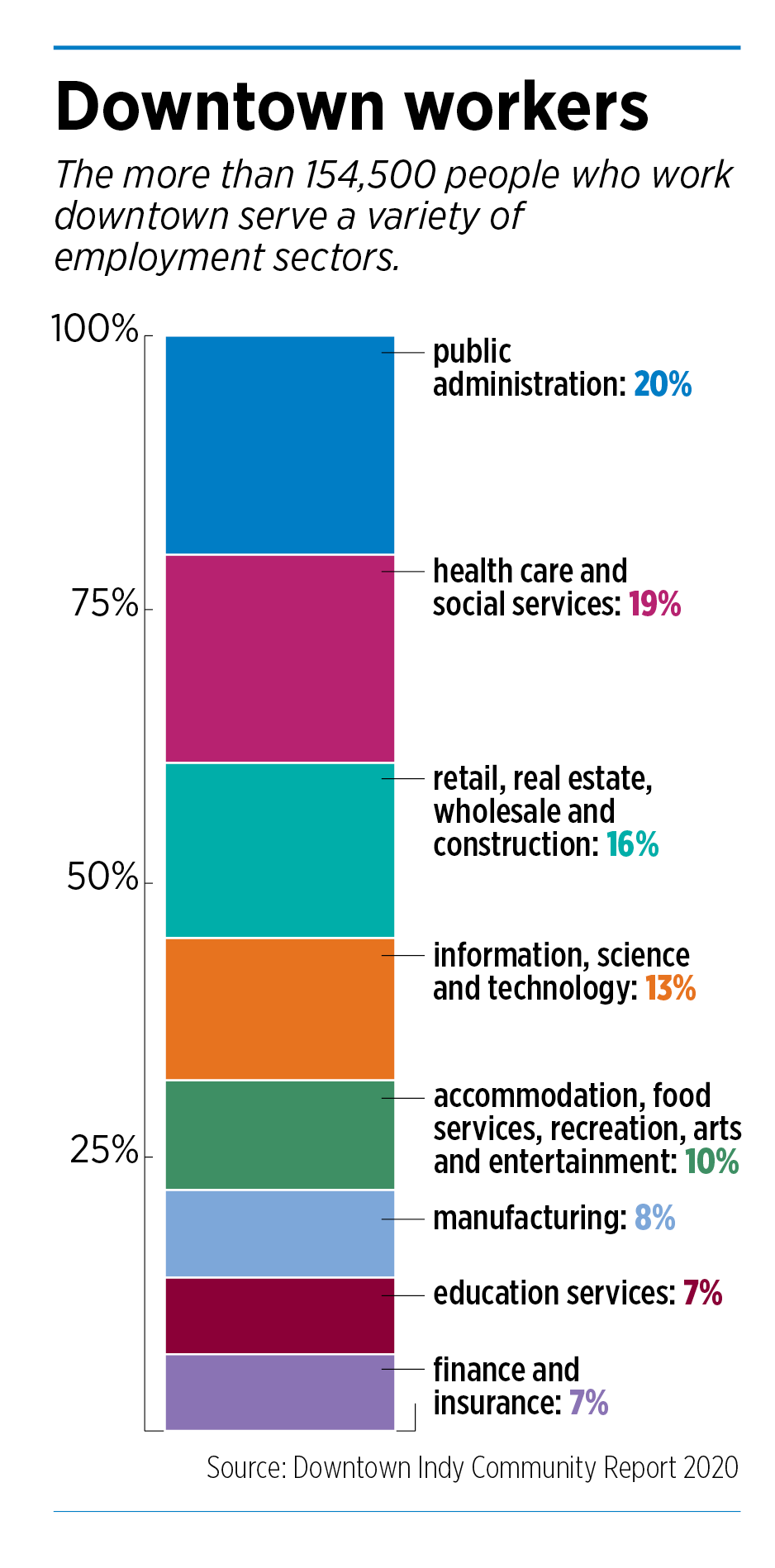 Tim Robinson, assistant vice president for Lumina, said employees likely won't be brought back to the office this year.
"We are taking a conservative approach. There are a number of reasons for that, and the primary reason is to keep our employees safe," Robinson said.
Lumina, which has about 55 full-time employees at its 30 S. Meridian St. office, has pushed back its office-opening date because it was having difficulty securing personal protective equipment and didn't want to take it from organizations that had a more urgent need.
Also, many Lumina employees have children, he said. Many schools' plans are still in flux and day care options are still hard to come by.
What's at stake?
The decisions companies make about bringing office workers back downtown will have a significant, long-term impact on the retailers, restaurants and others that serve those workers. But many employers say that, while they want to support downtown, the safety of their employees has to come first.
"What's going to be critical for all of us to be successful as a community is to make sure we have a safe environment," Day of DemandJump said. "Of course, I have a desire to support our local community and economy. But at the same time, I would never want anyone on our team to feel like there's a requirement imposed that's not safe."
Schultz said companies and employees that are working remotely should find ways to support their favorite retailers and restaurants if they expect them to be open when they finally return to the office.
"We understand the stay-at-home order and even the slow return," Schultz said. "But [workers] are picturing coming back to their favorite restaurant, their favorite coffee shop. Those places need our support right now if we want them to be there when we come back in the fall."
Businesses have been limping along, waiting for the density to return, he said, but some might not make it to autumn.
Segal of PUMA said offices are a key anchor for downtowns like Indianapolis', and office workers are part of the day-to-day vitality.
"Recapturing the office segment as well as sustaining it will be critical to Indianapolis as well as other cities," Segal said. "But I think they will recapture it."
Space considerations
Still, some are concerned that many businesses will forgo formal offices altogether now that they've discovered they can serve customers and clients from home.
Downtown currently has 11 million square feet of office inventory—with a vacancy rate under 15%. But demand for that space could shrink if companies give up office space or move to smaller digs.
Day, for example, said the pandemic has made him rethink whether DemandJump needs its current 6,000 square feet. He said he can see DemandJump in the future designing space to accommodate a rotation of people and teams, in maybe half as much space.
Segal said it's fair to believe the pandemic will soften the office market, but he doesn't think a wave of companies will ditch real estate for remote work.
Jenn Lisak Golding, founder and CEO of marketing firm Sapphire Strategy, sees a definite advantage to having people working together in an office. She's actually contemplating looking for more space, to accommodate social distancing.
Her boutique firm has seven full-time employees working out of 420 square feet in the Union 525 Building on the southeast side of downtown.
In the last month, Sapphire has started bringing in one or two people at a time.
"I have noticed a big culture shift by not working in person," Golding said. "Collaboration is a big part of what we do. Collaborating remotely was nothing new to us, but being able to walk over to talk to someone at their desk or having lunch with someone—there are big benefits from that.
"Culturally, when you go to a fully remote environment, it causes isolation and selfishness," she added. "And there's a different mindset when collaboration always has to be planned versus off the cuff."
She hopes to bring all of her staffers back to the office full time by the end of the year.•
Please enable JavaScript to view this content.