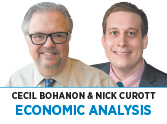 As we begin a new semester, we are always looking for examples that illustrate economic principles. Fortunately, the world is filled with them, often in our own backyard. Two come to mind.
Our employer, Ball State University, is offering a retirement deal to its faculty and professional staff. A full-time faculty member who is over 55, has been at Ball State at least 10 years, whose age and years of service equal or exceed 70, and who retires in May 2022 will receive a lump-sum payment equivalent to 125% of their base salary. So, 56-year-old Professor X—at Ball State for 27 years with a $100,000 salary who retires at the end of the semester—will get a check for $125,000.
The city of Greensburg will pay a remote worker $5,000 in cash to move to Greensburg, along with a one-year membership to the YMCA and free babysitting from surrogate grandparents. The worker must be self-employed or a full-time employee with remote-work privileges and will be chosen through a vetting process. Several other Indiana cities are making similar offers.
These are both perfect examples of marginal analysis, a central component of the "economic way of thinking."
Economists have long argued that human beings both as individuals and as agents for organizations advance goals by thinking incrementally. This means focusing on those margins that best advance those goals.
It is no accident Ball State is targeting older, longer-tenured and higher-paid employees to reduce its costs. Nor is it surprising that towns in Indiana and elsewhere are offering incentive packages to higher-paid workers along with inducements/requirements that tend to seal the new residents as permanent residents and taxpayers.
More recently, economists have argued that human beings are also motivated by notions of fairness. Inevitably, Professor Y, who retired effective in May or December 2021, feels cheated as he/she did not receive the bonus Professor X gets. And the high-paid remote worker, who has lived in Greensburg since 2017, will probably feel aggrieved when new workers get "special treatment." That, too, is part of the "economic way of thinking"—and especially as it relates to political economy.
Note that the "economic way of thinking" says nothing about the desirability of the organizational goal nor even much about the efficacy of any policy. Neither the BSU buyout nor the new worker inducements may work out. But humans pursue margins to attain goals.•
__________
Bohanon and Curott are professors of economics at Ball State University. Send comments to ibjedit@ibj.com.
Please enable JavaScript to view this content.