As an astrophysicist, a professor and the director of Butler University's Holcomb Planetarium and Observatory, Brian Murphy knows the science of solar eclipses.
And as someone who's traveled the world to experience total solar eclipses in Canada, Vietnam and Illinois, he can talk about the dramatic things that happen when the moon briefly covers the sun: Observers are plunged into darkness. Crickets awaken, mistaking the darkness for night. Observers see the sun as a black disk surrounded by a glowing corona of light. Some people burst into tears.
But conveying what it's really like to be in the path of totality? Impossible, Murphy said. "It just can't be described."
The unique experience is expected to make Eclipse 2024 in Indiana a huge tourism draw, potentially bringing up to a million people to the state and pushing up hotel rates near the big day. Already, rooms are going for as much as $1,200 a night in some small towns.
That's why Indiana's tourism industry, plus public safety officials and others, already are laser-focused on April 8, 2024. On that day a sizable swath of the state, including Indianapolis, will be in the path of totality for a solar eclipse whose path will arc across the U.S. from Texas to Maine.
Solar eclipses are not rare in and of themselves, but only a small portion of the Earth lies within the path of totality for any given eclipse. Murphy said the last time Indianapolis was in the path of totality was 819 years ago, and after the 2024 eclipse, it won't happen again until 2153.
Even if you've experienced a partial solar eclipse, as Indianapolis did in August 2017, a total eclipse is an entirely different experience—and one that eclipse enthusiasts are willing to travel great distances to experience, Murphy said. "This is the biggest of all astronomy events."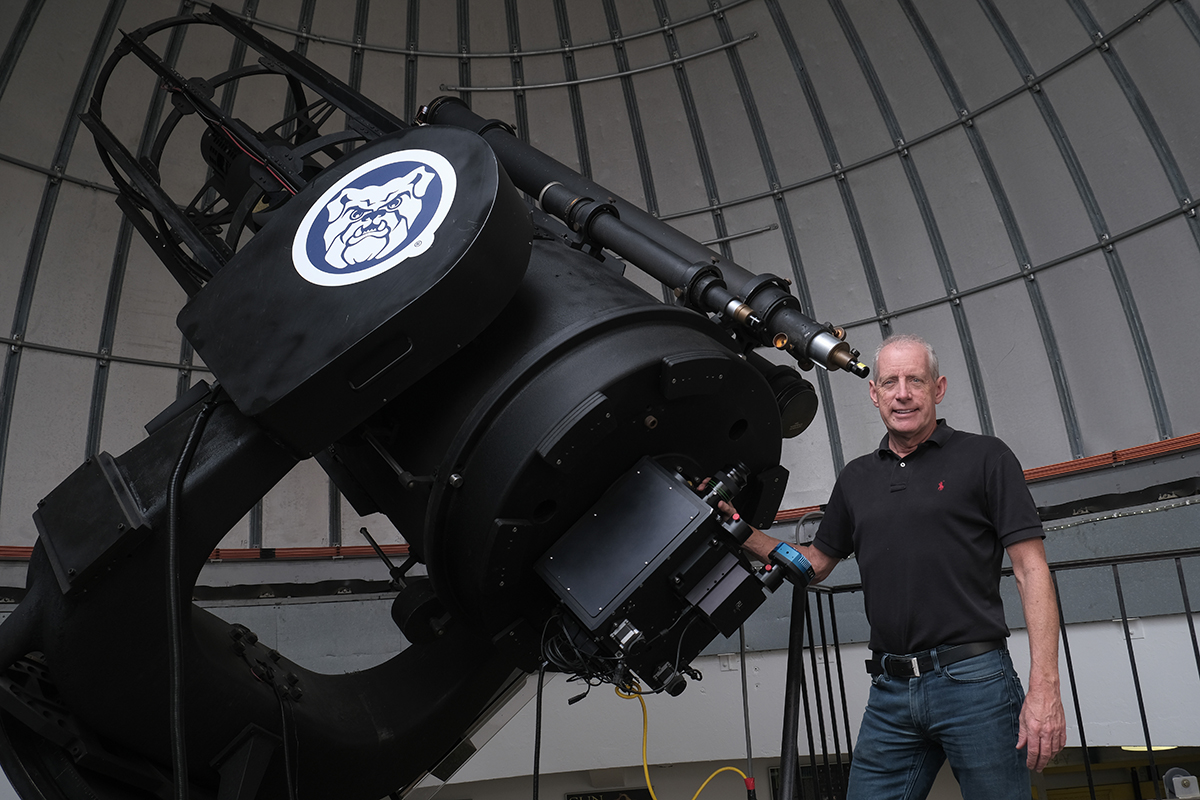 Bigger than a Super Bowl?
The 100-mile-wide path of totality—the zone within which observers will see the moon totally obscure the sun for several minutes—includes the entire Indianapolis area as well as Bloomington, Muncie, Terre Haute, Evansville and many other cities.
All of those communities are looking for ways to capitalize on the event and do whatever they can to attract more tourists. The Butler observatory is among those planning an eclipse-watching event.
Sarah Buckner, assistant director of community engagement at Visit Hamilton County, said her organization has talked with eclipse experts to get a sense of what to expect. One thing they told her, she said, is that eclipse enthusiasts who plan to travel to be in the path of totality will generally be looking for locations with at least three minutes of darkness.
By that metric, most of central Indiana—and many other parts of the state—could qualify as eclipse hot spots. Some Indiana locations will experience more than four minutes of darkness.
"Think of the Super Bowl, but all over the line of totality," Bucker said by way of crowd comparison. "This is much bigger, in a bigger stretch of the state, with parties everywhere."
Morgan Snyder, senior director of public relations at the tourism marketing organization Visit Indy, said that while sports enthusiasts are familiar with Indianapolis, the eclipse has the potential to broaden the city's appeal.
She said the eclipse could attract everyone from families to photographers to fans of oddities and natural phenomena. "Our hope is that this is potentially a new audience of visitors for Indianapolis."
Snyder said the event could bring a million visitors to Indiana, based on conversations Visit Indy has had with officials in Columbia, South Carolina, which was in the path of totality for the 2017 eclipse. Snyder said South Carolina tourism leaders have told her about 1.6 million people visited the Palmetto State for that eclipse, whose path of totality covered nearly the entire state.
Columbia is significantly smaller than Indianapolis—the city itself has a population just shy of 140,000, with a metro population of about 848,000. But, like Indianapolis, it is the state's capital and was among the largest cities situated within the path of totality.
"It's a perfect case study for us," Snyder said.
Visit Indy is part of a local organizing committee that began meeting in the summer of 2022 to start planning for the 2024 eclipse.
Several local attractions are planning to host eclipse-themed events, including the Indianapolis Motor Speedway, which is among a handful of U.S. locations working with NASA to provide live broadcasts of the eclipse.
Other local attractions are planning their own events, including White River State Park, Conner Prairie, Newfields and The Children's Museum of Indianapolis, alongside other large and small gatherings around the area.
Big impact in small towns
Indeed, organizers expect that the relative impact of the eclipse may be stronger in some of the state's smaller cities and towns.
Based upon its location within the path of totality, Shelbyville will see 3 minutes, 59.1 seconds of darkness as the moon obscures the sun. That puts it among the central Indiana cities that will experience the longest period of darkness. Franklin in neighboring Johnson County is directly on the centerline of the path of totality and will experience 4 minutes, 1.7 seconds of darkness. Both are among the Indiana towns that will see the longest period of darkness.
Cities that are closer to the outer edge of the path of totality will see shorter periods of darkness. Lebanon, for instance, will go dark for 2 minutes, 38.3 seconds.
Mary Moran, director of emergency management at the Indiana Department of Homeland Security, said her agency isn't putting an exact number on the visitors it expects the eclipse to generate but believes it will be in the hundreds of thousands. "There is a very active community of folks that follow these events around," she said.
The department has built an eclipse planning team that includes 141 agencies, organizations and others. The group started meeting in person in January to work through expected and potential event impacts ranging from traffic control to handling "bad actors" in a crowd to staying alert for people who develop eclipse-related eye injuries such as retinal burns.
Moran said her agencies and others routinely prep for big events, but what makes the eclipse different is its potential to draw visitors to such a large portion of the state, particularly to smaller communities that don't usually see such crowds. "There are localities along that path of totality that could see five times their population," she said.
Hannah Jones, the eclipse liaison at Indiana University's Center for Rural Engagement, said her organization is awarding microgrants of $2,000 to small Indiana communities to help them prepare for the eclipse. A total of 84 communities applied for one of the 30 available grants, and the center expects to notify recipients in early October.
The IU center has also assembled a 16-page online guide to help small communities plan for the eclipse. The guide offers ideas for using the eclipse to build a sense of community—perhaps leveraging the excitement around the event to launch new community programs or tourism efforts.
"The eclipse in Indianapolis is different than the eclipse in Shoals," Jones said, offering the tiny Martin County town as an example. "There's going to be huge impact for rural communities."
Going big
Ken Kosky, the executive director of Johnson County's tourism and visitors bureau, said he's expecting 100,000 to 150,000 people to visit Johnson County for the eclipse—perhaps 34,000 of them destined for Franklin, whose population is about 26,000.
Kosky said Franklin's largest single event to date was this year's Independence Day celebration, a July 3 fireworks show that drew about 17,000 people to town.
"What July 3 showed us is we can accommodate [big crowds] if we plan accordingly," Kosky said.
So the tourism bureau, which operates under the name of Festival Country, Indiana, is being ambitious when it comes to Eclipse 2024.
Festival Country, Indiana has already secured 100,000 eclipse viewing glasses that it plans to distribute to visitors, residents and organizations. The bureau secured the domain for its eclipse-focused website, eclipsefestival2024.com, about four years ago, Kosky said. The site already includes listings for several special Johnson County events, including a three-day festival in Franklin from April 6-8 organized by that city's parks and recreation department.
As part of the planning process, Kosky said he contacted a counterpart in Casper, Wyoming, a city that was in the path of totality for the August 2017 eclipse.
The Casper official said the city didn't publicize the eclipse much ahead of time because it was fearful that it wouldn't be able to handle huge crowds. The city still received about 25,000 visitors, and the crowd was a peaceful one, Kosky related.
"One of their pieces of advice was, 'Go big,'" Kosky said. "It was huge for them, and that's sort of what has fueled us to go all out."
Rachael Ackley, executive director of the Shelby County Tourism and Visitors Bureau, said her county is expecting at least 100,000 visitors—a significant number for a county whose total population is only 48,000.
Earlier this month, eclipse planners hosted a community meeting aimed at individuals, churches and other property owners that are considering offering parking, camping or other accommodations for visiting eclipse-watchers. An attorney and an insurance professional were on hand to offer advice, Ackley said. "There's just a lot of layers to think about," she said.
Hotel booking information supports Ackley's prediction of big crowds.
On the travel booking site Expedia early this week, the Shelbyville Econo Lodge was advertising per-night room rates of $900 for April 7-8. That's a tenfold increase from March 31-April 1 one week earlier, when that property's rates are listed at $90 per night.
As of late last week, Ackley said Shelby County's six hotels were charging between $500 and $1,200 per night during the eclipse, with a minimum two-night stay, and she expects all available rooms to sell out. The usual room rate for this time of year is about $150 per night, Ackley said.
Paducah, Kentucky, is one of the rare spots in the U.S. that was in the path of totality for the 2017 eclipse and will be again for the 2024 eclipse.
Mary Hammond, director of the Paducah Convention and Visitors Bureau, said it's impossible to say how many people came to the city for the 2017 eclipse. But hotel occupancy hit an average of about 88%, Hammond said, which is unusually high for that market in early August after students have returned to school.
Hammond said Paducah's airport reported 84 arrivals from 15 states over a two-day period for the 2017 eclipse. All of these were private aircraft, not commercial airliners.
And Paducah saw the influx of visitors without doing much to market itself as an eclipse viewing spot, Hamond said. "It was good business."•
Please enable JavaScript to view this content.