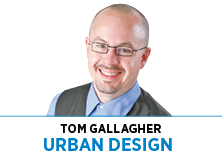 On the night before their inauguration, President Joe Biden and Vice President Kamala Harris stood on the steps of the Lincoln Memorial as 400 lanterns lining the reflecting pool on the National Mall were illuminated, one for every 1,000 Americans who had died from COVID-19. Though only temporary, the memorial was an important acknowledgement of our collective pain. Its beauty was in its simplicity, but its power came from being in a landscape already full of symbolism and meaning. During the vigil, Biden noted, "To heal, we must remember."
A rising chorus of voices is suggesting that we shouldn't wait until the pandemic is declared to be over to begin our remembrances. Beyond countless spontaneous personal tributes, civic leaders are beginning to contemplate permanent places of commemoration. London, for example, has plans for a memorial garden in Queen Elizabeth Olympic Park, and Uruguay is contemplating a national memorial in its capital city, Montevideo.
The making of lasting and consequential memorials, however, can be a supremely difficult task, even under the best of conditions. There are examples, however, that we can look to as guides.
The AIDS Quilt, a remarkable piece of community art, was instigated as a remembrance to those who were losing their lives to a different pandemic. The alchemy of the quilt is its ability to humanize the victims, not only through displaying their names but, through the care and craft of hand-making an individual's panel, demonstrating they lived a life in which they were loved. Quilting the panels together honored the collective grief.
In its first public display, the quilt, with nearly 2,000 panels, was laid out across an area of the National Mall larger than a football field. Today, the quilt has more than 48,000 panels. Having become a living memorial, it shows us how a memorial can help us mend even while responding to ongoing heartbreak.
Unlike World War II, where the nation made personal sacrifices for what was seen, by-and-large, as a victory for a "greater good," the Vietnam War deeply divided the nation. By not turning away from controversy, the Vietnam Veterans Memorial in Washington, D.C., forever changed our expectations of memorials.
Its form, a figurative gash in the revered landscape of the National Mall, was conceived, not as a monumental object to be viewed across a landscape from afar, but as a choreographed experience within the place itself. In contrast to the white limestone icons that surround it, the memorial's black granite walls give the impression of sinking farther into the earth as we read the names of soldiers, inscribed in the chronological order of their deaths.
Beyond the symbolism, the polished black granite delivers the most visceral aspect of the experience—seeing our own reflections intermingled with the names on the wall. The memorial has arguably become one of the most revered experiences for commemoration and healing.
We might be emboldened by the provocative, truth-telling National Memorial for Peace and Justice campus in Montgomery, Alabama, "the nation's first memorial dedicated to the legacy of enslaved Black people and people terrorized by lynching," that opened in 2018. Its most poignant component is the central square on a hillside that displays 800, 6-foot, weathering steel forms—one for every county in the United States where lynchings occurred—gut-wrenchingly suspended from the ceiling. Like the Vietnam Veterans Memorial, it tells its story through symbolism and experience of the place.
Likewise, the National September 11 Memorial and Museum in New York City is an experiential landscape. While its form expresses the absence of the former World Trade Center towers and of the nearly 3,000 lives lost, it also does something else memorials must do: give us hope. From the footprints of the former towers springs a park defined by a forest of trees. A symbol suggesting that, though changed, we will continue to occupy this emblematic place and continue as a nation.
Last year brought two national inflection points that will surely be memorialized. But how will we honor essential workers and health care providers? What will we say about those who took a stand for civil rights and justice?
Maybe the most fitting memorial would be a celebration of public space itself—to invest in it at the level it is due.
Too often, we erect monuments that do nothing to bring us together. Significant public spaces, on the other hand, outlast the people who conceived them and often even the buildings that surround them. Look no further than Monument Circle for a case in point.
Public spaces are symbols of our connections as a community but, more important, they are where we learn to trust one another. Remembering the faces of those with whom we share those places is how we begin to call them neighbors—maybe even friends. They are the true experiential landscapes where the real and sometimes raw work of living in community is done.•
__________
Gallagher is a principal and urban designer with Ratio and a professor-in-practice of urban design at Ball State University. Send correspondence to TGallagher@ratiodesign.com.
Please enable JavaScript to view this content.