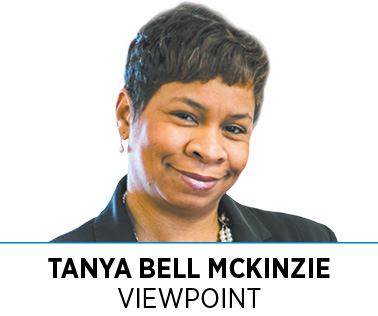 We have entered the dialogue phase where many of us are sharing our thoughts, perspectives and positions on ways the private and public sectors can support our movement for social justice. Recommendations at various levels have been offered, including the need for policy change in every area where racial inequities exist.
I am a strong proponent for policy change which, in this instance, will take an aggressive level of advocacy from everyone. We would be naive to think many people who benefit from white privilege will suddenly have a change of heart and volunteer to do the right thing after 450 years of systemic racism without adequate laws requiring them to do so. Unfortunately, enacting new laws and overturning old ones will not suddenly reverse decades of biased and insufficient investment in Black communities.
While we are collectively advocating for policy change, we must also focus on more immediate results that can dismantle a system of racism. In response to the many companies that have asked how they can help, we are recommending measurable actions, starting internally by instituting an action plan for diversifying their board and workforce, including upper management, and hiring more Black-owned businesses as suppliers.
Structural racial disparity in our country, state and city is economic. Creating new businesses and expanding opportunities for existing Black-owned businesses are key ways to invest in the Black community and help us fight for racial equality. With increased capacity, Black business owners will hire many people who look like them and, in turn, will help improve the unemployment and poverty rates that continue to plague our community.
But in order to have the same playing field, the private and public sectors must truly see Black entrepreneurs as equals and experts. We have a rich history and legacy as innovators, creators and entrepreneurs. Unfortunately, a system of racism has prevented us from building generational wealth like our white counterparts and we remain disadvantaged today. The consequences from a history of racism and exclusionary practices are evident by the disparities that continue to exist in procurement opportunities.
We must focus on building wealth for Black-owned businesses if they are to experience real growth beyond the measure of the project-by-project goals for hiring minority, women and veteran-owned businesses. Diversity spending goals too often become caps, limiting opportunities for Black businesses that have the capacity and experience to do the work. While I understand that diversity spending goals are needed to combat disparities, they should not amount to an automatic cap on diversity spending when Black-owned businesses are qualified to provide the goods or services.
Black-owned businesses should be awarded prime opportunities on major private- and public-bid contracts when they are qualified based on their capacity and experience. Small businesses cannot get to the next level if the breadth of opportunities is limited to subcontracting options that are capped by set participation goals. Removing caps or limits placed on diversity spending does not equate to a handout. Rather, not doing so results in unequal treatment of Black-owned businesses.
As we work to create more Black-owned businesses and grow existing ones, a mind shift must take place. Think-outside-the-box ideas are needed to expand opportunities for Black-owned businesses to generate more wealth.•
__________
Mckinzie is president and CEO of Indiana Black Expo Inc.
Please enable JavaScript to view this content.