A team of financial technologists in Fishers has its sights on a large U.S. Department of Education contract that could bring at least 300 jobs to the city and further central Indiana's role as a student-financing hub.
If Georgia-based First Data—now operating as Wisconsin-based Fiserv after the two financial technology companies merged in July—gets the work, ancillary firms might move here, bringing even more jobs.
All of that would come on top of ongoing growth at the company's education unit in Fishers, where it recently formally opened its office.
First Data, a credit processing services provider, acquired Navient's student loan technology platform in May 2018, making it the primary technology provider for Navient's private and federal student loan portfolio.
The student loan technology unit—led by Jeff Whorley, who previously worked in executive roles for USA Group, Sallie Mae and Navient—has spent the past year improving Navient's platform, making it about 40% faster, Whorley told IBJ.
The unit has also grown its workforce, adding 40 Fishers employees in the last 60 days, for a local total of about 240. The company plans to add 35 more in the coming months.
Whorley said First Data bought Navient's platform knowing it wanted to bid on an Education Department contract to build a single digital platform to service all federal student loans.
Company officials said they think First Data is among only a handful of bidders being considered for the contract.
Bids were due in April. The Education Department has yet to announce a winner or to say when it will. At press time, federal officials had not responded to questions from IBJ about the process or Fiserv's bid.
Whorley said if Fiserv's bid is chosen, the company will hire 300 employees to help with the workload. He estimated another 1,500 jobs could come to Fishers over the next five years or so through ancillary companies that would be involved in the contract work.
The win would also continue a long history of student-lending-related companies in central Indiana, begun by the former USA Group. Once the largest guarantor of student loans in the country, it set up shop in Fishers in the Navient building in the early '90s.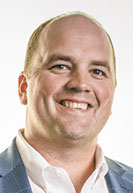 Since then, Sallie Mae, Navient and Strada Education have run operations here.
"What's fascinating is, in this national narrative about student loan debt, there is probably no other place in the country that has as many ties to the servicing, processing, technology and knowledge base of student loans [as] right here," said Fishers Mayor Scott Fadness.
The single-digital-platform bid is part of the Education Department's Office of Federal Student Aid initiative—announced in 2017—called the Next Generation Financial Services Environment, which seeks to modernize the technology and operational components that support federal student aid programs.
The Office of Federal Student Aid, the largest U.S. provider of student financial aid, oversees outstanding federal student loans for 42.8 million borrowers, with debt totaling $1.4 trillion. The office also distributes and processes the Free Application for Federal Student Aid—better known as FAFSA—for some 20 million students each year.
The department has put out three requests for bids as part of its NextGen initiative, including the enhanced-processing one Fiserv has bid on.
That contract asks for a system that will streamline the repayment process and provide a uniform experience across borrowers, while providing stronger cybersecurity protection, said Matt Anderson, a vice president at First Data. The move will consolidate multiple existing and redundant technology platforms, allowing FSA to save money and launch its own brand to repaying customers, he said.
Currently, after a borrower receives a federal loan, he or she is assigned to one of nine loan-servicing companies, each with its own customer-engagement strategies, operating procedures, and payment portals and websites. A single borrower might have loans with two or more servicers.
The experience becomes even more complicated for borrowers whose loans fall into default, as their loans are passed from one FSA vendor to another. After a borrower fails to make consistent on-time payments for an extended period, the account is passed from the original servicer to the Debt Management and Collection System, which gives the borrower more time to bring the loan into good standing.
If the loan isn't paid within 60 days, the borrower's account can be passed on to a private collection agency. The Department of Education contracts with several collection agencies that might also contract with skip tracing, print mail and disaster recovery operations—all places that would receive a borrower's private information.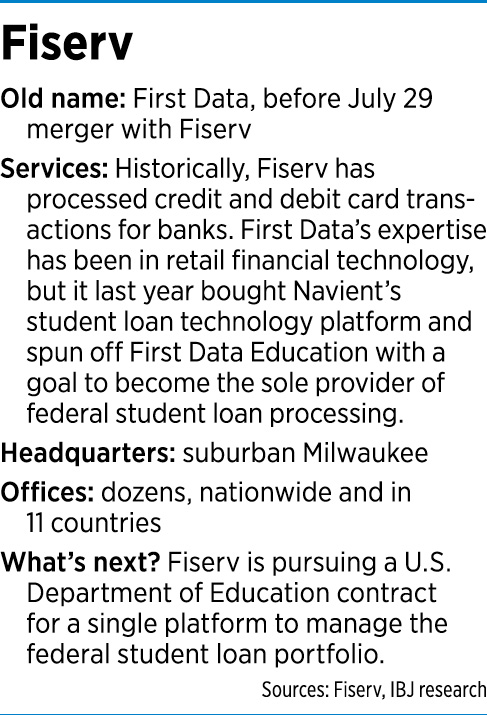 FSA wants that entire cycle bundled on a common technology platform with a single database that every servicer and vendor can access. The single platform would make it easier for borrowers to track their loans and make payments while also providing more data protection.
Moving to a single platform will require transferring data for the 42 million existing borrowers, a task that might seem daunting.
Fiserv officials say their newly combined company is the best for the job. It processes more than 93 million financial transactions annually, or roughly 3,000 per second. The Education Department has asked for a platform that will operate at the standard of a large global financial institution, Whorley said, and Fiserv is one of the world's largest financial tech companies.
"We bring scale to this," he said.
The technology the company purchased from Navient already supports 75% of private student loans and 19% of FSA's direct federal loans. And the company has handled 70 million conversions in one weekend, Whorley boasted.
"We're confident we've offered the best solution, but it's a dog fight for this," he said. "Somewhere is going to be the nerve center of the modernization of student loan technology. I think we have as good a shot as anyone."
Expected competitors for the contract include Nelnet, which recently completed a merger with Great Lakes, and FedLoan Servicing, both federal loan servicers. Great Lakes and Nelnet have formed a joint venture, GreatNet Solutions, to compete for the contract.
The contract is for one year with nine optional one-year renewals. It also includes five optional six-month extensions, meaning First Data's contract could last 12-1/2 years, Anderson said.
Fadness said central Indiana has a lot riding on the bid's outcome. If First Data loses, it would continue to manage Navient's technology platform for private loans, but another city would be home to a company that manages the much larger portfolio of federal loans.
"If this doesn't transpire, will central Indiana continue to be the foremost leader in student loan technology … or does that close the book on our leadership?" Fadness asked. "People are not aware of what hangs in the balance in terms of that legacy."•
Please enable JavaScript to view this content.