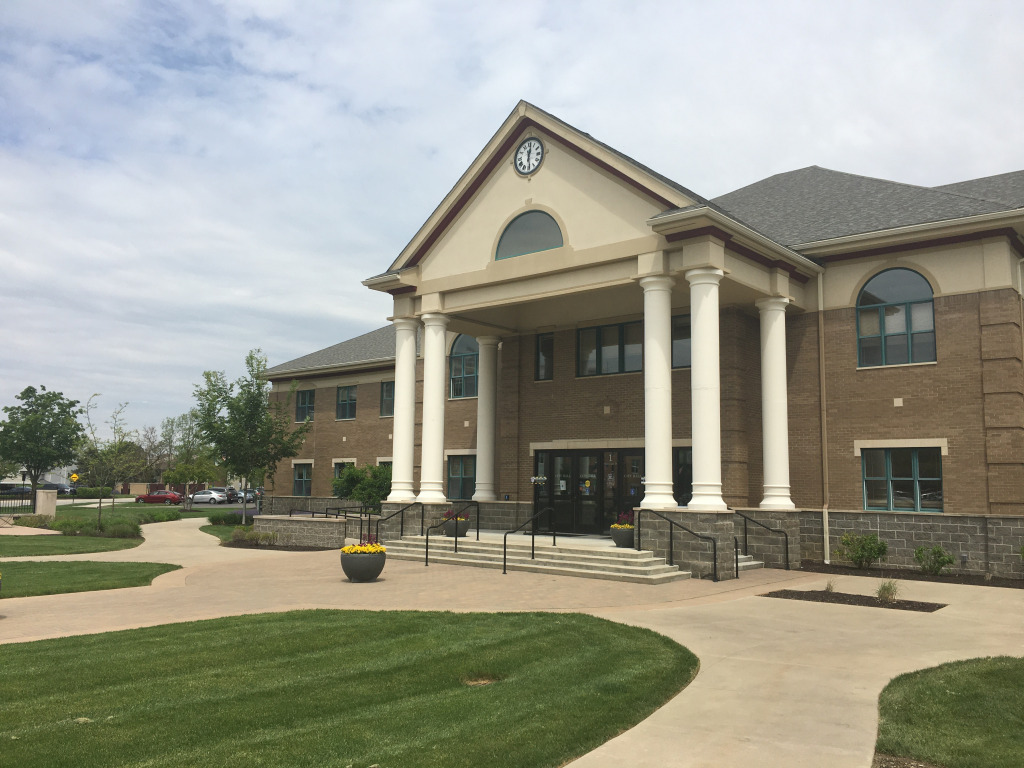 Fishers City Hall has been sinking into the ground for nearly 30 years, and the growing cost of mitigating that damage has some city officials convinced it's time to rebuild.
Illinois-based engineering firm WJE provided the city of Fishers with an inspection report last month on the two-story, wood-framed building at 1 Municipal Drive. First built in 1991, the western portion of the structure almost immediately began to settle.
"We started to have some failure early on," Fishers Deputy Mayor Elliott Hultgren said. "The soil is unsuitable for the structure."
City officials tried to stop the sinking and address the damage it had caused in 1994 and in 2013 but there continues to be movement to this day. WJE found the city can pay $2.5 million over the next three years to maintain the building but not fix the problem, or it could pay up to $20.8 million to demolish the building and build a new three-story, steel-framed one in its place.
It's unclear whether the $20.8 million includes soil remediation or whether that would even be necessary with a new building.
The city has spent $1.67 million over the past five years on the roughly 37,000-square-foot building where 20-35 city employees work on a given day. Currently, the Fishers City Hall houses offices for the mayor and the city's administration, customer experience, planning and zoning, economic development, engineering and communications departments.
Employees in the controller, city clerk, permitting and information technology departments were moved to the former police station at 3 Municipal Drive a couple years ago when that space became available.
Those office workers and visitors to city hall can see the sinking's effect on the building in its cracked walls and floors, in the gaps between its beams and in the 2013 exterior updates that are beginning to crumble and fail.
In addition to those structural issues, Fishers Mayor Scott Fadness said there is a "laundry list" of other recommended maintenance projects that compound the issue. Already, the city has planned to spend nearly $300,000 this year to replace flooring, doors and windows. That doesn't even include recommended repairs to the damaged roof trusses and structural inspections that would push this year's total past $430,000.
Ashley Elrod, the city's community and public relations director, said a steel-framed building will be more structurally sound than the current wood-framed structure. Also, new construction would be accompanied by additional soil borings and other measures to ensure the foundation is placed on a more-solid footing.
After he and Hultgren consulted the city council and found support for rebuilding the structure, Fadness said he's asked the city's legal team to consider pausing its ongoing contracts so the city can consider building a new "city hall plus."
"We may just have to live with plastic on our windows for a little longer," Fadness said.
Fadness said he's planning to work on a financial and developmental strategy this summer to present to the council in early fall. City Hall won't necessarily need a larger administrative footprint, he said, but he believes a design with greater efficiencies could open up room for new community offerings.
That could take the shape of a fine arts center or an expansion of the auditorium where the Fishers City Council meets. Whatever the proposed building would contain, Fadness said he believes it should remain in the same location and praised former city leaders for creating the city's current municipal plaza.
"I don't believe we should relocate city hall from the heart of the city," he said. "This is where a civic institution belongs."
Please enable JavaScript to view this content.