Indianapolis is more than Indiana's largest city. It's the capital city, and its downtown is the place where the governor, lawmakers and the state's Supreme Court justices meet to determine policy for all Hoosiers, to pass a budget or to mete out justice.
Downtown is home to White River State Park, the Indiana State Library, two administrative office buildings and a slew of state-owned monuments honoring veterans.
But while the state and the city have come together on major downtown projects over the years—think the Indiana Convention Center, Gainbridge Fieldhouse, Lucas Oil Stadium and, most recently, a headquarters for Elanco Animal Health—there's sometimes tension between what Indianapolis officials would like to see from the state and how the state views its responsibility to the capital city.
After talking with city officials and current and former lawmakers, IBJ has identified five ways the state could support the growth and prosperity of downtown.
1 Change the road-funding formula
There is no shortage of complaints about the quality of streets in Marion County, but lawmakers who live outside Indianapolis have shown little interest in changing a road-funding formula that benefits their districts.
Indiana allocates road money based on center-line miles—essentially the length of the roads—rather than vehicle miles traveled, which take into account the traffic on those roads. The formula favors rural counties with fewer lanes and less traffic over urban centers with lots of lanes filled with cars and trucks.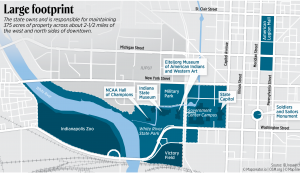 As a result, in 2021, Marion County received less than 5% of the state's road funding, despite accounting for roughly 13% of the state's population.
Democrats have tried unsuccessfully for years to change the formula. Rep. Justin Moed, D-Indianapolis, introduced a bill this session that would make the change, but it's unlikely to receive a hearing.
"It's hard to expect the city to be able to meet its road obligations if the funding formula creates a structural deficit year after year," Moed told IBJ.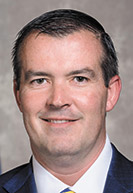 But Sen. Aaron Freeman, R-Indianapolis, has authored a bill that would require the formula to include the entire population of the city of Indianapolis, rather than just the population of its fire service district, which excludes three Marion County townships.
That measure—which passed the Senate this week and now moves to the House for consideration—could increase Indianapolis' local road funding by about $8 million per year, an increase of roughly 25%, according to a fiscal analysis by the nonpartisan Legislative Services Agency.
"I'm trying to fix a problem," Freeman said. "It's not partisan—there's right and wrong."
2 Address toxic bars
A recent investigation by The Indianapolis Star and WXIN-TV Channel 59 found that limits on local police and lax enforcement by the Indiana Alcohol & Tobacco Commission have allowed problematic bars to stay open—with sometimes deadly consequences. The investigation identified more than 600 violent incidents tied to Indianapolis bars, nightclubs and event centers since 2016.
That includes problems at bars on South Meridian Street downtown, where drug use, shootings and fights have helped elevate the perception that all of downtown is dangerous.
The Marion County Prosecutor's Office and the Indianapolis Metropolitan Police Department say they do not have adequate authority to issue violations or shut down bars. That responsibility lies with the ATC, which has dramatically reduced the number of underage drinking checks and violations it issues to problematic businesses. IndyStar reported that the agency has only 73 excise officers to monitor 15,000 places that sell alcohol.
House Speaker Todd Huston, R-Fishers, has rebuffed suggestions that the state needed to play a larger role to fix the problem.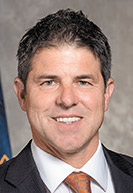 "I just always kind of struggle when the city of Indianapolis automatically always turns and blames the state," Huston told reporters earlier this month. "At the end of the day, they should think about investing more in policing and being more rigorous prosecuting instead of blaming a state agency."
In its 2023 budget, the city allocated a record-high $313 million for IMPD, and local police and city prosecutors have said state law prohibits them from shutting down bars where violent events have occurred.
When asked if legislative action was needed, Senate President Pro Tem Rodric Bray, R-Martinsville, said the ATC is "not there to enforce or prevent murders or fights or violence," and, "if the city is serious about that, they'll put a law enforcement officer outside of those bars, and the prosecutor will take those seriously."
But Sen. Andrea Hunley, D-Indianapolis, said the state needs to consider ways it can crack down on irresponsible bar owners.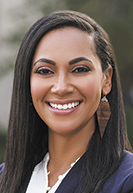 "I do think it's time for us at the Statehouse to look at what we can do to expand the options that ATC has so that we can make sure we're addressing these bad actors," Hunley said.
Sen. Ron Alting, R-Lafayette, told IndyStar and Fox 59 he is considering legislation to address the issue.
3 Support housing initiatives
Business leaders and city officials in Indianapolis are hopeful the state will put real money behind an effort to reduce Indianapolis' homeless population.
The State Low Barrier Task Force released a report of recommendations in December that included $51 million in state funding for several housing initiatives, including support for a low-barrier shelter.
Moed, who served on the task force, has authored a bill that seeks $20 million in state funding for a homeless shelter grant program, $16 million for tenant support and $15 million to establish a master leasing program.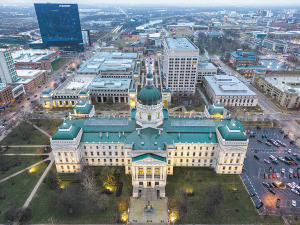 "This would be a shelter where people can come in and get a roof over their head while we continue to connect them with services," Moed said.
He expects the House Ways and Means Committee to schedule a hearing on the bill soon.
Lawmakers from both parties have also introduced bills designed to help alleviate a housing shortage in both Indianapolis and Indiana.
In addition, Moed has authored a bill that would allow the Marion County Redevelopment Commission to establish a residential housing development program to encourage home construction.
4 Fund mental health programs
A recent study by Mental Health America found that Indiana ranked 41st in the nation for the state of mental health in adults, with more than one in five Hoosiers experiencing mental illness each year.
The problem carries a heavy price: The economic burden of untreated mental illness on Indiana is more than $4.2 billion, according to the Richard M. Fairbanks School of Public Health at IUPUI.
Senate Republicans listed mental health as one of their top priorities this session. To that end, state Sen. Michael Crider, R-Greenfield, authored a bill that would allocate additional funding to the state's community mental health centers and 988 suicide and crisis hotline.
The Indiana Behavioral Health Commission recommended $130 million in funding for those programs, but it's unclear whether lawmakers will allocate the full amount in the two-year budget they are crafting now.
Senate Bill 1 passed the Senate earlier this week but was stripped of its funding mechanisms. It now awaits approval in the House.
"There is no single solution for the Hoosiers suffering from mental illness, but this will move Indiana toward getting help to those in need when they need it," Crider said in written remarks following the bill's passage in the Senate.
Rep. Blake Johnson, a Democrat from Indianapolis, said state support is crucial to tackling complex issues like mental health, which contribute to crime, addiction and homelessness.
"The state needs to be a willing partner to help us get to the end zone and accomplish some of those things around mental health," he said.
5 Fix the Soldiers and Sailors Monument
Outside Washington, D.C., Indianapolis has more historic monuments and memorials than any city in the country. But of the 48 shrines honoring Hoosier veterans in Marion County, one towers above the rest.
Standing at 284 feet tall—only 15 feet shorter than the Statue of Liberty— the Soldiers and Sailors Monument was completed in 1902 to honor Hoosiers who served in the Revolutionary War, the War of 1812, the Mexican War, the Civil War, the Frontiers Wars and the Spanish-American War.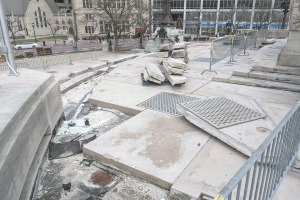 Designed by German architect Bruno Schmitz, the monument contains gray limestone from the Romona quarries of Owen County.
Walk past it today, and you'll see a fence surrounding the northern section that is currently off limits to the public. That's because the monument has been plagued by drainage problems for years, in large part due to its porous limestone.
In 2018, the Eli Lilly Civil War Museum was moved three blocks north to the Indiana War Memorial after a leak in the monument's basement endangered the precious artifacts stored there. But recently, the state discovered prevalent drainage problems at the Indiana War Memorial also.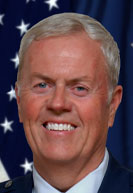 "We're talking about 100-year-old buildings. They demand work, and they demand maintenance," said retired Brigadier Air Force Gen. J. Stewart Goodwin, executive director of the Indiana War Memorials Commission. The commission manages 25 acres of downtown property, including the Soldiers and Sailors Monument, the Indiana War Memorial Museum, the USS Indianapolis Memorial on the Canal, Veterans Memorial Plaza and the American Legion Mall.
Fixing the drainage problems on the northern section of the Soldiers and Sailors Monument, along with replacing some limestone steps that have degraded over time, is expected to take most of this year, Goodwin said. Work on the southern end is expected to get underway early next year and be finished by the end of 2024.
When asked whether his organization is receiving the support it needs from state officials, Goodwin said collaboration has never been better.
"They have a tough job. They have a lot more funding requests than they have dollars," he said. "We're happy that they understand that, if the buildings aren't watertight, they're not going to last as long as they normally would."
Goodwin said the commission has a 30-year plan for its properties and plans to request funding to fix drainage problems at the Indiana War Memorial Museum.•
Please enable JavaScript to view this content.