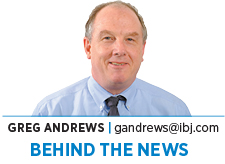 SpartanNash CEO Dennis Eidson could barely contain his excitement in November 2016 when his Michigan-based grocery-distribution company announced the $218 million acquisition of Indianapolis-based Caito Foods Service.
Founded by brothers Philip J. Caito IV and Joseph A. Caito in 1965, the company had become a leading provider of fresh fruits and vegetables to retailers and distributors in 22 states, generating more than $600 million in annual sales.
But what Eidson was perhaps most excited about was Fresh Kitchen, a $32 million, 118,000-square-foot facility in Indianapolis that Caito was in the process of building. It would cook and process fresh, protein-based foods and complete meals.
Caito seemed on the forefront of the unmistakable "grocerant" trend, as supermarkets offer more freshly prepared fare for eating onsite or takeout.
"We identified what we wanted to accomplish with regard to M&A," Eidson said on a conference call with analysts six days after the purchase announcement. "So one company just jumped off the page, and it was Caito.
"It's a great company. It's got a great management team. They have a great vision. And there is the whole Fresh Kitchen opportunity that will come along with it that is right on point and exactly what the consumer is looking for today."
Today, SpartanNash executives are no longer singing Fresh Kitchen's praises. In fact, the company announced in August it was shutting down the division following a long struggle to make it profitable.
At the same time, SpartanNash announced the departure of David Staples, whom the company had promoted from president to CEO in May 2017, following Eidson's retirement.
"The board remains confident in the company's strategic direction and its ability to generate top line growth; however, execution has fallen short of our expectations and we believe that now is the time for a leadership change," Douglas Hacker, the board's lead independent director, said in a statement.
Assessments were harsh. "Fresh Kitchen bombs," wrote Winsight Grocery Business. The operating "nightmare in Fresh Kitchen is exited," wrote Jefferies analyst Christopher Mandeville in a report.
SpartanNash said it will record losses and disposition expenses of up to $4.5 million and take a $14.0 million asset-impairment charge stemming from the shutdown. In addition, Caito, which has about 1,300 workers, said it is eliminating 53 jobs, most of them cooks or chefs.
The flop serves as a cautionary tale in the M&A world, where deal-making zeal can lead executives to overlook risks and overestimate opportunities.
Problems at Fresh Kitchen surfaced almost immediately after the purchase closed in January 2017. The facility was supposed to be fully operational in the first quarter of that year, but SpartanNash said that August that Fresh Kitchen was still in limited production and "was not expected to meet original expectations for the current fiscal year."
In February of this year, it was still sputtering. On a conference call, Chief Financial Officer Mark Shamber declined to reveal numbers, but said, "Look, it was losing money, and while we've seen progress on a year-over-year basis, it hasn't been at the rate that we would like or expect."
In a May conference call, SpartanNash revealed that it had hired an outside consultant to help improve Fresh Kitchen's results.
In response to repeated questions from analysts that day, then-CEO Staples said problems ranged from supervisor turnover in a tight labor market—which created kitchen inefficiencies and excessive food waste—to too many product offerings with low sales volumes.
"I'd say that's a big learning," Staples said of the range of product offerings. "You can't be all things to all people. And sometimes, as you're starting up an operation, you're on the hunt for growth and all types of products being great, and you learn that isn't always the case."
Good riddance to the business, even though the shutdown will slice annual sales by about $20 million, Jefferies' Mandeville said in a report.
SpartanNash's "exit of FK is a clear positive, not only given the significant operational challenges it has created, but also as it helps clean up the overall investment thesis," he wrote.
But BMO Capital Markets analyst Kelly Bania said in a report that abandoning the freshly prepared meals business comes at a cost.
She said it suggests SpartanNash "will remain isolated from offering faster-growing prepared food categories."•
Please enable JavaScript to view this content.