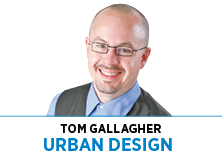 It is unlikely the Homeowners Loan Corp. realized the lasting impact its color-coded reference maps would have on American cities when those maps were published in 1930.
Known today as red-lining maps, the documents were meant to help investors determine the "security" of their investments. But, like the 1937 Indianapolis map that accompanies this column, these evaluations of real estate were not limited to a few "troubled" areas. They were a mechanism for evaluating every neighborhood in a city.
We know today that these maps were, in many ways, self-fulfilling in that they led to a cycle of devaluation, disinvestment and displacement in many of the areas designated as declining or dangerous.
Interestingly, the fallacy of this biased and divisive approach seems to be proven by the maps themselves. The Indy map, for example, indicates that, after more than 100 years of development and city-building, a mere 15% of the city was worth investing in. In a full third of the city, it would be considered "dangerous" to invest.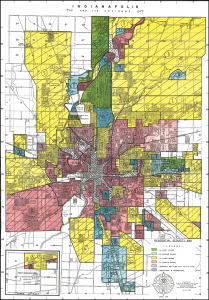 No matter how you look at it, these old maps are central characters in the most perplexing urban challenge of our times: bringing necessary investment to places that have been starved of resources and opportunity—and doing so without physically displacing residents or circumventing their prospects for participating in development that can build wealth and secure wellness.
Shunning methods that haven't met those goals, the Kheprw Institute, based in the Concord building at the corner of Illinois and 38th streets, is pursuing through its Alkhemy initiative community ownership, community investment and community wealth models that give neighbors a more central role in the fate of their neighborhoods. While the relative rarity of these approaches might make them seem novel, such community-based mechanisms have been generations in the making.
The concept of the Community Land Trust might best illustrate the core ideals. The CLT is a relatively simple structure in which the community owns the land and an individual owns the building. The "community" is locally determined and represented by a not-for-profit governed by a board of local residents, stakeholders and civic leaders.
The building owner—whether an individual, family or business—has a 99-year lease on the land and must abide by certain covenants but is otherwise free to act as any traditional owner would.
By sharing the benefits and obligations, these structures open opportunity to more people while simultaneously facilitating reinvestment in the community as a whole.
The intricately complex realities of these neighborhoods require the most intimate responses. Community wealth structures use deep democratic determination of priorities and actions. What this system might lack in nimbleness it makes up for in hyper-local outcomes.
A growing body of evidence finds a number of key economic benefits to community wealth structures:
◗ facilitate long-term affordability while still allowing for wealth-building;
◗ increase opportunities for residential ownership and retention, particularly for those who would likely otherwise be renting;
◗ provide an authentic community voice in land use and change;
◗ act as a long-term investment strategy with patient capital, making possible the missing middle housing types that are not supplied by the traditional market; and
◗ leverage assets to stabilize or create businesses, developments and public spaces.
The research also suggests that community wealth initiatives are adept in providing benefits beyond economics, like place-determined aspects of health, resiliency and food access; civic "buy-in" and organization facilitated by democratically determined local vision; and strengthened culture, social cohesion and social networks.
At a minimum, these structures are reminders of what it really means to be part of a community. It is the heart of the reason humans make urban places. Cities are, first and foremost, people and resources brought together in an amount and a closeness that sparks synergy (implied mutual benefit) and facilitates the most significant human relationships.
They are an appropriate sentiment for us to bring into a new year. Best wishes in 2022.•
__________
Gallagher is a principal and urban designer with Ratio and a professor-in-practice of urban design at Ball State University. Send correspondence to TGallagher@ratiodesign.com.
Please enable JavaScript to view this content.