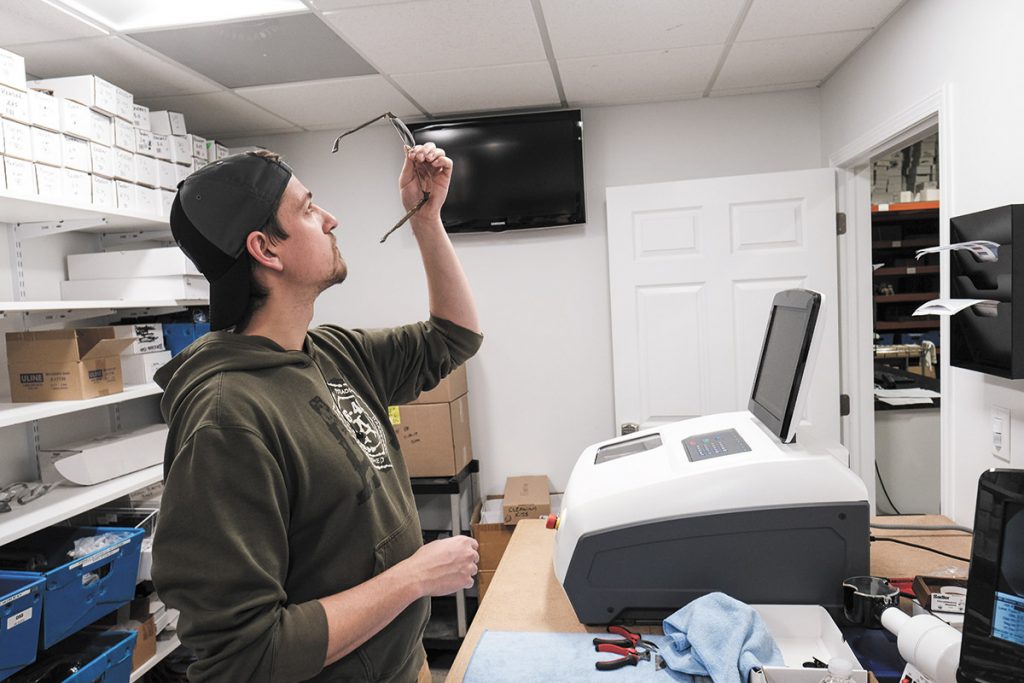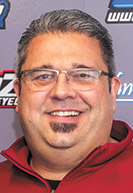 When Indianapolis resident Rico Elmore tried unsuccessfully in 2005 to purchase a pair of sunglasses for his plus-size head, the former truck driver couldn't have known the frustration would lead him into a new business—one that seems both a little absurd but also well placed for growth.
"Some people were encouraging, but there was also a fair share who really weren't fans of the idea," Elmore said.
The concept came about while Elmore was in Las Vegas to get married. When he tried to buy sunglasses at a boutique, he discovered none fit his prodigiously sized dome. He jokingly suggested to a friend that he should start a company that sold big glasses—and call it Fatheads.
The joke quickly turned into a business plan. That year, Elmore and two associates launched the company, though they had to christen it Fatheadz because Fatheads already was taken by a Philadelphia pub.
Starting out with just four sets of sunglass frames, the company now offers five lines for men and women with more than 100 frame styles. Fatheadz produces about 200,000 frames annually.
"Where everybody else stops, that's where we begin," Elmore said. "If you get a pair at the store, and it's the biggest thing you can buy, the next thing you need is what we've got."
The company owes its rapid growth in part to a burst of publicity it received soon after getting started. The plus-size eyeglass concept earned it a ton of television and newspaper coverage, which soon attracted the attention of Walmart. The Fatheadz brain trust was summoned to the retailer's Bentonville, Arkansas, headquarters to pitch the product for sale in the massive chain's optical stores.
Fatheadz closed the deal, and in 2007 began selling through Walmart—an arrangement that stands today. Lately, the retailing giant has furthered its ambitions in the large-customer market. It recently bought the plus-size clothing brand Eloquil, launched a private label called Terra & Sky, and purchased an online retailer called ModCloth that features vintage and indie women's clothing in both regular and plus sizes.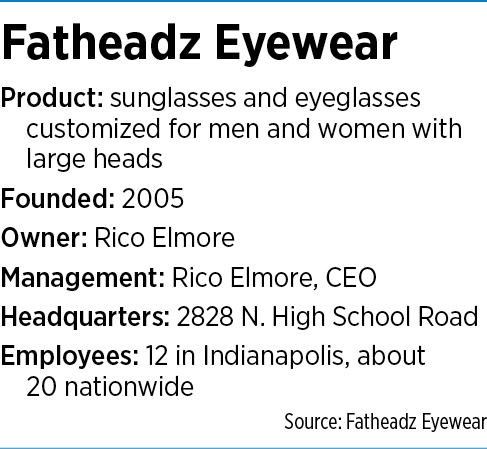 Fatheadz's wares are also available at other retailers and on the company's website. The company assembles many of its frames at its 2828 N. High School Road headquarters, where 12 of its approximately 20 employees work.
Its newest project is its All-American Version 2.0 sunglasses—a highly customizable product that allows buyers to select their preferred frame style and color, and polarized lens color.
Fatheadz says it makes the frames with as many U.S.-made components as possible—a tall order, given that much of the industry long ago moved to Asia.
"We would love to have it all here," Elmore said. "Is that feasible today? Not exactly, but we're trying. The bottom line is, if we could have it all here today, that's exactly what we would do."
Fatheadz sources the lenses for the All-American Version 2.0 sunglasses from overseas but obtains the frames in the United States. Setting up that supply chain was no small logistical feat—one that necessitated importing custom injection molding equipment from China, then going through several U.S. producers before finding one Fatheadz liked.
Fatheadz wouldn't disclose revenue, though, thanks to the Walmart deal, it already was approaching $2 million in revenue by 2010, according to a Forbes article that year.
Even as it has established itself as the leader in the large-head market, Fatheadz is a small fry in the global eyewear industry, which is valued at $140 billion this year and is projected to swell to $211 billion by 2025, according to Statista Research & Analysis.
The major players are France-based Essilor, Johnson & Johnson Vision Care, Luxottica Group, Novartis and Safilo Group. Together, they own pretty much every brand of sunglass and eyeglass one could easily name.
About the only way to crack a market like that is to find an underserved segment and target it with laser focus, business observers say.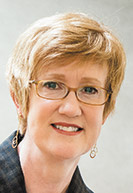 "People are coming up with these sorts of niches all the time," said Jonlee Andrews, clinical professor of marketing at Indiana University's Kelley School of Business. "You have to identify a real need—something that people are not finding other ways of solving. After that, things start falling into place."
It doesn't hurt that Big Eyewear hasn't seen fit to make the big-head niche a priority.
"There's people that try to get into it, but at the end of the day, they aren't," he said. "They don't focus on it like we do."
Andrews doubts the big companies ever will dive in since, to them, the segment amounts to no more than table scraps.
"The other companies probably aren't going to go after it, because it's just one more shape and size that they would have to manufacture, and it's more investment and inventory," she said. "So he's probably pretty safe where he is."
One thing Fatheadz probably won't do is enter the market for regular-size specs.
"There's lots of folks in that area," Elmore said. "We'd much rather take care of those who otherwise don't get taken care of quite so well."
Fatheadz should have opportunities to grow without veering out of its niche. Experts project that, in the coming years, eye problems and obesity will continue to increase in the United States and worldwide.
And obesity creates the sorts of big heads Elmore caters to.•
Please enable JavaScript to view this content.