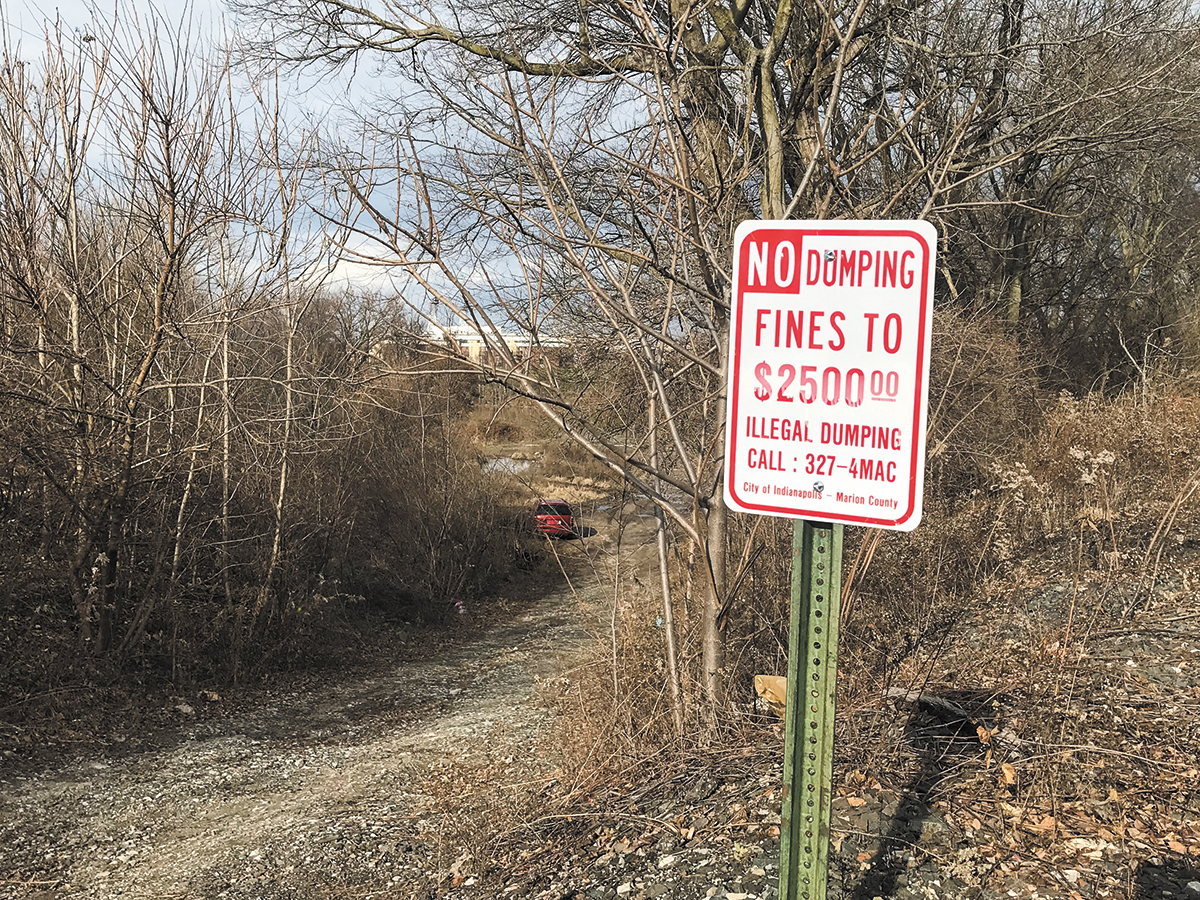 Just north of where the White River meets Fall Creek—near where, 200 years ago, commissioners settled on a new location for Indiana's capital—some modern-day Indianapolis residents fish, boat and hike.
The path to the water is muddy after the winter rains. It's an illegal dumping go-to, periodically littered with plastic bags, asphalt shingles, electronics, furniture and, on one day in mid-December, a battered red Dodge Grand Caravan. An orange-tipped needle glimmered among the weeds.
Still, this quiet area is a peaceful getaway for those who know about it, despite the rumble of the nearby White River Parkway.
"I just come down here to have fun, enjoy myself and fish, to get my mind off everything else," said Indianapolis resident Travis Crawford, while his wife wrangled their laughing daughter, dressed head-to-toe in pink.
There's a red-on-white "No Dumping" sign at the entrance, which threatens fines of up to $2,500, but the site still doesn't stay clean for long.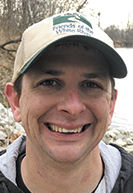 "The last time we cleaned up this place was the last week of September," said Scott Salmon, leader of not-for-profit Friends of the White River, during a mid-December visit to the site, dubbed River Station. "All the trash you see has been added since then."
Salmon's organization is part of a loose coalition of Indianapolis-based groups hoping to turn River Station into an outdoor recreational hub that would bring more families like the Crawfords in—and leverage public visibility to push out illegal dumping.
The vision? A parking lot, boat ramp, a smattering of event spaces and more.
Organizers of a similar initiative a half-mile upstream enjoyed significant success with a temporary park launched over the summer, but there are finite city resources to contend with, and several permitting processes to slog through.
"Our number one goal … is finding a definitive solution to this problem," Salmon said. "Picking up trash, and picking up the illegal dumping—we could do that for the next 10 years, and all we're doing is a Band-Aid fix. Because the next day, the next week, the same people who dumped the stuff we just picked up, they're going to be back."
Persistent problem
Friends of the White River typically rounds up a small army of volunteers for its annual April cleanup of two to four sites along the river, but was rained out in 2019. The pandemic forced a cancellation in 2020 and pushed this year's event back to late September.
"When we went out there, it was pretty sad, because [there were] 100-plus tires, truckloads of debris," Salmon said. "It was the worst it had ever been."
Efforts to stop illegal dumping stretch Indianapolis' thin resources, so volunteer groups like Friends of the White River and tagalong corporate partners do what they can.
The Department of Business and Neighborhood Services, formerly known as Code Enforcement, investigates illegal dumping reports called in via the Mayor's Action Center but isn't always successful in identifying violators against which to pursue cases.
"It's not as often as I would like," said Jacqie Heikes, deputy director of property and land use services. "Most of our successful pursuit of numbers is based on the cases we get from the cameras, since we're able to get license plate numbers and identify people."
Her department has just three cameras set up around Indianapolis, and they typically get moved every three to six months. Business and Neighborhood Services is hoping to expand the program, but areas along the White River are a challenge, Heikes said. Large, open areas with multiple points of entry need more cameras.
The Department of Public Works, meanwhile, keeps an eye on problem areas that Friends of the White River and Business and Neighborhood Services identify, and is often called in to drag out what gets dumped.
But Public Works crews work all over Marion County, and can't be everywhere, noted spokesperson Ben Easley in an email.
"I'd say that any public discussion about the issue of littering/illegal dumping should be understood in the context that the city of Indianapolis does not generate this issue, and so, as much as we'd like to help with cleanups, etc., it is not our strapped-for-resources operations crews who have created the mess," Easley added. "It is residents of Indianapolis who are abusing their environment. Litter is everyone's issue."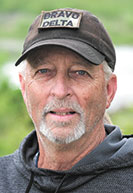 There's early evidence that information can help. Behavior-change research from Keep Indianapolis Beautiful and the city's Office of Sustainability showed that households that got a mailer breaking down the city's heavy-trash disposal options were 55% more likely to "properly" set their trash out for collection.
Several Indianapolis-based groups, including Friends of the White River and Reconnecting to Our Waterways, are working on another plan: Make frequent dumping grounds look like they are cared for.
"When it looks like somebody cares, then it's like, 'OK, I can care too,'" said Greg Harger, co-chair of Reconnecting to Our Waterways' White River Committee. "If nobody cares, then nobody cares, and then it just declines."
Public potential
Friends of the White River is on its second year of a grant from the Nina Mason Pulliam Charitable Trust to identify and track nearly a dozen illegal dumping hot spots along the White River, and to find Salmon's sought-after "definitive" solution.
The vision for River Station, and the half-mile chunk of Haughville Nature Trail connecting it to Belmont Beach, is detailed. It includes a small-craft launch, motorized boat ramp, four small-event spaces, a monarch butterfly garden and a handful of "reflection stations" to access the river, make art, fish and observe wildlife.
The water at River Station is 8 to 10 feet deep, according to Salmon, making it a rare downtown access point for motorized boats. Much of the White River is navigable only by small, non-motorized craft like kayaks and canoes. To Salmon, that means potential.
"The best deterrent is going to be that River Station becomes a destination for people to come and recreate even more than it already is," Salmon said. "The local folks go there, but that's not enough demand or use to really keep the illegal dumping out. So, creating infrastructure for positive recreational use is the number one priority."
That also includes a proposed crushed limestone parking lot and trail, a floating section of sidewalk over a combined sewer overflow outfall along the trail, and an ongoing campaign for warning signage on the river ahead of the Emrichsville Dam.
In March, 17-year-old Kevin Josue Flores Rodriguez was killed after his canoe was sucked too close to the low-head structure, an unassuming but notoriously dangerous type of dam. It's recently been decommissioned, according to the Department of Public Works' Easley, and a team is wrapping up plans for warning signage.
"If you want to see people on the river downtown, you have to make it safe," Salmon said. "And we make it safe by giving them a safe place to launch that's monitored and lighted. We make it safe by warning them about channel hazards up here and also at the Chevy Dam."
River Station organizers have also been working through permitting and other permissions with Indiana's Department of Natural Resources and Department of Environmental Management, alongside others.
"When they're ready to go, we'll be ready to go and help fundraise," Salmon said.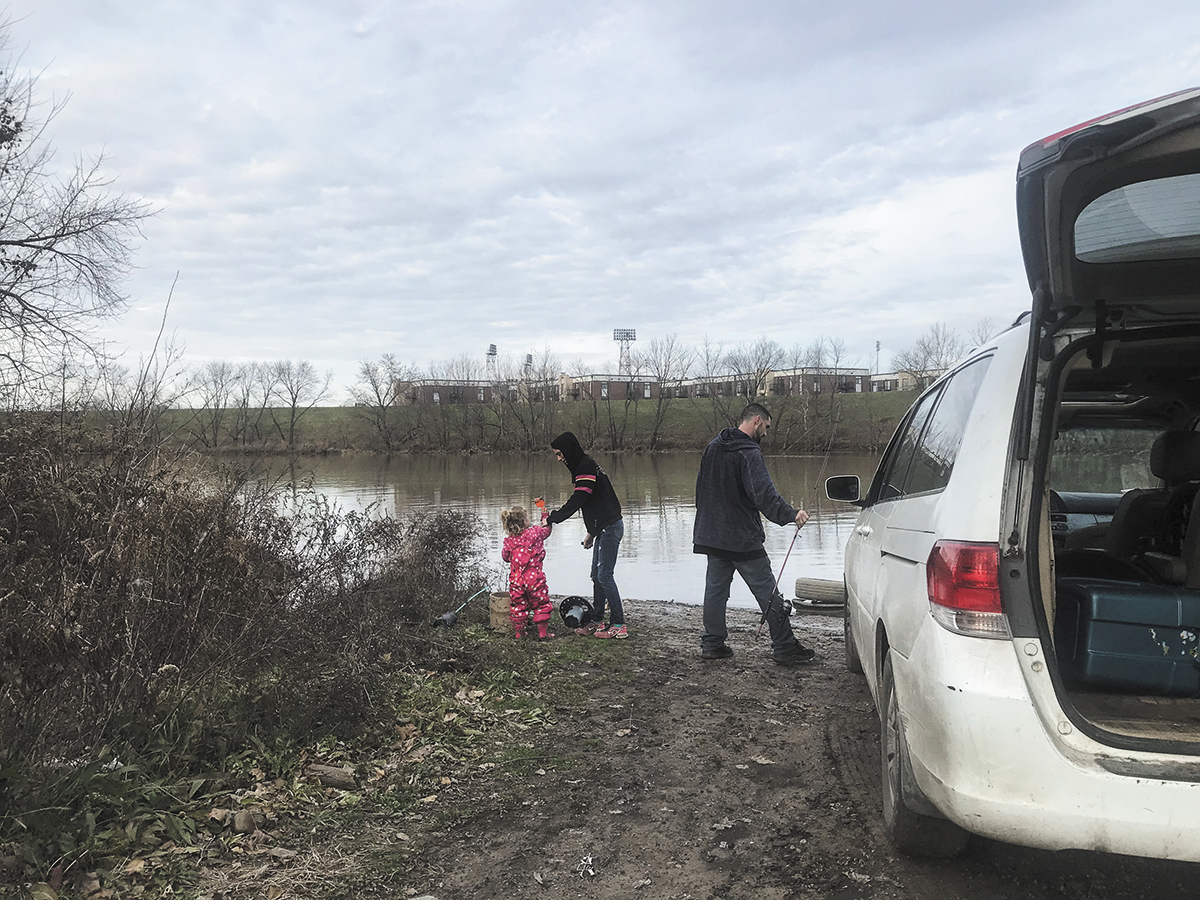 Temporary, or not?
The River Station initiative comes after arts, outdoors and community organizations established a highly successful, but temporary, pop-up park at Belmont Beach, just south of 16th Street—a kind of proof of concept. The site—once one of the only places Black residents could swim in Indianapolis, despite heavy pollution—was also another frequent target of illegal dumping.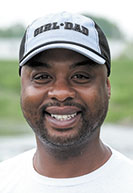 Members of arts not-for-profit Indy Convergence, community organization Haughville Strong, Reconnecting to Our Waterways and other groups organized Belmont Beach over about two years, said Haughville community leader Teddrick Hardy. The project also took support from Visit Indy, a grant from the Lilly Endowment and permission from the Indianapolis Authority, which owns most of Belmont Beach.
The project grew to include a sandy beach area, picnic tables, fire pits, a fountain, art zone, basketball court and more, according to the website. For Hardy, it was more than the sum of its parts.
"It was like a space that we created, because the community knows that they built it," Hardy said. "Everybody that came up there took some type of ownership in just being there."
It took residents five days to build the basketball court, Hardy said. They flattened the land, framed it in, laid the sand and pavement, and put the goals up.
The pop-up park closed in October, and the materials went back to residents for other parks or projects. The regular cleanups are over. But two months later, Belmont Beach is still mostly clear, with only the occasional windblown plastic bag snagged in the long grass. Low, heavy barriers narrow car access to the water and trail entrance.
"We're in the off-season, so that was something we worried about, was: Would people start the dumping again, since we're not out there?" Hardy asked. "But that's where I go back to knowing that the community [members] had their hands on it from the beginning, and we're taking ownership."
Belmont Beach's future isn't totally clear. Organizers have secured funding for a second summer of operations and are working to formalize their efforts via a not-for-profit, to be called Friends of Belmont Beach, according to Hardy. He's set to be the organization's first board chair.
Still, advocates have big plans for the beach and other areas, and they're not unprecedented.
The Haughville Nature Trail, for instance, will be a branch off the larger Urban Wilderness Trail that Harger helps manage, and which even has a section running through the White River State Park. But its origins are unassuming.
Twenty years ago, Harger, who also leads an elite athlete training group called the Indiana Invaders, just wanted a place for recruits to run.
Since then, he's helped organize mini-field trips with students from Indianapolis Public School 63 across the White River Parkway and is now working to further expand the Urban Wilderness Trail. The goal, Harger said, "is that we don't lose, from [Chevy] Dam to [Emrichsville] Dam, any of the 250 acres of wildlife habitat that's here in the city, right now."
"It's one thing to preach to the choir within groups that are focused on a topic. That's nice, but if you're really going to have an impact, you need more people to have an awareness of what you're doing, and to be able to see it and touch it," Harger added. "So, when the kids come out, and they can do something on tree bark, or find animal tracks. … They could run a whole outdoor field-trip program for IPS for nothing more than just going for a hike on the trail."•
Please enable JavaScript to view this content.