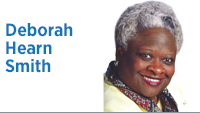 The General Assembly is in session and the governor has set out his priorities for the state. This is a short session year, when time and resources force us to really pare down our priorities. That's when our true selves come forward.
There are two key issues that affect our Indiana families and children that are interestingly already off the table and/or face an uncertain future. Because both subjects disproportionately affect women, it was easy for the male-dominated legislative body to kick them down the road.
The first issue is teacher pay. Capital projects at our institutions of higher learning will get funding that could have lifted classroom teacher pay to a more livable wage.
I don't need to repeat the facts: Indiana has some of the lowest pay for teachers in the Midwest. Teachers with master's degrees are working second jobs just to make ends meet. This directly impacts families, and reports show that more than 75% of teachers are women. I recently talked with a classroom teacher who receives a rent subsidy because of her low salary. This is a disgrace in a state that brags about its budget surplus and great work environment. I hear our leaders give lip service to the wage gap; however, when given the opportunity and resources to make a change, they choose buildings over people.
So once again, the voiceless and most vulnerable—our children—are the losers. How do we expect the future to be bright when we keep extinguishing the light of hope for the next generation?
The most effective way to move forward is the use of the ballot. As we enter the next voting season, educators and those who care about the future of our children must remember who failed us this year. Many promises will be made as we enter the campaign season, but I suggest we look at past actions—not future promises. We know political promises are easily broken. Pay attention now. Make a commitment to vote for our children; they deserve the best.
The next item mirrors the federal Paycheck Fairness Act. This proposal states that job applicants cannot be asked past salary history. On the surface, this sounds simple, but let's explore why this is critical to reducing the wage gap. Currently in Indiana it is common practice during the hiring process for applicants to be asked salary history. This information is then used to establish a base for the job offer.
This system perpetuates the salary gap in two ways. First, we know women make less than men for the same job. The salary history allows the potential employers to offer a salary based on that history, not one based on the salary of men in the company. Since women start lower, they are never able within this system to gain parity. Eight states have already passed this regulation. This is especially important to women of color, who research shows earn less than white women.
There is another group affected by this issue: the older worker. Once the salary history is disclosed, often the older worker is told they will not be happy with the salary available. This has left many workers 55 and older unemployed when they are downsized late in their careers.
Asking for a salary history serves no purpose that benefits the worker. An employer should have established and known ranges for its workforce to determine the salary offered.
Two easy ways to begin to address the wage gap now is to increase the base of our teachers and eliminate salary history from employment information.
Governor and legislators, do the right thing—now.•
__________
Smith is former CEO of the Girl Scouts of Central Indiana. Send comments toibjedit@ibj.com.

Click here for more Forefront columns.
Please enable JavaScript to view this content.