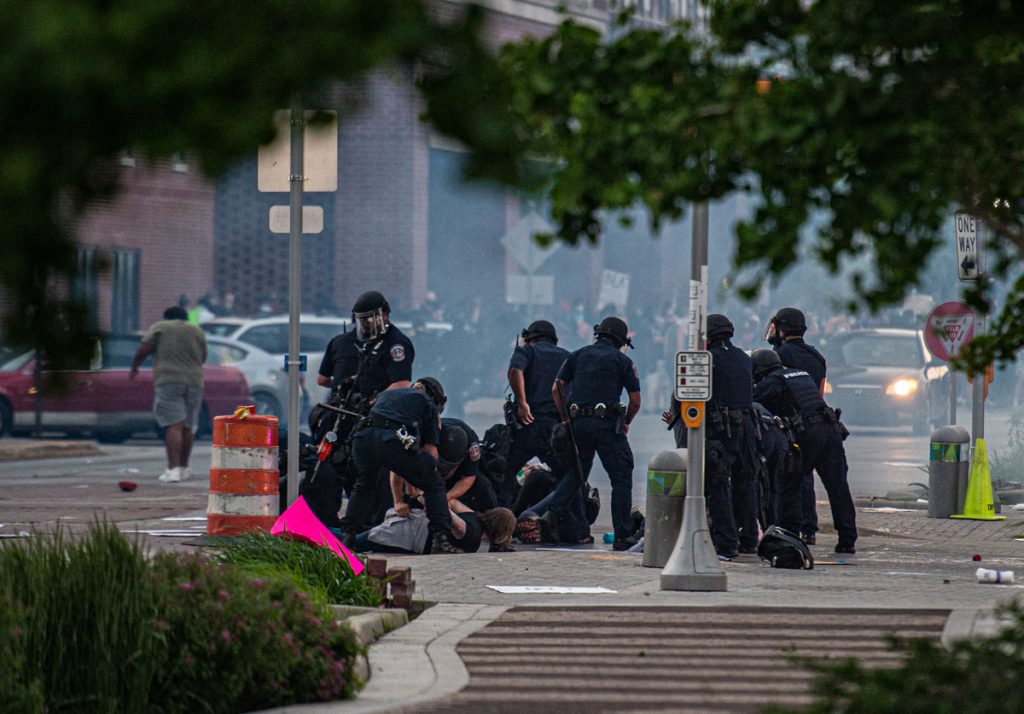 After a night of wide-scale destruction downtown that followed an afternoon of peaceful protests, Indianapolis Mayor Joe Hogsett said Sunday morning that he would establish a curfew that starts at 8 p.m.
"These actions are necessary but they break my heart," Hogsett said on a live-streamed press conference.
However, Hogsett said he didn't see a need to deploy the National Guard in Indianapolis. The governors of at least 12 states have called up National Guard troops to help quell protests, but Gov. Eric Holcomb has so far been mum on the possibility of doing so in Indiana.
Under the curfew announced by Hogsett that covers Marion County, most residents will be required to stay home beginning at 8 p.m. and stay there until 6 a.m. Exceptions will be made for people traveling to and from work, for medical treatment or to aid family members.
Public safety workers and journalists also will be exempt. Law enforcement will be prepared to enforce the orders, and individuals who don't adhere to the curfew will be subject to arrest and fines up to $10,000.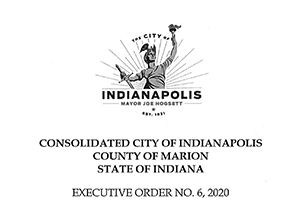 Hogsett said he expected more protests in the city on Sunday and urged participants to be off the streets by 8 p.m. But he emphasized that he encouraged residents to otherwise organize peacefully and lawfully demonstrate.
"Indianapolis, city government and your police department will continue to do all we can to provide safe passage for messages of peaceful protest," he said. "But it is clear after last night that we can no longer provide the protection of those protestors or our downtown residents and business owners when an unfortunate few are so determined to hijack this movement for their own selfish reasons, for their own selfish purposes."
The mayor and officials with the Indianapolis Metropolitan Police Department took pains to praise thousands of people who marched through downtown in late afternoon and early evening, protesting the death last week of a black man in police custody in Minneapolis, as well as other recent instances of police violence.
But what began as a peaceful protest devolved late Saturday night into violence and what a police official described as riots. When the turmoil finally subsided early Sunday, three people had been shot, with two dead, first-floor glass had been knocked out of dozens of buildings, and angry graffiti messages were sprayed across the Mile Square. Altogether, 29 people were arrested, after 27 were arrested the night before.
IMPD Deputy Chief Josh Barker said yesterday afternoon's protest was one of the most "positive experiences" IMPD has been able to take part in.
It wasn't until the large group splintered into two, with one heading to the City-County Building—where the mayor's office and IMPD headquarters are located—that things turned violent.
Barker said IMPD did not engage with protestors until what he called rioters began pounding on the City-County Building to try to break in.
At that point, IMPD deployed tear gas and pepper balls, demanding that participants disperse, saying the assembly was no longer lawful.
More demonstrations ensued across the Mile Square, where injuries were reported and fires ignited.
Barker said it wasn't until 4 a.m. that IMPD felt order had been restored to a comfortable level. At no point did IMPD officers discharge a firearm, IMPD Chief Randal Taylor said.
Click to see a gallery of photos of damage from Saturday's vandalism.
"These were not selfless acts of courageous change," Hogsett said. "There is no just cause furthered by destroying the livelihoods of thousands of families, including black families. … These were selfish acts of people who did not give one moment's thought how their violence might harm the cause of progress."
The curfew is just for one night, but Hogsett said he'd be willing to extend it if necessary and that those decisions will be made day by day.
His office is also working with the Marion County Clerk and election board to ensure Tuesday's primary election remains safe and efficient, he said.
Hogsett said the city is also dedicated to helping businesses that have been destroyed during the past two nights. The Indianapolis Department of Public Works is providing materials and labor to businesses trying to clean up and secure buildings.
In coming days, the city will work with Downtown Indy Inc. and Indy Chamber to identify other ways it can aid businesses that have been impacted by the events.
Please enable JavaScript to view this content.