The core of downtown was in shambles Sunday morning, with graffiti and shards of glass everywhere, following an unprecedented night of violence in Indianapolis.
What began as a peaceful protest devolved late Saturday night into violence and what a police official described as riots. When the turmoil finally subsided early Sunday, three people had been shot, with one dead, first-floor glass had been knocked out of dozens of buildings, and angry graffiti messages were sprayed across the Mile Square.
"Downtown is being destroyed," Patrick Tamm, president of the Indiana Restaurant & Lodging Association, told IBJ in a text message early Sunday.
It was the second night in a row that protests over the death of George Floyd of Minnesota and broader issues of inequality for African Americans spurred protests downtown that turned violent. While Friday night's vandalism rocked downtown, Saturday's proved to be even worse.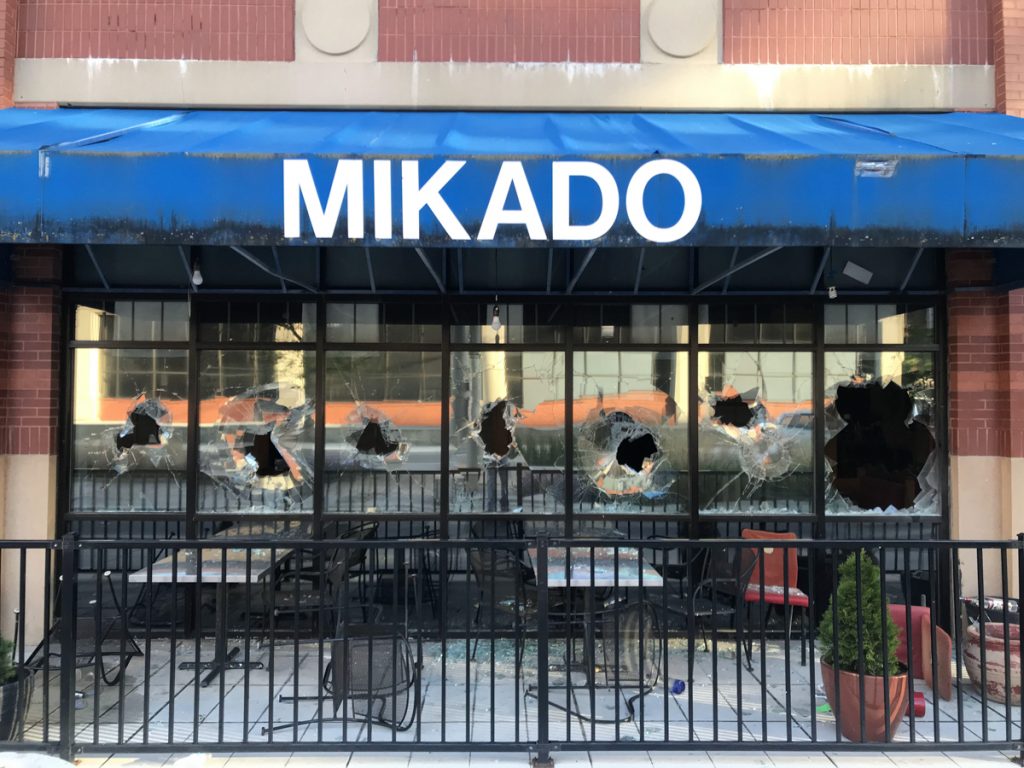 Angry protesters set ablaze the CVS at 175 N. Illinois St. and started numerous dumpster fires across downtown. Their graffiti messages included "Justice for Floyd," "Stop cops," "No more silence" and "Stop killing us."
Police reported 29 arrests of protesters late Saturday until about 4 a.m. Sunday after 27 were arrested the night before.
Sustaining damage were properties as far north as the Indianapolis Athletic Club Condos, 350 N. Meridian St., and as far south as the Saint John the Evangelist Catholic Church, 126 W. Georgia St., where a worker was struggling to remove graffiti from a brick wall Sunday as families arrived for the 9 a.m. service.
Especially hard hit was Salesforce Tower, 1 E. Ohio St., where vandals knocked out glass along the north and east sides of the building, leaving exposed Salesforce's employee lounge and the Yolk restaurant.
Also sustaining extensive damage were buildings on both sides of Pennsylvania Street between Ohio and Washington streets, including the Huntington Bank branch and National Bank of Indianapolis headquarters, both at the intersection of Washington and Market streets. Also, the Five Guys restaurant at 48 E. Washington St. had almost all its windows knocked out and sustained looting after workers were sent home early at 7 p.m. Saturday.
Also hard hit were properties along the south side of Ohio Street between Pennsylvania and Delaware streets, all of which were boarded up Sunday, with glass shards in the street and graffiti messages sprayed onto buildings and on plywood.
Meanwhile, Regions Tower, on the north side of Ohio Street, did not appear to sustain any significant damage.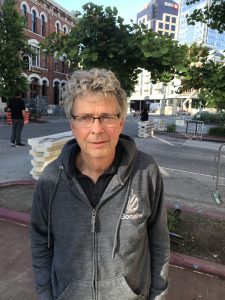 Most of the damage on Massachusetts Avenue appeared limited to the block between Delaware and Alabama streets. Among the businesses with glass broken out were a Walgreens pharmacy, The Eagle Restaurant and Stout's Footwear.
Brad Stout, who has owned Stout's for a quarter-century, moved the store's macaw to the street on Sunday, as he would on a normal business day.
The store sustained five broken windows, leaving shoes that had been on display covered in shards of glass. But most unsettling was a bullet hole through a door. Stout pointed to the spot where the bullet had ricocheted off a marble stair on the other side.
"We'll be out of business a day or two, but we'll be back," Stout said, as others nearby swept up glass in front of his business.
"These people who are cleaning up, they're just neighbors," Stout said, his voice cracking. "It's awfully nice."
Please enable JavaScript to view this content.