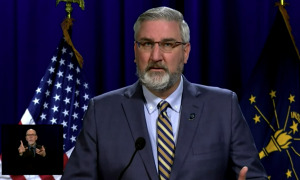 Indiana Gov. Eric Holcomb, who has long urged Hoosiers to get COVID-19 vaccines, on Friday pushed back against President Biden's order that all businesses with more than 100 employees require their workers to be immunized or face weekly testing.
Holcomb, a Republican, called Biden's plan, announced Thursday, "a bridge too far" and said it is not the government's role to issue vaccine mandates upon citizens or private businesses.
"I believe it is fundamentally a citizen's right to choose whether or not to get the vaccine," Holcomb said in a written statement. "While I wish everyone would get the vaccine, we are a country built on this exact type of freedom."
Holcomb stopped short, however, of threatening legal action against the Biden administration over the issue, unlike some other Republican governors. Wyoming Gov. Mark Gordon said he asked his state's attorney general "to stand prepared to take all actions to oppose this administration's unconstitutional overreach of executive power," according to the Washington Post.
South Dakota Gov. Kristin Noem tweeted "see you in court." Gov. Brian Kemp of Georgia tweeted that he would "pursue every legal option … to stop this blatantly unlawful overreach by the Biden administration."
Indiana Attorney General Todd Rokita, a Republican, said Thursday night he and other AGs were prepared to fight the mandates.
"My team and I, along with other like-minded attorneys general, are reviewing all legal action on how to stand against these authoritarian actions by the Biden administration," he said in a written statement. "We will be prepared to file suit if Biden seeks illegal actions restricting Hoosiers' liberties."
Holcomb, who oversaw the Indiana Department of Health's rollout of the vaccine, and publicly got vaccinated himself at the Indianapolis Motor Speedway, wrote: "I believe the vaccine is the number one tool that will protect us and our loved ones against COVID-19. It is the tool that will end the pandemic."
He added: "However, I strongly believe it's not the state or federal government's role to issue a vaccine mandate upon citizens and private businesses. This is the approach our administration has taken all along. The announcement from President Biden is a bridge too far. Private businesses should be able to look at their own mission, their staff and their goals and make the decision best for them that will keep their doors open."
Please enable JavaScript to view this content.