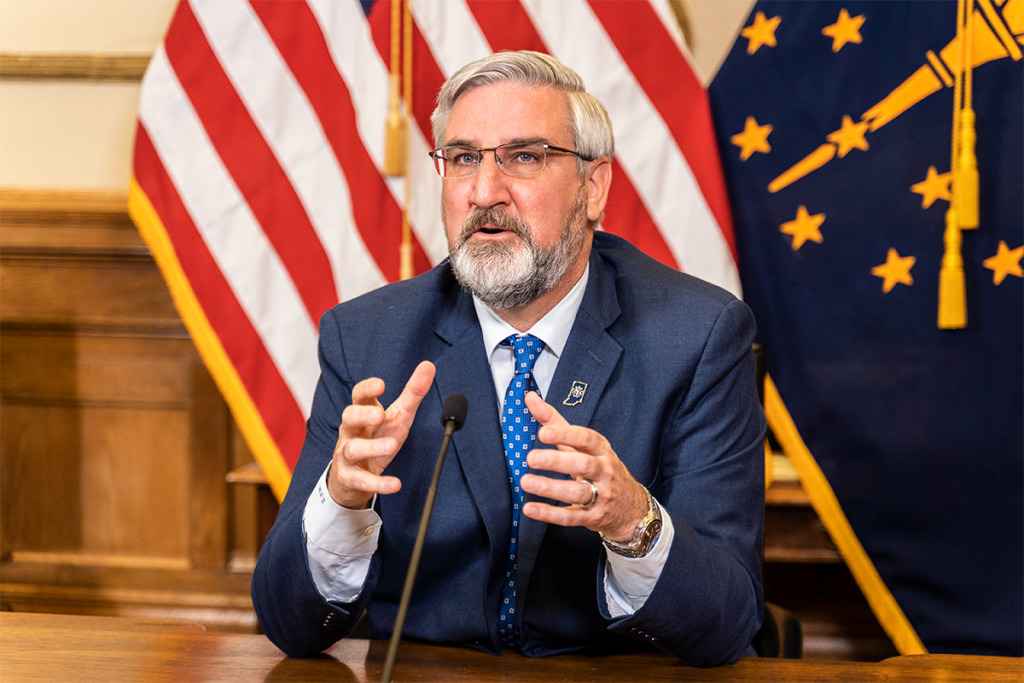 Indiana Gov. Eric Holcomb and Indiana Secretary of Commerce Brad Chambers plan make their third economic development trip to Europe in just over a year. Beginning this weekend, the governor will lead a delegation to Portugal and France, his office announced Thursday.
The governor's office said the delegation will focus on fostering international ties and pursuing investment opportunities in the energy, life sciences, technology, future transportation and motorsports sectors.
The governor's office said Indiana is home to 57 businesses from France and three from Portugal.
"Indiana's economic momentum continues to build, and I couldn't be more energized to share that message with our friends, partners and new business prospects in Europe," Holcomb said in a news release. "France and Portugal share similar visions for building global economies of the future, and we see many opportunities for innovation and partnerships across high-tech industries like energy and motorsports that will create new opportunities for Indiana and for Hoosiers."
Holcomb and Chambers, along with First Lady Janet Holcomb, are set to arrive in Portugal on Sunday for the governor's first official visit to the country. The delegation will meet with U.S. Ambassador to Portugal Randi Levine and Portuguese Secretary of State for International Trade and Foreign Investment Bernardo Ivo Cruz.
The visit will also include an event hosted Ambassador Levine to celebrate the 60th anniversary of the Art in Embassies program, highlighting the role of the arts in furthering diplomacy.
Holcomb and Chambers will also meet with business executives in the energy and technology sectors, including Lisbon-based Energias de Portugal, the parent of EDP Renewables, which operates multiple solar and wind farms in Indiana.
Also in Portugal, the delegation will visit the NATO base in Oerias, where Holcomb was stationed during his time in the U.S. Navy.
The delegation will travel to France on Wednesday to meet with U.S. and French government officials in Paris, including U.S. Ambassador to France Denise Bauer. Holcomb and Chambers will host a business roundtable focusing on Indiana's momentum in sectors such as advanced manufacturing, life sciences, and semiconductors, among others.
The delegation will spend the end of the trip in the Pays de leLoire region. They will attend the 24 Hours of Le Mans auto race on June 10, participating in official ceremonies and meeting with international and U.S.-based motorsports businesses.
The trip will be Holcomb's 15th international trip during his time as governor. In April 2022, Holcomb and Chambers led a delegation to Slovakia and Israel. The pair also traveled to Germany and Switzerland the following September.
The governor's office said the trip is being funded through private donations to the Indiana Economic Development Foundation.
Please enable JavaScript to view this content.