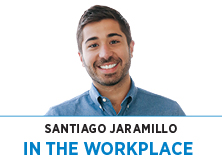 The future of work for most organizations is hybrid. A Gartner survey of company leaders revealed more than 80% will continue allowing employees to work remotely "some of the time" post-pandemic, and PwC found only one in five executives want to return to the office "as it was" pre-pandemic. What's more, remote work has unlocked access to talent nationwide, and in some cases, worldwide. At Emplify, we now have employees in Ireland, San Diego, Chicago, New York City and Minneapolis. The role of the office has changed, and with it, the tenets of company culture.
The days of relying on perks and benefits to attract talent and differentiate culture are over. And when you strip those perks from the equation, all you're left with is people—and the goals, values, motivations and desires that come with them.
Achieving a superior company culture post-COVID
Even before COVID turned the world of work upside down, the majority of the workforce was beginning to value purpose above a paycheck, growth opportunities above perks and meaningful work above prestige.
But who is responsible for delivering a purpose-driven, meaningful and growth-filled employee experience that drives a superior culture?
It's not human resources. Contrary to popular opinion, HR usually doesn't have the time or resources to invest in personalizing professional development to every employee's needs, nor the influence to help individuals connect their work to something bigger than themselves.
Gallup research has found that 70% of variability in employee engagement comes down to one group. It's not a particular department, or even senior leadership. And while HR plays a critical role in the pre-hire and onboarding phases of the employee experience, after onboarding, HR's influence decreases significantly. The people in your organization with the most power to impact employee experience are managers.
So it should come as no surprise that the better your managers are, the better your culture and employee performance will be. And the companies that will thrive post-COVID are those that invest in helping their managers become better coaches.
The coach approach
The old way of managing people—known to some as command-and-control—simply won't work for a post-pandemic world. Adherents to this style tell employees what to do and the right way to do it, before evaluating them on how well they followed instructions. Command-and-control came to pass during the Industrial Revolution when workers' performance was judged based on output and the pace of change was a lot slower. A lot has changed since then.
Today, it's impossible for managers to have all the right answers because we live in a world where the pace of change is rapid, constant and disruptive, and our work is evaluated based on the outcomes we generate, rather than the outputs we produce. And for this reason, the most forward-thinking and innovative organizations of our time are embracing the manager-as-a-coach philosophy and applying it across all levels of management.
In direct contrast to the manager-as-a-commander, manager-coaches ask questions rather than giving instructions, offer support instead of judgement and assist in personalizing growth and development rather than prescribing a set path. As Sir John Whitmore—a pioneer in the coaching management style—said, coaching is about "unlocking people's potential to maximize their own performance."
If employees are engaged, it's not because they attended a Zoom happy hour last week. It's because their manager is facilitating their growth as a professional, and helping them do work that's challenging, fulfilling and purposeful. For a workforce hungry to do good work that's also good for the world, the possibility of having a manager who acts as a coach to lead, support and see the potential in them—potential that they cannot yet see in themselves—is a major differentiator.
After all, people join companies and leave managers. And in a high-change, post-COVID world, managers could be the difference between business growth and a slow march toward irrelevance and mediocrity.•
__________
Jaramillo is co-founder and CEO of Emplify.
Please enable JavaScript to view this content.