Indianapolis' Office of Sustainability on Tuesday launched the first phase of its building utility tracking and transparency program, bolstered by a new $25,000 equity-oriented award.
Called Thriving Buildings, the program's initial phase includes voluntary participation by private building owners while mandating participation for some municipal buildings.
"By lowering emissions from our built environment, we come closer to being a carbon neutral city by 2050," said Mayor Joe Hogsett at a news conference, referencing a commitment he first announced in 2017. He called the initiative "an important effort to help preserve the future of the place we call home: Indianapolis."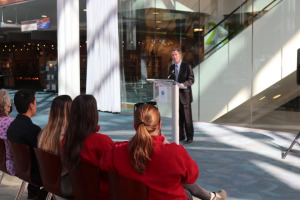 Residential and commercial buildings consume roughly 66% of the energy used in Indianapolis, according to a 2016 city greenhouse-gas inventory. The City-County Council approved the initiative in July.
"Addressing emissions from the building sector is the biggest lever that Indianapolis can pull in our efforts to address climate change, to improve air quality and to reduce costs for building tenants and building owners," said City-County Council President Vop Osili. "And since you can't manage what you don't measure, we're starting with benchmarking and transparency."
Participants log building energy and water use in the Environmental Protection Agency's Energy Star Portfolio Manager, and can share their usage data with the city through the application itself, according to the Office of Sustainability. Data covering 2021 is due in June.
Some big building owners have already signed up, including Lucas Oil Stadium and the Indiana Convention Center, the Indianapolis Airport Authority and Newfields, according to the Office of Sustainability. The Indianapolis Public Library has already provided 2021 data for eight of its buildings and hopes to get its entire 24-building portfolio in by the end of the year, said facilities director Adam Parsons.
Owners of private buildings larger than 100,000 square feet will be required to track and report their usage data in 2023, and those with buildings larger than 50,000 square feet will begin doing so in 2024. Owners of such buildings can find their Unique Building Identifiers on the Office of Sustainability's web site. Anonymized scores for private buildings won't be put in annual reports until 2026.
The Office of Sustainability said it would hold "data jam" data-entry how-to sessions for building owners each month until June.
"It's a four-hour timespan where we'll teach building owners or operations staff, basically one-on-one, how to benchmark," project manager Amber Rose Greaney told IBJ. "It'll be hand-holding through the whole process."
Municipal buildings bigger than 50,000 square feet start this year. That includes the Arrestee Processing Center, the City-County Building, City Market, the Indiana Repertory Theatre, Jail I, Union Station and more.
City-owned buildings larger than 25,000 square feet will start in 2023. So will the massive Community Justice Campus, which opened early this year. Scores for public buildings will begin going out in annual reports in 2023.
Greaney, who's also an adjunct faculty member at IUPUI, will have her undergraduate students put the report together. In her course on sustainable management, roughly two dozen students will split into seven teams to generate their own reports. Then, the class will pick out the best elements and wrap them into the final, published report, Greaney said.
Office of Sustainability Director Morgan Mickelson said she'd judge success of the program based on compliance rates and feedback from building owners. Asked if the city eventually planned to shift the benchmarking initiative into a building performance standards program, with set usage limits, Mickelson said not in the short term.
"I have seen that come out of other cities … So we will certainly be listening to our stakeholders to hear if that's the path we want to move forward with," Mickelson said. "Right now, we are focused on making a successful benchmarking program. If we're not able to implement this successfully, then we don't have a path forward."
The Office of Sustainability's efforts will get some new support—$25,000—funded by Bloomberg Philanthropies, which runs the American Cities Climate Challenge in which Indianapolis participates. Mickelson said the city had applied for the money in partnership with IUPUI's Public Policy Institute and Indianapolis consultancy Engaging Solutions.
The fund, according to Mickelson, is intended to help the city find and fix potential equity weak spots in the benchmarking program. Her office and its partners plan to use a series of indicators, including income, native language and race, to evaluate the program. The money could also go to helping owners of smaller buildings participate voluntarily.
"We know that energy efficiency is beneficial to all people, to all building owners, no matter your building's size," Mickelson said. "And so how can we bring up everyone?"
Please enable JavaScript to view this content.