Ushering in what Congressional Rep. André Carson called "a new era for infrastructure," Indianapolis plans to utilize a $25 million U.S. Department of Transportation grant to convert eight one-way streets into two-way roadways and update more infrastructure, beginning as soon as 2025.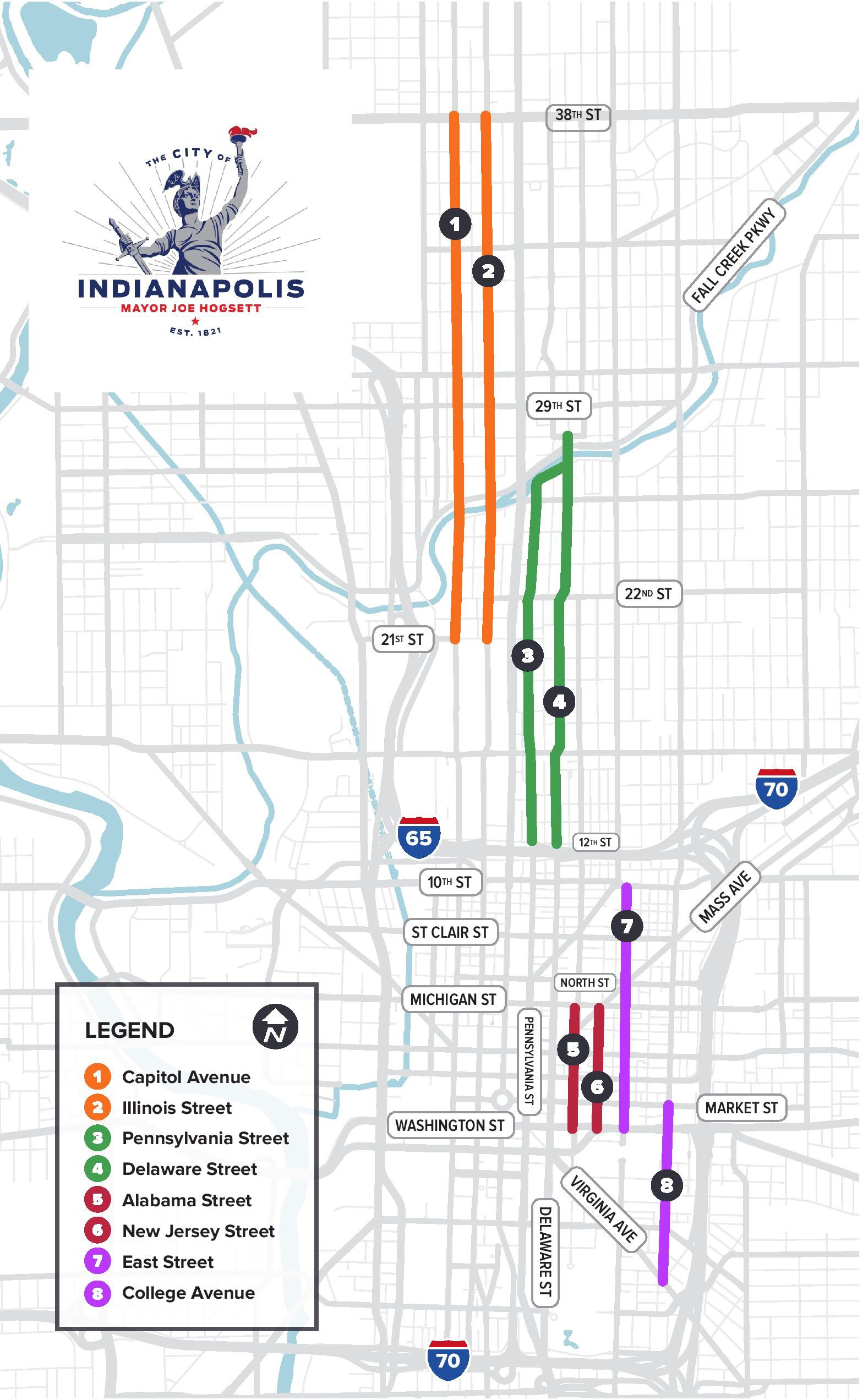 The Rebuilding American Infrastructure with Sustainability and Equity, or RAISE, grant will be matched with just more than $20 million in city funds, providing $46.5 million for the street conversions and for infrastructure projects including:
16 intersection projects
12 signal modifications
more than 300 curb-ramp improvements
the resurfacing of 49 lane miles
two miles of multi-use path
resurfacing 5.5 bike lane miles
improvements on 3.5 miles of sidewalk
The Department of Public Works has not yet finalized the design and placement of all the projects, spokesman Kyle Bloyd told IBJ.
The following stretches of one-way streets will be converted to two-way traffic:
Capitol Avenue from 21st to 38th streets
Illinois Streets from 21st to 38th streets
Pennsylvania Street from Interstate 65 North to Fall Creek Parkway South Drive
Delaware Street from Interstate 65 North to Fall Creek Parkway South Drive
Alabama Street from Washington Street to Michigan Street
New Jersey Street from Washington Street to Michigan Street
East Street from Washington Street to 10th Street
College Avenue from Virginia Avenue to Market Street
The city pointed to studies that say two-way streets tend to slow traffic while creating more direct routes, visibility and the opportunity for more commerce.
City-County Council President Vop Osili said some of the city's one-way roads have effectively become expressways. The shift will "transform the streets into places that capture our city's walking spirit and highlight our ongoing effort to create safe residential streets," he added.
Indianapolis Mayor Joe Hogsett said the changes could result in better outcomes for business and reduced rates of crime. Other Midwestern cities have used the same strategy. In Louisville, one study reported a 60% decrease in collisions while another reported a 32% decrease in crime on the shifted streets.
"This adjustment to traffic patterns can restore and will restore a sense of being in a neighborhood for families living along busy thoroughfares," Hogsett said.
The streets were chosen out of a Department of Public Works traffic study of the city's one-ways in 2019 and 2020, Ericka Miller, chief engineer, told IBJ.
The project is expected to go out to bid in 2026 and be complete in 2027.
The city has already converted several streets from one-ways to two-ways. Hogsett said he's seen the lasting effects of the changes. A Central Avenue conversion was mentioned recently at a neighborhood meeting at which constituents asked that it be extended for another two blocks to East Street, he said.
"It's just one of the most popular things that we've done from an infrastructure perspective," Hogsett said.
This year, the Department of Public Works will begin converting stretches of Michigan and New York streets from one-way streets to two-way. Michigan Street will become two-way between College Avenue and Ellenberger Parkway. New York Street will be converted between College Avenue and East Pleasant Run Parkway.
Please enable JavaScript to view this content.