Five years ago, Indianapolis Power & Light Co. erected billboards around the city, boasting of its affordable electricity.
At the time, an Indianapolis household paid just $99.64 for 1,000 kilowatt hours of electricity—cheaper than New York, Chicago, Detroit, Houston and other major cities, according to a survey the utility had commissioned.
"Lowest Rates of 20 Largest U.S. Cities," IPL's billboards announced.
But these days, IPL's rates are attracting attention for another reason. The utility raised them 57% from 2008 to 2018. That's a steeper increase than any other electrical utility in the state except Indiana Michigan Power (79%) and Auburn Municipal (75%), according to the Indiana Utility Regulatory Commission.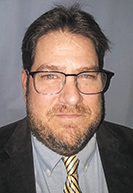 Although IPL's rates are still the lowest of any investor-owned utility in Indiana, the company is raising rates even as demand for electricity is slipping. The utility said its sales of kilowatt hours of electricity fell 8% from 2014 to 2018, as revenue climbed 10%.
In the past three years, IPL has raised base rates twice, adding more than $5 to a typical homeowner's monthly bill. Now it is gearing up to raise rates again. In late July, IPL said it wants to invest $1.2 billion over seven years to build a "smart grid" that would allow the utility to isolate problems quickly and re-route power, reducing the duration of service interruptions to many customers.
To recover the costs, IPL said it will seek permission to tack on extra fees, known as trackers, to customers' bills. If state regulators go along with the plan, IPL will be able to seek increases every six months.
IPL said that could result in monthly rate increases of about $1.50 in the first year, climbing every year for the next seven, resulting in a total monthly increase of $10.50 in the seventh year.
Already, some opponents are grumbling that IPL is moving too fast to raise rates. The Indiana Office of Utility Consumer Counselor said it is studying the case and expects to weigh in by October. "We will do everything we can, within the law's scope, to help limit any approved projects to those with prudent costs that are necessary for safety and reliability," spokesman Anthony Swinger said.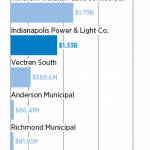 Citizens Action Coalition of Indiana vowed to fight any increase, saying IPL should pay for grid improvements out of its own budget, not through extra fees.
"Many too easily dismiss what appear to be small increases in monthly bills to pay for stuff," said Kerwin Olson, executive director of Citizens Action Coalition of Indiana. "But it all adds up in the long run."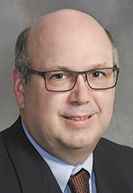 Some business groups, too, are keeping an eye on the process. The Indiana Chamber of Commerce said it is looking closely at energy costs, which it said is one of the top factors companies consider when deciding whether to expand or relocate.
But the chamber is not taking a position now on IPL's grid modernization and related rate increases, said Greg Ellis, the group's vice president of energy and environmental policy.
"Our goal is to have reliable energy at the most competitive rates compared to other states," Ellis said.
New CEO
The coming fight will land in the lap of IPL's new president and CEO, Vince Parisi, 51, who took over in June and is still in the early stages of meeting players around the city. Parisi was previously a vice president at Columbia Gas of Ohio, a unit of Merrillville-based NiSource Inc.
Parisi is the fourth CEO of IPL since 2015. He succeeds Craig Jackson, who stepped down in December after just 10 months on the job.
In his new position, Parisi also will serve as president and CEO of Dayton Power & Light Co., which, like IPS, is owned by AES Corp. of Arlington, Virginia.
Parisi said IPL critically needs to update its transmission and distribution system, and the investment can't be put off. Some of the components and systems are more than 50 years old, he said.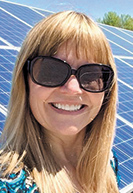 "The team has done a phenomenal job of maintaining things. But the reality is, the components will last only so long," he said.
"The useful life of many of the assets is 30 to 50 years, so when you get into that range, you really have to start looking at how to ensure what you have is going to meet the needs of the customers and frankly be resilient so that, when we have storms, when we have issues, we don't lose power."
He said IPL still prides itself on being one of the "more cost-effective providers" in Indiana.
Indeed, IPL's residential customers still pay less than do customers of Indiana's other investor-owned utilities.
According to the IURC, as of July 1, 2018, IPL residential customers who used 1,000 kilowatt hours of electricity a month paid $117.07.
That's less than the monthly bills from Duke Energy ($122.84), Indiana Michigan Power ($132.14), Northern Indiana Public Service Co. ($132.43) and Vectren South ($153.54).
But none of them, except for Indiana Michigan Power, raised rates as sharply as IPL, in percentage terms, from 2008 to 2018. At its current pace, the Indianapolis utility could eclipse them in a few years.
IPL officials say that, even with the utility's increases, Indianapolis' electricity costs continue to compare favorably with those of other major cities with investor-owned utilities.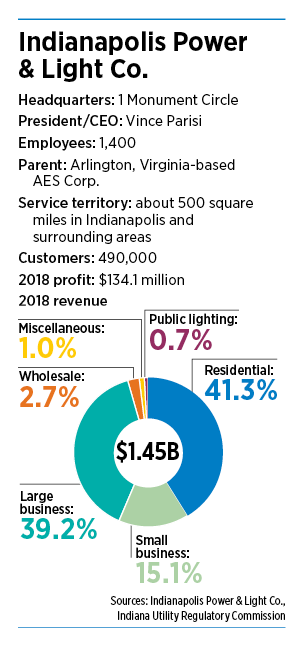 An independent study of rates in the 20 largest cities with investor-owned utilities found IPL's bill for a typical residential customer was fifth-lowest, IPL officials said.
Losing edge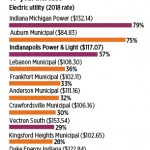 Indiana's statewide competitive edge for low electricity cost in general is eroding. In 2004, the average rates charged by Indiana electrical utilities were the fourth-lowest in the nation. But by 2017, Indiana had slipped to 22nd place, according to the IURC.
Some utility experts say that's largely a result of Indiana's long reliance on cheap coal, plentiful in the state.
"Indiana had a huge comparative advantage over other states from having local coal at a low price," said Doug Gotham, director of the State Utility Forecasting Group at Purdue University. "But now those plants are getting older and need a lot of expensive upgrades, and coal has lost its cost advantage, compared to other fuels, such as natural gas."
IPL stopped using coal in recent years at two of its plants—Harding Street in Indianapolis and Eagle Valley in Martinsville—in favor of natural gas. But it continues to burn coal at its largest power plant, the Petersburg Generating Station in Pike County, about 120 miles southwest of Indianapolis.
Two years ago, IPL got permission from state regulators to install $76 million in pollution controls at Petersburg, a move it said would allow it to keep burning coal and meet strict environmental regulations for sulfur dioxide, coal ash and other pollutants.
That raised rates again, and drew the ire of environmental groups that say the plant is still a huge polluter, and that IPL is throwing good money after bad. They say the plant, which went online nearly a half-century ago, should be retired.
Wendy Bredhold, senior representative for the Sierra Club's "Beyond Coal Campaign" in Indiana and Kentucky, said her group is pushing to have Petersburg's four coal-burning units retired by 2030.
"IPL could retire one or two units within a few months with no impact on reliability," she said.
But IPL won't discuss its long-term plans to retire aging plants. The company said it will state its intentions in December when it files an "integrated resource plan" with the state, but it is still analyzing options and meeting with customers, policymakers, environmentalists and others to gather input.
"We're still in the process of working with all the stakeholders, running models and having discussions," Parisi said. "We're really trying to be as thoughtful as we can about all the different pieces."•
Please enable JavaScript to view this content.