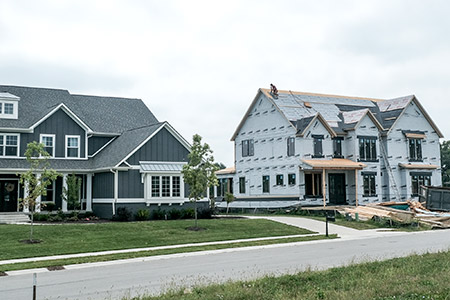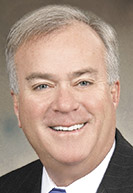 Westfield Mayor Andy Cook calls it the "gift of growth."
But some of his constituents aren't so sure.
As Westfield's housing stock and population balloons—following the rapid growth Carmel and Fishers have experienced for more than a decade—some residents are concerned too much development is coming too fast. And they're pushing back.
They are signing online petitions, posting on Facebook and crowding city hall with concerns about the impact a deluge of new housing proposals—coupled with those already approved—might have on city resources and the local school system.
Some of the discontent can be tied to a not-in-my-backyard attitude—neighbors want to see the agricultural land surrounding them remain farmland or they're opposed to high-density housing with small lots.
But some of the resistance is fueled by worries about overcrowding the local school system, straining public safety resources and increasing traffic.
City and school officials, meanwhile, contend the growth Westfield is seeing today—it was named the fastest growing place in Indiana (tied with Whitestown) earlier this year—was planned for long ago. They say they're not concerned development is coming too fast or that growth in the city is out of control.
In 2006, members of what was then the town council began drafting a comprehensive plan, which was approved in 2007, to govern land use and development for the next 20 years. It's what the Advisory Plan Commission and City Council consult today when approving rezoning requests for development proposals. Now 12 years old, the plan has been updated a dozen times, Cook told IBJ.
As for the school system, Westfield Washington Schools is currently in the midst of a $90 million project to update and expand its intermediate, middle and high schools. And the district is already considering building an early learning center that would free up classrooms in the elementary schools to accommodate additional students.
Meanwhile, as Westfield has added more residents—it's up to roughly 40,000 people now—it's steadily expanded its police force, Cook said, with plans to add 10 more officers next year.
Today, Westfield has roughly 13,900 houses, according to data provided to IBJ by the city. Another 7,800—a 56% increase—have been approved for construction, although city officials say some of those projects (as many as 20%, they estimate) might never come to fruition. The figures don't include multi-family developments.
And month after month, developers propose new residential projects, several of which have met opposition from residents, who have asked city officials to be more mindful of what's being approved.
Cook said there's no magic number for how many residential units is too many. But when he took office, his goal was to manage the city's "gift of growth well."
He believes his administration and the city council have done just that.
"It's inevitable that Westfield is going to grow," he said. "Most cities around Indiana would love to have our problem of growth."
What's coming?
At a city council meeting just this month, Pulte Homes presented a plan to build 490 age-restricted homes, while Henke Development Group introduced a plan to add more residential units to its already expansive Chatham Hills development. As proposed, the Chatham Hills expansion could add 500 new multi-family units, plus 300 attached single-family houses to Westfield's north side.
Those proposals followed an especially controversial one to build commercial development, plus 94 houses, on 58 acres near the Village Farms neighborhood. That prompted residents to launch a Change.org petition that garnered more than 700 signatures opposing the project. The petition stated the development would "place a greater burden on our already crowded schools" and that "high density housing [results] in more houses on smaller lots that will lead to increased traffic and potential strain on public services."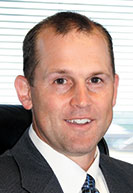 To reach a compromise with neighbors, the builder—Pulte Homes—has agreed to remove the project's commercial component and cap the number of houses at 67 to ensure larger lot sizes.
None of the projects detailed above are included in the 7,800 housing starts already approved for construction, meaning even more development could eventually come to the city. Over the next 20 years or so, the city is expected to grow to between 60,000 and 70,000 people.
Troy Patton, a Westfield resident who beat an incumbent in the primary election for city council and is unopposed in the general election, told IBJ he's heard from residents who are concerned about "unconstrained growth." And he doesn't believe those who object to housing projects are simply being picky about what's built next door.
Patton is one of three candidates who beat incumbents in the primary election, and each addressed concerns during their campaigns about the rate at which the council approves developments. Candidates have also called for an update to the comprehensive plan.
The city of Westfield makes zoning decisions for all of Westfield-Washington Township, a 56 square-mile area, meaning some of the proposed projects don't fall within city limits but are served by the schools, the library and the city's public safety departments.
Those decisions are made using the city's comprehensive plan—which maps out land uses for the entire township—as a guide.
"We made this comprehensive plan years ago, when we knew the growth was coming … and it was done with professional outside help and hours and hours of public input," Cook said.
"Some would say, 'Oh my gosh; it's 10 or 12 years old, and we need to redo the whole thing," the mayor said. "I say 'No. That's why we have a long-term plan.' … My point is, yes, it is an elderly document, but it's been updated regularly."
Generally, projects that conform to the comprehensive plan are approved, Cook said.
The city can't stop property owners from selling their land to developers or tell those developers they can't build houses in an area targeted for residential development, Cook said.
"If you have a plan that the community approved, and it says this is OK for residential, how can the city stop the residential?" Cook said.
Instead, the city's power lies in what those developments look like.

School impact
One oft-raised concern is the impact new housing developments will have on the school system.
A demographic study published by Westfield Washington Schools in late 2016 shows the system's enrollment will grow to 9,202 by the 2026-27 school year, up from 6,198 in 2010-11. So far, predictions of annual enrollment have been largely accurate.
Using the information from the demographic study, the school system presented plans a few years ago to renovate and expand the intermediate, middle and high schools, since most of the growth was expected to occur in grades 5-12, Superintendent Sherry Grate told IBJ.
The renovations and expansions are expected to meet the community's needs into the future, Grate said. For example, both the intermediate and middle school will have a building capacity of 1,500 students. This year's classes have about 1,300, meaning the buildings can handle 200 net new students.
Those projects are underway and should be complete next year.
The school system is also looking beyond the current construction projects and will soon present to the public a plan called "Growing the Rock Way," (a name that plays off the high school's Shamrock nickname) which addresses future facility projects.
Those will likely include the construction of a new early learning and administration center. The centralized early learning center would enable the school system to free up classroom space currently occupied by pre-K programs in elementary schools.
Brian Tomamichel, the district's chief financial officer, said his team meets monthly with city of Westfield staff to discuss proposed housing projects and the impacts they would have on the school system. The school system also regularly receives data on new housing starts to be able to truly understand what's coming, he said.
"We feel really good that we've been proactive about the plans we have for the future," Grate said.
Public safety, traffic impacts
Cook said city leaders often hear complaints about traffic woes that residents believe would be created by new development. But he said the reality is, the city doesn't have many traffic issues that don't have solutions in the works.
"My answer to that is: You show me a traffic problem, and I'll fix it," Cook said.
For example, residents often complain to the city about traffic on State Road 32 into Noblesville. Westfield is already working with the Indiana Department of Transportation and Noblesville to alleviate congestion.
And in response to questions about public safety, Cook said the city has added two or three police officers each year to keep up with the city's growth. For 2020, his administration has presented a budget that includes funding to hire 10 police officers, which will enable the department to increase patrols in the community and in the schools.
If approved, the 10 officers would bring the city's total to 65—or one police officer for every 640 people.
City officials say they are already planning to build a fire station in the northwest area of the township. The three stations the city currently has provide adequate coverage today, but a fourth station will be necessary in the next four to five years, Cook said.•
Please enable JavaScript to view this content.