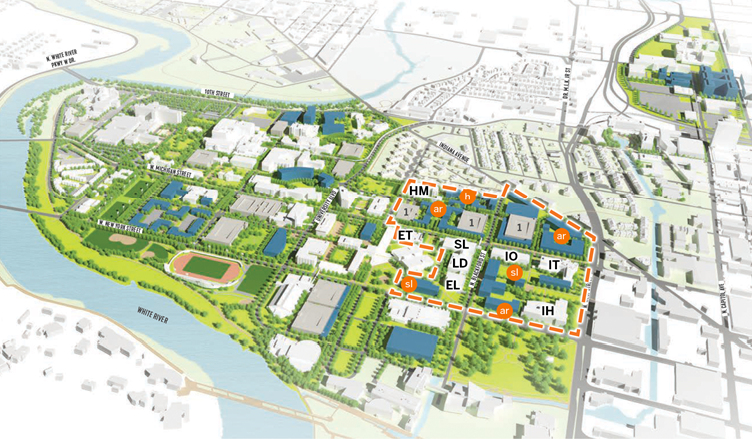 Indiana University announced Monday afternoon that it plans to invest more than $250 million to create two science and health research institutes in Indianapolis, recruit life-sciences researchers to Bloomington, and expand or renovate laboratory space at both campuses.
IU President Pam Whitten laid out the sweeping plan during her annual State of the University address. She said the moves rival the largest investments made in these areas by the nation's leading research universities and would significantly advance Indiana's position as a leader in life sciences and biotechnology innovation.
"Indiana University's multimillion-dollar strategic investments in the biosciences will ensure IU continues to be at the forefront of driving life-changing discoveries in Indianapolis and across the Hoosier state," Whitten said in written remarks.
The announcement comes as IU is transitioning the IUPUI campus to IU Indianapolis in 2024. Last year, trustees at IU and Purdue University agreed to ditch the IUPUI name and expand their operations in Indiana separately. IU said it would rebrand most of the campus as Indiana University Indianapolis. Purdue, which occupies just five of IUPUI's 129 buildings, will continue to offer science and engineering programs under the Purdue brand.
IU's newest plans are intended to bolster enrollment and establish IU as one of the country's premier urban research universities.  In past years, IUPUI has struggled to recruit, raise money and become a top-tier research university. Indianapolis is one of the few large American cities not to be home to a so-called "R1 doctoral university," known for very high research activity.
The investment is designed to advance IU's scientific discoveries aimed at treating diseases and improving human health and expand life-sciences research and discovery.
The two new research institutes will be called the Convergent Bioscience and Technology Institute and the Institute for Human Health and Wellbeing.
The first institute is designed to drive bioscience technology research and collaboration with industry partners in pursuit of discoveries ranging from wearable and implantable medical devices and sensors to the advanced detection of biomarkers.
The second institute will target well-focused research for the most pressing chronic diseases to improve health outcomes in Indianapolis.
"Developed in conjunction with industry, government and nonprofit partners, and IU faculty, our new research institutes at IU Indianapolis and our significant investments at IU Bloomington will foster a culture of cutting-edge exploration and innovation that positions our state as the nation's leading center for biosciences research and industry," IU Vice President for Research Russell J. Mumper said in written remarks.
The two institutes will be located within the IU Science and Technology Corridor at the IU Indianapolis campus but are designed to foster faculty collaboration across IU.
To bolster the corridor, which was announced last December, the university said it would invest $60 million in appropriations from the state of Indiana to expand and renovate STEM research, laboratory space and interdisciplinary research facilities. They will serve as the anchor for the young science and technology corridor, which will encompass four blocks near the corner of Michigan and West streets.
IU also said it will target more than $93 million, or nearly 40% of the total investment, to hire and support an unspecified number of new faculty members in the life sciences on the Bloomington campus.
The amount will be broken into two tranches: $47.4 million over the next five years at IU Bloomington to recruit new faculty members in fields related to biosciences, biotechnology, and human health; and $46.1 million in faculty startup costs for new IU Bloomington faculty to accelerate innovate and interdisciplinary health science research, increase academic and industry partnerships, and expand federal grants and contracts.
Another chunk of money will be used to complete $30 million of construction and renovation of an additional 48,000 square feet of research labs, teaching spaces and related support areas in the new medical education and research building at the IU School of Medicine in Indianapolis, near Senate Avenue and West 16th Street, on the new Indiana University Health hospital campus. The 11-story, 323,000-square-foot facility is expected to be completed in 2025.
IU's announcement comes just a few months after its Indianapolis-based medical school lost one of its top medical researchers, who said he was frustrated by the university's traditional "ecosystem of the past."
In July, Chandan Sen left Indianapolis and accepted a new position as a researcher at the University of Pittsburgh, taking more than two dozen faculty, postdoctoral associates, and staff from IU with him.
Sen, who specializes in the fast-growing field of regenerative medicine, said he was attracted by the growing strength of research at Pitt, ranked third in the nation for funding from the National Institutes of Health. He also said he wanted more opportunities to focus on developing and commercializing technology, rather than raising research funding and publishing papers.
"The ecosystem is changing," Sen said told IBJ in August. "We are not a routine program that is happy publishing papers and getting grants."
The departure raised questions about IU's efforts to raise the stature of its Indianapolis campus, seen as a major priority for Whitten.
IU said Monday the investment will also fund $23.1 million in renovations to laboratory spaces and research facilities at Bloomington campus, subject to the Board of Trustees approval. That will provide an additional $7.5 million to support life-sciences research facilities.
Yet another $10 million in state appropriations will be used to recruit faculty to the new research institutes at IU Indianapolis. IU said it will apply up to $30 million in state and IU Research funds to support research operations and three new Indianapolis-based consortia to provide expertise in artificial intelligence, machine learning, health informatics, and "community engaged research" on health equity outcomes.
Whitten said IU will seek to bolster collaborative activities with leading academic, government and industry partners, including the Indiana Biosciences Research Institute, BioCrossroads and the 16 Tech innovation district on the western edge of downtown.
Some business and civic leaders hailed IU's announcement, saying it will strengthen the state's health care and life sciences pipeline and help drive further economic growth.
"IU is doubling down on its role as one of the top research institutions in the country, helping Indiana maintain our stronghold position as a global leader in life sciences and biotechnology innovation, which will ultimately lead to better health outcomes for Hoosier families and beyond," Gov. Eric Holcomb said in written remarks.
Dave Ricks, CEO of Eli Lilly, commended Whitten on IU's new investment in life sciences research and education. "Investing in training and educating bright minds focused on improving health closer to home makes IU, Lilly and the entire state of Indiana stronger," he said in written comments.
Pete Yonkman, president of Cook Medical, a Bloomington-based maker of medical devices, said IU's news was an "exciting boost to the health innovation ecosystem in Indianapolis."
Whitten said the new research institutes and other investments are designed to foster collaboration "that strengthens the state's innovation ecosystem in the life sciences."
"Collectively, IU's resources and the university's partners across our state make for a powerful formula that has transformed Indiana into a national and international center for bold exploration, innovation and transformative discoveries in the life sciences," Whitten said.
Please enable JavaScript to view this content.