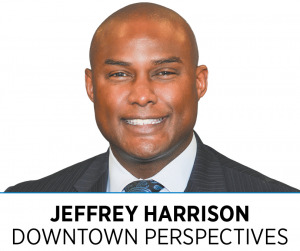 While earning my bachelor's degree in electrical engineering from Rose-Hulman Institute of Technology, I traveled to Indianapolis to interview for my first post-college job at Indianapolis Power & Light. Slightly apprehensive, I was not sure the city was the right place for a young man who grew up in a close-knit community and attended a small university. However, in the hours before my interview, I walked around downtown and quickly realized the people were friendly and the city had a vibrant, welcoming energy.
I accepted the job at IPL and moved to the Circle City to start my career. That was in 1989, and I have lived here ever since.
Downtown Indianapolis has seen much growth in those 34 years, and that vibrant, welcoming energy is still one of the hallmarks of our city. Have you ever been downtown during an event such as the College Football Playoffs or the Summer Celebration? The atmosphere is electric.
But there are commitments Indy's regional business community must make to ensure today's young Black professionals and other people of color feel a connection with our city. To do so, we must make a concerted effort toward equity.
Since 2021, the business community has taken collective steps to ensure we're doing our part to inspire a more vibrant Indy region. Through Business Equity for Indy, companies are finding a network of resources and peer companies acting to drive equity. With a mission to grow a more inclusive business climate with greater equity and economic opportunity for the Indianapolis area's Black residents and other people of color, BEI stakeholders and participating companies are already driving toward a more inclusive and vibrant downtown.
Today, Indianapolis ranks 55th out of 85 metropolitan areas in the number of Black business enterprises—or BBEs. And while Black people make up approximately 17% of the Indy metro area population, BBEs represent only 2.4% of the Indy metro area's 34,000 employer businesses. While BEI is focused on driving change in these outcomes, it's going to take a continued, unified commitment to our mission—which is where the regional business community also has the most opportunity.
Companies aligned with BEI come in various sizes, industries and stages of progress in their quests to increase equity. As chair of BEI, I see firsthand the ways companies are leaning in, learning and making the commitment to results. However, in order for BEI to maximize our impact, we need Indy employers to enhance their engagement.
As companies consider their investments in equity, BEI provides a multitude of resources to find support. Some of that support includes:
◗ Access to the Procurement Roundtable, a quarterly event that invites purchasers and suppliers into the same room for networking and relationship-building. Procurement Roundtable events are ideal for companies interested in diversifying their suppliers.
◗ Exposure to the inaugural Workforce Pilot, made possible with support from the Richard M. Fairbanks Foundation and the Lumina Foundation. This intensive, two-year cohort was designed to assist Indy companies as they adopt evidence-based strategies that reduce disparities, drive equity and support companies' talent strategies. While the pilot program has already begun, companies are invited to follow its progress over the next two years.
◗ Additionally, BEI recently launched the People Community of Practice aimed at increasing diverse representation within companies. Through the People Community of Practice, hiring professionals have access to support as they look to advance Black professionals in their career trajectories.
Indianapolis has the potential to become a city where every person, regardless of age, ability or color, feels welcome. But for that to happen, we as a business community must come together and continue to consider how our actions today are leading to improvements in the quality of life for Black residents and other people of color in the years to come. Some of our actions will succeed, and some of them will ultimately fail, but the energy, attitude and commitment of businesses downtown—and across central Indiana—will allow us to make positive impacts and create equitable opportunities for everyone in our community to live, work, and play.•
__________
Harrison is president and CEO of Citizens Energy Group and chair of Business Equity for Indy.
Please enable JavaScript to view this content.