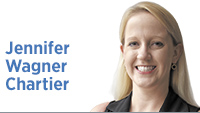 Pop quiz: Do you know what's required to become a real estate agent in Indiana? How about the requirements to become a cosmetologist?
According to the Indiana Professional Licensing Agency, obtaining a real estate license requires that you be at least 18, have a high school diploma or GED, complete an approved 90-hour real estate pre-licensing course and pass the licensing exam.
To become a licensed beauty culture professional, you have to be 18, attend a certified beauty culture school and pass the licensing exam. Oh, but in order to sit for the exam, you have to log 1,500 hours of on-the-clock training. You read that right: One-five-zero-zero.
I bring this up not to pick on real estate agents. Heck, I recently found an old real estate exam prep book on my shelf from a decade ago when I thought I might want to change careers. All I needed to do? Pay a few hundred bucks, watch some online videos and take a test.
The average cost to attend a licensed Indiana beauty school is around $14,000, according to a national cosmetology licensing website that tracks tuition and fees by state. It takes nine to 19 months to complete the training.
Career websites estimate the average real estate agent in Indiana makes $48,000 per year. It's anywhere from $18,000 to $38,000 for a cosmetologist. Being good at either profession is obviously going to lead to higher compensation, but the tremendous regulatory disparity between the two professions—and many others—is something we should talk about.
Far too often, that debate goes like this: "Democrats hate the free market and want to regulate everything because they think they know what's best! Republicans want to cut all regulations and let the market decide, even if it means people get hurt or left behind!"
The reality, as it often does, requires nuance and dialogue.
There are legitimate concerns about health and safety when it comes to regulating salons and cosmetologists, but do those concerns merit 1,500 hours of on-the-job training? If I can get my real estate license watching videos, I'll bet the powers-that-be could put together a tutorial on how to clean a hairbrush and make that required annual viewing. If we're going to talk about potential harm, I'd say a sloppy real estate agent is likely to do more long-term damage than crooked bangs.
There's another element to this conversation that's even more important to consider—one I hope makes you a little uncomfortable.
Starting a career in a profession like cosmetology can be a way out of poverty. It's entrepreneurial in its own right, and the path can lead from practitioner to employer. But the barrier to entry is more than $10,000. That's a pretty expensive ticket to pursue the American Dream.
As we continue to have conversations about income equality and access to opportunity against the backdrop of economic recovery from a pandemic, it might be time to thoughtfully approach how and why we regulate certain professions the way we do—and whether we could make some pragmatic tweaks to help hard-working Hoosiers climb the financial ladder.•
__________
Wagner is a lifelong Indianapolis resident and vice president of communications at EdChoice.

Click here for more Forefront columns.
Please enable JavaScript to view this content.