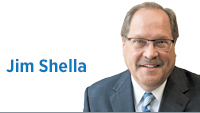 Joe Biden has an image problem. In fact, he has a couple of them.
First of all, there is the growing image that his leadership is failing. It is fed by multiple crises tying up the White House while a domestic agenda is in jeopardy.
Second, and maybe more important, there are the video and photographic images that have been created by those challenges.
Here are three examples:
◗ The most recent crisis at the Southern border resulted in images of white border-patrol agents on horseback rounding up black Haitian immigrants and, in one case, whipping one of them with the horse's reins. It was inhumane. Even the White House press secretary admitted that.
◗ The tragic evacuation of Afghanistan produced horrifying and unforgettable images of refugees chasing American military planes down a runway, and the bombed-out car of peaceful citizens misidentified as terrorists. The White House and the Pentagon have both been unable to get in front of this public relations disaster.
◗ Then there are the continuing images of exhausted health care workers and dying patients prompted by a pandemic that eludes control because of failure to reach necessary vaccination levels. This comes despite government mandates and pleadings. The Biden administration set unattainable goals for vaccination levels and raised hopes unnecessarily for a return to normal life sooner than what is possible.
Why do these images matter?
Let me take you back to the Reagan presidency of the 1980s to supply the answer. Ronald Reagan employed a top aide named Michael Deaver, who was tasked with creating an image for the president. Deaver had a background in television. He was a master, using flags and balloons, props and people to make the former actor appear presidential.
Lesley Stahl, the "60 Minutes" correspondent who covered the White House for CBS News at the time, caught on to it. She thought she had a big scoop when she created a TV story that showed the images arranged by Deaver while pointing out that the policies behind them were shallow. When asked about Stahl's story, Deaver said, "We were delighted with it," according to The New York Times.
A Reagan insider told Stahl, "They didn't hear what you said; they only saw those pictures."
It's the image that counts.
And the Biden people know it. That's why an order was issued that prevents border-patrol agents from using horses for the foreseeable future. They still don't have a coherent immigration policy, however.
It's why we now see efforts being made to demonstrate how Afghan refugees are being welcomed to the United States.
It's why Biden rolled up his sleeve on camera to receive a COVID vaccination booster shot. It's also why Biden created a vaccine mandate for government workers and employees of large companies.
Ultimately, policies might matter more than pictures. But the images are not only hard to forget, they are the foundation for campaign ads. Biden needs to be concerned about how well his Democratic Party will perform in the 2022 elections. If his party loses control of the House, or the Senate, or both, the second half of his term will be even more difficult.
Cue the picture of the president with his head in his hands while a reporter asks an unwelcome question.
Democrats will argue that Biden inherited unsolvable problems at the border, in Afghanistan, and with the pandemic. All of this is Trump's fault, they will say.
Maybe.
But the pictures don't tell that part of the story.•
__________
Shella hosted WFYI's "Indiana Week in Review" for 25 years and covered Indiana politics for WISH-TV for more than three decades. Send comments to ibjedit@ibj.com.

Click here for more Forefront columns.
Please enable JavaScript to view this content.