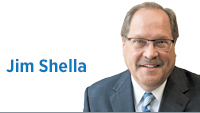 Today's topic is leadership.
Leadership is an important quality for people in all walks of life, and good leadership is hard to find. Bad examples abound.
Let's start on the positive side. Peyton Manning is now in the Pro Football Hall of Fame and got there by being an outstanding athlete. Yet I would argue that the quality most important to his success was leadership. When he played for the Indianapolis Colts, you could sense other players listened to his directions. They knew he worked as hard as anyone, and they trusted him to guide them in the right direction. You can find videos of Manning mic'd up, chewing out teammates as well as giving them encouragement.
He was more than a teammate. He was an authority figure who spurred team unity. Leadership is easy to recognize in that circumstance.
Those same qualities can be applied in business. In a 40-year television career, I worked for 12 general managers (that's the top boss in local TV). Only four of them were any good at it. The worst were dangerous.
I started at a station in Cedar Rapids, Iowa, where the economy is built on corn, and weather is king. When a new general manager came in, he demoted a meteorologist, fired another, and hired a clown to present the weather. It took less than six months for the ratings to drop from No. 1 in the market to No. 3. The station never recovered.
When we began getting nonstop calls from viewers, the general manager called a staff meeting to tell us the callers were insignificant, a "self-selected sample." Bad leadership.
Leadership might be most important in politics. The best leaders get their images carved into mountains or statues built in their memory.
Donald Trump is a leader. He has millions of followers, and millions are willing to donate money to his causes. I think he's a bad leader, with misguided priorities driven by personal desires and greed. History will decide.
But what about the Republicans in Congress? Mitch McConnell in the Senate and Kevin McCarthy in the House each carry the title of leader, but lately they have become followers. Oh, they still call the shots, but they look to Trump and the Trump base for direction.
I'm talking about the response to the Jan. 6 insurrection. Good leaders would ignore politics, I believe, and seek to find answers to key questions. How was it organized? What was happening in the White House? Why was the military response so slow? What did intelligence agencies know in advance of Jan. 6?
McConnell killed efforts to create an independent commission to investigate the attack and McCarthy refused to take part in a House-appointed commission now conducting an inquiry.
First, he sought to appoint Indiana congressman Jim Banks, who publicly blamed House Speaker Nancy Pelosi for failing to protect the Capitol. Put Banks in the follower category, too.
Republicans say Democrats are pursuing the effort for political reasons. In reality, Jan. 6 is a political loser for the GOP and they want it to go away. Some Republicans even turned on their own and are raising money to defeat Reps. Liz Cheney and Adam Kinzinger, the two Republican members of Congress who are publicly seeking answers. Cheney and Kinzinger are leaders in my book.
Ultimately, voters will decide all of this in 2022. They are the ultimate self-selected sample.•
__________
Shella hosted WFYI's "Indiana Week in Review" for 25 years and covered Indiana politics for WISH-TV for more than three decades. Send comments to ibjedit@ibj.com.

Click here for more Forefront columns.
Please enable JavaScript to view this content.