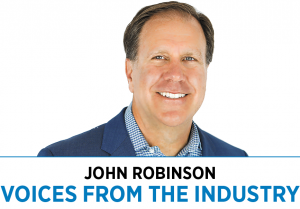 As thousands of Hoosiers return to the office, many wonder what the workplace will look like in the next five, 10 or even 20 years. We can't predict the future, but there is reason to believe it won't actually look that different after all.
Tools like Zoom, WebEx and Google Drive have enabled businesses to stay afloat during the pandemic, but for many, remote work really isn't sustainable. Unproductive virtual meetings, the desire for interaction and the immense benefits of a traditional office are steadfast.
We expect the office to remain at the heart of occupational strategies for the following four reasons.
1. A lack of tech infrastructure and cybersecurity at home.
Commercial buildings are equipped with technology to provide reliable, speedy networks. At home, the lack of infrastructure and limited bandwidth inhibits work, causing choppy video, lagging audio and even delayed emails and other communications.
Large firms might provide laptops and personal servers but small to medium-size businesses won't have the resources. Additionally, 63% of organizations say their employees are slow to adopt new tech. Implementing technology is costly—digital project management systems can reach thousands of dollars per month—and the cost grows if the transition is improperly coordinated or employees don't invest the time to learn new processes.
Also, with 60% of people working from home, the risk of hackers gaining access to sensitive company data is much higher.
2. Increased risk of mental health problems with extended remote work.
Major news outlets have covered the impact remote work has on mental health. The Washington Post reports that mental health is another crisis the nation is facing, with isolation and fear being huge factors for increased depression and anxiety.
According to Salesforce CEO Marc Benioff, 36% of the company's employees have reported having mental health problems during the lockdown. An emergency hotline for people in emotional distress registered a more than 1,000% increase in messages in April, compared with the same time last year. Furthermore, online therapy company Talkspace reported a 65% jump in clients since mid-February.
This spike in mental health challenges is cause for great concern among employers. Offices serve as an environment for distraction-free concentration and a place for humans to interact and build relationships. Work activities such as group lunches, coffee chats and outdoor walks contribute to enhancing employees' mental health. It seems small, but the impact of human interaction plays an important role in employee wellness.
3. Proactive productivity is hard to maintain when working from home.
Another common concern regarding remote work is the impact on productivity. Working from home puts large personal responsibility on employees to remain proactive throughout the day.
According to JLL's workplace experience survey, only 4.9% of office workers are comfortable with exclusively working from home and would prefer to do so going forward. Meanwhile, 60.6% plan to return to the office for parts of their work week.
4. Offices are where we cultivate a unified culture through experience.
Offices are strategically designed with layouts, materials and amenities to create an experience. The physical office space plays a huge role in talent acquisition. In fact, 41% of job seekers say they base their decision on the physical workforce.
Offices provide space for innovation and relationship-building, giving employees a reason to enjoy going to work. According to JLL's The Future of Work and Workplace paper, companies need to "curate" their workplace while they set the social agenda to create networking opportunities and embrace collaboration.
A recent JLL report on tenant needs in a post-pandemic world asked employees what they missed most about the office. The top three answers: the ability to collaborate informally with other people, to socialize with colleagues and to support the work of others. The bottom line? Human experience is a key differentiator for how people engage with an organization.
Overall, your company's office is more than just a space. It serves as a dedicated place designed to inspire and enable employees to work to their best ability, to provide a distraction-free space to brainstorm, and to build relationships.•
__________
Robinson is managing director of JLL and leads the group's Indianapolis office.
Please enable JavaScript to view this content.