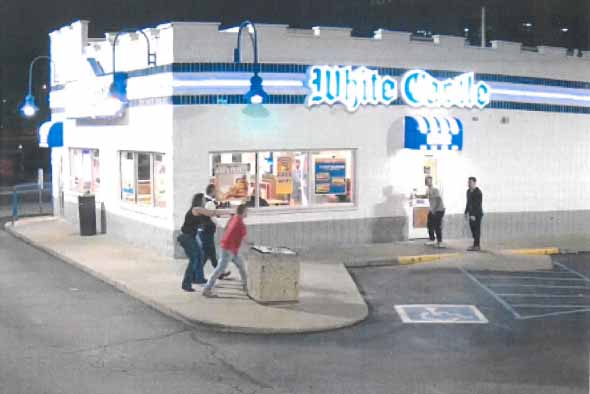 Three minutes.
That's roughly the amount of time it took for six people in a downtown Indianapolis White Castle parking lot—four of whom were judicial officers—to go from strangers to players in each other's lives by virtue of a fight and three gunshots.
In bloody, emotional and never-before-seen-or-heard detail, the events of the early morning hours of May 1, 2019—when Clark County judges Andrew Adams and Bradley Jacobs were shot—are playing out in a Marion County courtroom as the accused gunman, Brandon Kaiser, stands trial.
More than three years after the shooting, Kaiser is on trial in Marion Superior Judge Shatrese Flowers' courtroom, where he's facing eight charges ranging from Level 6 to Level 3 felonies, plus a misdemeanor count of carrying a handgun without a license. A jury of seven women and five men plus two alternates are hearing the testimony.
Before this week's trial, public knowledge of the shooting incident—which also involved former Crawford County Judge Sabrina Bell, Clark County Magistrate Judge William Dawkins and Indianapolis resident Alfredo Vazquez—was limited to police reports and a brief surveillance video from the White Castle restaurant at 55 W. South St., where the shooting occurred.
But in the first two days of trial alone, the prosecution showed the jury extended surveillance footage as well as graphic photos from the scene and the hospitals where the judges were taken. It also played the audio from Bell's on-scene 911 call.
Additionally, all four judges have taken the stand, marking the first time any of them has publicly spoken about the shooting at length. Vazquez, who is Kaiser's nephew, also testified as a prosecution witness, offering a version of events that did not always align with the judges' recollections.
The trial will hinge on one overarching question: Did Kaiser shoot Adams and Jacobs in self-defense?
Kaiser is not disputing that he opened fire but rather is arguing that the judges were the initial aggressors, so his conduct was justified.
During opening statements, Kaiser's attorney, David Margerum of Indianapolis, characterized Kaiser's actions that night as "doing nothing more than defending himself against a brutal, vicious attack by a bunch of drunks." He also announced that Kaiser will take the stand in his own defense.
The state, however, is basing its case on the theory that Kaiser "voluntarily engaged" in the brawl with the judges that led to the shooting, and that his actions were more aggressive than could be covered by a self-defense theory.
The following is a recap of the events that occurred on April 30 and May 1, 2019, and the days immediately following, as presented by prosecution witnesses. The prosecution had not yet rested at Indiana Lawyer deadline.
April 30, 2019
Before the shooting
The four judges involved in the shooting traveled to Indianapolis from southern Indiana on April 30, 2019, to attend the spring judicial conference. Bell and Dawkins traveled to the Circle City together, while Adams and Jacobs drove their own vehicles.
Bell and Dawkins arrived at the Omni Severin Hotel in downtown Indianapolis in the early evening hours, checked into their respective rooms and met up with other judges in the hotel bar. Bell recalled drinking 1-1/2 Seagram's malt beverages in the hotel bar, while Dawkins said he drank one beer in his room and likely another in the bar.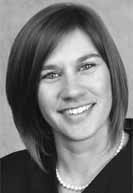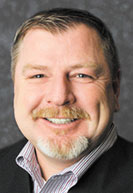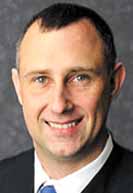 From the hotel, Bell and Dawkins walked with a group of southern Indiana judges to the Harry & Izzy's restaurant on Illinois Street. Bell recalled eating a dinner of salmon, mashed potatoes and two glasses of wine. Dawkins could not recall exactly what he drank at the restaurant or anywhere else that night, but he testified to "casually drinking" beer throughout the evening.
Jacobs and Adams each made appearances at Harry & Izzy's, although neither stayed to eat with the group. From the restaurant, Bell and Dawkins made their way to the now-closed Claddagh Irish Pub & Restaurant, where they met up with Adams, while Jacobs and another judge went to the Ram Restaurant & Brewery.
Bell testified that she drank about four "fruity mixed drinks" at the pub, while Adams said he had three 16-ounce Pabst Blue Ribbon beers. Adams recalled watching hockey at the pub, and Dawkins testified that the pub was mostly empty when they initially arrived.
However, Dawkins also recalled that the pub became crowded after a concert let out. Thus, around midnight, the trio left Claddagh and headed to Brothers Bar & Grill.
Meanwhile, Jacobs had been at Ram drinking beer and watching sports before returning to the Omni. At some point, he received a call or text from Dawkins, so he left the hotel a second time to join the trio of southern Indiana judges.
May 1, 2019
Jacobs joined Adams, Bell and Dawkins at Brothers, where the men continued to drink beer. Adams estimated that he had three to four PBRs at Brothers, Bell estimated that she had three to four fruity mixed drinks, and Jacobs recalled drinking either PBR or Bud Light. Jacobs also had one Macallan Scotch whisky at the hotel.
The group played cornhole and darts while at Brothers. Dawkins, in particular, recalled throwing three "triple 20s" and three "double 20s," and Jacobs recalled Dawkins throwing darts with skill.
At White Castle
The bar closed at 3 a.m., and at that point one of the judges suggested going to the Red Garter Gentleman's Club just down the street from the White Castle restaurant on Illinois Street. Bell testified that she couldn't remember who made the suggestion, and Adams recalled there being a "discussion" about going to the strip club. Dawkins also recalled the discussion and testified that he only wanted to go to White Castle, not the Red Garter.
Even so, Dawkins said he was "talked into" going to the strip club, but when the group tried to enter the door was locked. The judges then started walking back toward White Castle, with Dawkins recalling, "I was happy I was going to get my cheeseburgers after all and that I didn't have to go to the the strip club."
Dawkins was the only judge who was hungry, so he alone entered White Castle, entering through the main door on the north side of the building, as the west-side door was locked.
Adams, Bell and Jacobs remained outside, and they can be seen on surveillance video dancing, laughing and high-fiving. Adams lifts his shirt at one point, and both he and Bell testified that Jacobs was playing music on his phone.
Adams and Jacobs said they have limited or no memory of what happened next, and Bell herself testified that she does not know what caused the fight. But at about one minute, 45 seconds on the surveillance video, Kaiser and Vazquez are seen arriving in Vazquez's blue Ford SUV. Vazquez is driving and Kaiser is in the front passenger seat.
Kaiser and Vazquez exit the vehicle, and at about two minutes, 35 seconds on the surveillance video, the two groups begin to speak. According to Bell and Adams, Bell told the men that they would have to use the front entrance, as the side door was locked.
Vazquez, however, remembers the dialogue differently. Per his recollection, when he and Kaiser first pulled into the parking lot, Kaiser let out a whistle when he saw Bell dancing. Then, when the two exited the SUV, the male judges began shouting profanities.
The brawl
Regardless of the cause, what happens next is shown clearly on the surveillance video. At around three minutes, five seconds, the men rush at each other and a fight ensues.
Bell recalled the incident escalating quickly—she said her initial interactions with Kaiser and Vazquez were "jovial" but quickly became aggressive. Adams remembered Vazquez yelling then running at him. Vazquez remembered Adams and Jacobs rushing him first and responding by rushing at them, as well.
As the fight breaks out, Bell is seen on video banging on the locked side door, trying to get Dawkins' attention. Her voice broke as she recalled Dawkins thinking she was kidding around and, thus, ignoring her pleas for help. Dawkins himself also said he thought Bell was goofing around, so he continued to put mustard on his cheeseburgers.
Adams and Vazquez are seen throwing punches and fighting in a way that Vazquez described as wrestling. Meanwhile, Jacobs eventually takes Kaiser to the ground and holds him there. Bell is seen throughout the video trying to break up each duo.
Dawkins eventually returns to the parking lot and recalled seeing Jacobs' ripped suit. He said his initial goal was to remove Bell—who was "making a lot of noise"—from the scene.
Dawkins testified that Jacobs did not hit Kaiser as he held him down. Additionally, Dawkins, Bell and Adams all testified that they heard Jacobs saying something to the effect of, "This is over, tell me this is over."
The shooting
Vazquez eventually pulled Jacobs off of Kaiser and slammed him on top of a trash can. It's at this point that, according to Bell and the surveillance video, Kaiser got up and pulled a gun out of his front waistband.
Bell is seen running away and hiding behind the White Castle sign, where she places a call to 911. The restaurant's manager had also called security and police at this point.
Kaiser then shoots Adams in the abdomen. Adams is seen on surveillance video going down on all fours. He recalled a flash, then feeling a "sharp pain."
The fight briefly continues before Jacobs is shot twice, once in the abdomen and once in the ab/chest area. Vazquez and Jacobs are fighting with each other just before Kaiser opens fire both times.
According to Vazquez, he was not aware that Kaiser had a weapon on him that night. The two shared a duplex at the time and had been drinking at Kilroy's Bar & Grill before going to White Castle.
Jacobs testified that between getting his receipt at Brothers and being on the ground of the White Castle parking lot, he has no memory—not of walking to White Castle, not of what was said between the parties and not of the fight itself. He recalled through tears that a White Castle employee asked him if he had kids, and when he responded that he had three daughters, she told him, "Stay alive for those babies."
"I never thanked her for this," he said during his testimony Tuesday.
Adams eventually stood up and made his way to Jacobs, who was being tended to by Dawkins and White Castle employees. Dawkins and the employees were trying to apply pressure to Jacobs' wounds, and Dawkins—who goes by the nickname "Jock"—recalled Jacobs saying, "I'm not going to make it, Jock."
At this point, according to Dawkins, Adams said something to the effect of, "I've been shot, too, we're both going to be fine." This was the first time Dawkins realized that Adams had been shot.
Meanwhile, Kaiser and Vazquez returned to the SUV and drove away. Bell recalled Kaiser saying something to the effect of, "I told you not to mess with me." The state's attorney, Marion County Deputy Prosecutor Michelle Sharpe, said Kaiser's statement, more specifically, was, "That's what you get for f—ing with us."
From her hiding spot behind the White Castle sign, Bell called 911. The audio reveals that she was frantic, with multiple dispatchers asking her to calm down so they can collect information. A responding officer also recalled Bell initially being too emotional to provide a statement.
On the call, Bell is not able to provide an exact location. She repeatedly tells dispatchers that shots were fired, saying at one point, "I'm OK but there are two people down." She also repeatedly says, "Please help us."
The aftermath
Adams was taken to Indiana University Health Methodist Hospital in downtown Indianapolis, where his doctor testified that he was admitted as Trauma One: the most severe level that a patient can be admitted under. The bullet had struck his colon, so he immediately underwent emergency reconstruction surgery.
Adams remained in the hospital for 16 days—a stay that is longer than what is typical for similar gunshot wounds, according to his doctor. During his stay, Adams experienced internal leakage that led to sepsis, so he eventually underwent a colostomy and had to wear a colostomy bag for more than a year before undergoing a colostomy reversal and an ileostomy.
He now has a scar the size of a pencil eraser on his lower abdomen, a 2-inch indentation in his back, a golf ball-sized scar from his colostomy and a 15-inch scar from his belt line to his sternum.
When Adams lifted his shirt to show the jury his scars, Kaiser closed his eyes and partially covered his face.
Jacobs was initially in critical condition at Eskenazi Hospital. A bullet had struck his liver, and he suffered liver leakage, broken ribs, a broken nasal bone and facial injuries. He also suffered a back muscle spasm that made it difficult to move, and he was initially unable to retain any nutrients from food.
Graphic photos of both judges in the hospital were shown to the jury as they testified. As Jacobs described his injuries, including lifting his shirt to show his scars, Kaiser began to audibly cry, as did members of his family in the gallery. A couple of jurors also appeared emotional.
On May 4, 2019, police secured a search warrant for Kaiser's address on North Wallace Street in Indianapolis. According to police testimony, it took announcements from a loud speaker, a phone call and six rounds of tear gas to get Kaiser out of the home.
Kaiser was shaking his head in an angry manner while police discussed the attempts to serve the search warrant—which also included a SWAT team—and his attorney could be seen telling him to stop reacting in that manner.
Frequently throughout the testimony, Kaiser closed his eyes, appeared to whisper to himself, smirked in an angry manner and/or shook his head. He also held up a message on his cellphone to his family, which read, "I love you."
Prior proceedings
As a result of the incident, the Indiana Supreme Court suspended Bell and Jacobs for 30 days without pay for their roles in the shooting.
Adams was suspended for 60 days without pay and pleaded guilty to misdemeanor battery. He was sentenced to one year, all suspended to probation.
Vazquez also pleaded guilty to misdemeanor battery and received a sentence of probation.
Adams lost his reelection bid in 2020 and Jacobs ran unopposed that same year.
Bell will never serve as a judge again after a domestic incident led to her arrest this spring.
Earlier this summer, Bell entered into a pretrial diversion agreement in the case that was filed against her in May alleging she struck her ex-husband in front of their three children when he arrived at her home to pick up the children for a scheduled visit.
Under the terms of the agreement, Bell must pay $479 to the Crawford County clerk and complete a 14-week Domestic Abuse Intervention Program through Crisis Connection.
The agreement came after Bell announced via Facebook in April  that she was ending her reelection campaign. The following month, a Level 6 felony charge was filed against her after the alleged incident with her ex-husband, Douglass A. Goerss.
If Bell complies with the terms of the agreement—which also include not violating any municipal, state or federal laws—the special prosecutor has discretion to dismiss the charge in July 2023
Bell's status on the Indiana Roll of Attorneys is currently listed as inactive in good standing, and she marked "N/A" when asked to provide employer information for the diversion agreement. Her law license was initially suspended when she was charged, but her suspension was later terminated when she agreed to formally step down from the bench and never hold judicial office again.•
Check back to theindianalawyer.com for continued coverage of the trial.
Please enable JavaScript to view this content.