Will restricting right turns on red at dangerous intersections make Indianapolis safer for pedestrians, drivers and bicyclists?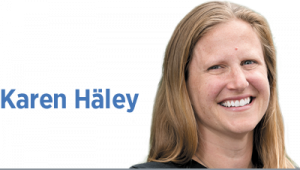 Last year, 40 pedestrians were killed by cars on Indianapolis streets, the most ever in a year. The Governor's Highway Safety Association reports that, nationally, pedestrian deaths rose a troubling 77% nationwide from 2010 to 2021, compared with a 25% rise in all other traffic fatalities. These numbers don't account for the number of people who were injured by vehicles or were almost hit.
Would the no-turn-on-red policies have prevented all of that death, injury and trauma? No. However, a recent analysis by the city of Indianapolis found that 57% of downtown car crashes involving pedestrians resulted from drivers turning who failed to yield to pedestrians in intersections. That's a lot of lives lost and changed because drivers didn't give people the right of way.
While some opponents of no-turn-on-red policies would suggest the right to turn right on a red light has been around forever, it's actually relatively new and yet, nonetheless, outdated. A vestige of the car-centric 1970s, right turn on red came from the hope that a reduction in time idling at intersections would reduce fuel consumption and increase traffic flow. The fuel and efficiency benefits of right turn on red were questioned over time, but the impact on safety became obvious almost immediately.
After only a few years of allowing right turns on red, a 1982 report from the Journal of Safety Research found some states reported massive increases in crashes involving vehicles turning right and striking pedestrians or cyclists. This trend has continued. In June of this year, Fast Company reported, "In Ohio, for instance, such collisions rose 57% for pedestrians and 80% for cyclists; in Wisconsin, the figures were 107% and 72%, respectively."
In light of such data, with the creation of Indianapolis Cultural Trail: A Legacy of Gene and Marilyn Glick 10 years ago, the city instituted turn-on-red restrictions at all Cultural Trail intersections as a way to prioritize safety for trail users. This was done after significant study by Department of Public Works engineers to ensure the intersections would function for everyone, including vehicles.
Did it take drivers (and pedestrians) some time to adjust to prioritizing pedestrians and bikes downtown when the Cultural Trail was completed? Sure, but now trail users and vehicle drivers know how to interact in a shared space.
As Indianapolis civic leaders work to attract and retain residents and businesses downtown, and our city and state officials continue to invest in pedestrian and bicycle infrastructure, it is crucial that we also implement policies that protect people walking downtown and serve as a model for others to follow. No turn-on-red policies accomplish both.
Restricting turns on red lights will not stop all pedestrian and cyclist collisions with cars, but data strongly suggests that it would result in many more central Indiana residents making it home at the end of the day, staying out of the hospital, continuing to earn a living and avoiding enduring trauma. And who could be against that?•
__________
Haley executive director of the Indianapolis Cultural Trail Inc. Send comments to ibjedit@ibj.com.

Click here for more Forefront columns.
Please enable JavaScript to view this content.