A rising Indiana lawmaker from Cass County will sponsor legislation to legalize online casino gambling and online lottery games, which would give Hoosiers the ability to play state lottery and casino games on their smartphones, tablets and desktop computers.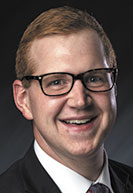 Rep. Ethan Manning, a Republican from Logansport, said the bill will be similar to his previous proposal to allow online casino games, taxing revenue at an 18% rate and sharing some of the proceeds with cities and counties where casinos are located.
Two bills introduced in the 2022 session that would have legalized online casino games failed to receive a hearing in the House Public Policy Committee. But this year's proposal will have a much better chance of advancing through the House given that Manning, 31, was recently tapped by House Speaker Todd Huston to chair that committee and will hold significant sway over the bill's progress.
But the measure is expected to face a much rockier road in the Senate, where President Pro Tem Rodric Bray has said he doesn't expect to move a bill on online casinos this year.
Through a spokesperson, Bray said the move would come too soon after the state's legalization of online sports betting and that Hoosiers aren't clamoring for online casino games. He offered no comment on online lottery games.
The opening of this year's legislative session on Monday also comes less than five months after the sentencing of former Indiana state senator Brent Waltz and Centaur and Spectacle Entertainment casino executive John Keeler to federal prison terms for their roles in a scheme that illegally funneled gambling company money to the politician's unsuccessful 2016 congressional campaign. The case led to Spectacle being forced to give up ownership of casino projects in Gary and Terre Haute.
Manning, who does not have a casino in his district, said legalizing online gambling would provide a new revenue stream for both the state and local governments as a possible recession looms.
"I think it's good that I don't have a casino in my district, because I don't have an interest in protecting a facility," Manning said. "For me, it's important that we keep this industry competitive, and I think diversification of revenue will be good for the industry."
When Indiana legalized riverboat gambling in 1993, it cornered the market in the Midwest, enjoying virtually no competition from neighboring states. But over the years, as Illinois and Ohio opened the door for casinos to flourish, Indiana lost its stronghold.
Matt Bell, president and CEO of the Casino Association of Indiana, sees a similar opportunity for Indiana to lead the way on online casinos—or be left behind.
"That's why I think policymakers have a moment to make a choice," Bell said at a recent legislative conference. "Will we allow the industry to evolve and develop revenue streams, or will we insist that it remains static and see how much of our business is cherry-picked by [other states]?"
If the legislation is approved, Indiana would join Connecticut, Delaware, Michigan, New Jersey, Pennsylvania and West Virginia as the only states to offer legal online casinos, also known as iGaming. All of those states also offer an online lottery, as does Georgia, Illinois, Kentucky, New Hampshire, North Carolina and North Dakota.
Protecting casinos
Manning said he envisions an online casino model similar to the state's sports wagering system. The 2019 bill legalizing sports betting required third-party betting platforms like FanDuel, DraftKings and BetMGM to partner with existing brick-and-mortar casinos, ensuring that Indiana's existing casinos wouldn't be left out of the new revenue stream.
The 12 casinos in Indiana brought in nearly $700 million in state tax revenue from July 2021 through June 2022, while sports betting brought in $31 million, according to the Indiana Gaming Commission's annual report released in September.
A recent study from Pennsylvania-based Spectrum Gaming Group LLC at the request of the Indiana Gaming Commission found that a 20% tax on online casino revenue could bring in as much as $166 million in annual revenue by the third year. Perhaps most important to lawmakers with casinos in their districts, the study's authors concluded that opening the door for online casino gambling in Indiana would not hurt existing brick-and-mortar casinos—as long as they are included in the funding model.
"I don't want to see casinos hurt," said Sen. Rodney Pol, a Democrat from Lake County who serves as the ranking minority member on the Senate Appropriations Committee. Pol said some of the tax revenue enjoyed from online casinos should go toward social services to support vulnerable Hoosiers.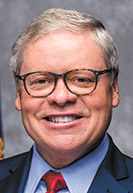 Sen. Ron Alting, the Lafayette Republican who chairs the Senate Public Policy Committee, declined to say whether he would support legalizing online casinos but said he has concerns about how the tax revenue would be allocated.
When Indiana's sports wagering bill was making its way through the Legislature, Alting proposed an amendment that would allocate a percentage of the revenue to increase teacher pay. The amendment didn't make it into the final bill.
Bell said online gambling can help attract younger audiences that typically stay away from brick-and-mortar casinos.
"Walking into the casino, for some, can be an intimidating experience," Bell said. "We see iGaming as a real opportunity to introduce the world-class properties in Indiana to a new generation of players."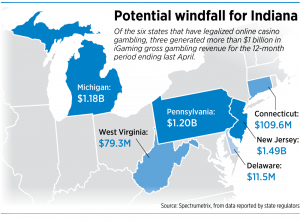 Bell also pointed to a recent study from the American Gaming Association that found Americans bet nearly $338 billion per year with illegal, offshore iGaming websites, resulting in a loss of $3.9 billion in state tax revenue.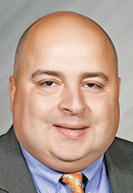 Sen. Jon Ford, a Republican from Terre Haute who also serves as president of the National Council of Legislators of Gaming States, said most of the 30 states that have adopted sports betting since 2019 have not adopted online casinos at a similar rate, perhaps in part due to "fatigue in dealing with gaming policy."
"Now you're starting to see more states talking about it," said Ford, who has previously authored bills to legalize iGaming but does not plan to introduce legislation this year. Four or five states, including New York, are also exploring the idea, he said.
Greg Small, executive director of the Indiana Gaming Commission, said part of the reason for the discrepancy could be the stigma some attach to casino games.
"I think people see wagering money on online slot machines or blackjack as 'capital G' gambling, whereas, on the sports wagering side, people have familiarity with that," he said. "I believe it's just a different experience."
Problem gambling
About 4% of Hoosiers reported gambling disorders in 2021, according to an annual survey conducted by the Indiana Council on Problem Gambling.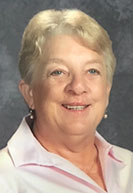 Christina Gray, the organization's executive director, said her organization noticed an uptick in calls from problem gamblers after sports wagering was legalized in 2019.
"Everybody saw an increase when sports betting came to their states," Gray said. "With any expansion of gambling, there is concern that more people will have problems."
The National Council on Problem Gambling estimates that the risk for gambling addiction has grown 30% from 2018 to 2021, with the risk particularly acute among young males age 18 to 24 who bet on sports.
Like mobile sports betting, one of the dangers of online casinos, Gray said, is that it allows users to continue their bad habit in isolation without anyone knowing they have a problem. Since sports betting became widespread, her organization has shifted its focus from treatment to education and awareness.
The online gambling bill is expected to dedicate about 3% of revenue to help people with gambling addictions, but Ford said accountability needs to be attached to that funding.
"We put money towards responsible gaming, but as a legislator, I can't tell you how we're spending that and what we're doing with that money," Ford said. "I think it's important for the industry as a whole to make sure we have a responsible gaming platform."•
CORRECTION: An earlier version of this story incorrectly reported that Kentucky is among states neighboring Indiana that have legalized full-fledged physical casinos. IBJ lists all of its corrections here. 
Please enable JavaScript to view this content.