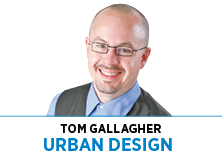 You likely remember, just a few years ago, a rush to proclaim a brick-and-mortar retail apocalypse resulting from a shift to online shopping. While it might have, at first, seemed like a straightforward and satisfying answer, ultimately, it proved to be an oversimplified and far too shallow interpretation that could not be squared with facts like online shopping accounted for only 11% of retail sales, and retail salespeople remained the largest segment of the U.S. job market.
Over the course of this new year, you will likely see similarly broad declarations you should view as suspect: that millennials, regularly considered the largest driver behind renewed interest in urban living, are leaving for the suburbs as they establish families, following in the footsteps of previous generations. With the migration accelerated by the pandemic, some will proclaim that this spells the end for the urbanism "trend." Others will suggest that suburbs will respond by transforming into, as PricewaterhouseCoopers calls it, a "surban" mix.
On the flip side, there are conversations about doubling down on the urban condition as a way for human settlement to move forward safely, resiliently and sustainably.
Like the observed shifts in retail, we have reason to be cautious about early proclamations suggesting a sea change away from an urban lifestyle.
Some stories that have already surfaced have leaned toward the hyperbolic, suggesting that people are now leaving cities "in droves." Such statements might be more revealing of biases against big cities than helpful in describing what's really happening. Multiple indicators suggest it is true people are leaving large city centers but, importantly, many 18-hour cities, like Indianapolis, are seeing upticks in population.
It is important to understand, too, that a desire for urban living is not simply a hipster trend or a temporary phase of youth. Cushman & Wakefield points out, "America's cities added roughly 15 million people between 2010 and 2015; just under one-third of them (4.7 million) were millennials. Empty-nest baby boomers were the real drivers of urban growth, accounting for 10.3 million new urban residents."
Perhaps what should give us the most pause is the lack of clarity across the board as to what constitutes urban or suburban. The images that regularly accompany the word "suburbia"—seemingly endless rooftops of essentially identical houses arranged on wide looping roads and cul-de-sacs—are more cliche than definition.
Parsing out accurate definitions has been the occupation of scholars. Even the U.S. Census, the root of most demographic study in America, does not provide a clear definition of "suburban," making distinctions only between urban and rural.
Without a doubt, the Industrial Revolution was the period when the United States moved from agrarian settlements to primarily urban ones. In the time since, a host of cross currents has contributed to cities' being described positively as places of wealth, culture and influence or negatively as unsafe places unworthy of investment. Suburbs became places that attempted, with varying degrees of success, to emulate the best qualities of both urban and rural.
Through my explorations, I have settled on a definition of urban that focuses not on size but on the purpose and utility of a place: a critical mass of people and resources brought together in a way that facilitates the most significant human relationships (family/friends, work and school, community, spirituality).
Critical mass implies an amount and a closeness that sparks synergy—what community, commerce and culture feed off of. It is more than just a collection of land uses—it is a connection between people. The words city, town, village or neighborhood carry with them an implied physical and symbolic center of life, each at a different scale and facilitating relationships in ascending levels of intimacy. In the end, a city or town is ultimately made up of a collection of neighborhoods.
A suburb, then, can simply be a way we have come to describe a town or village that has an accepted identity and boundary that lies outside of a larger city.
Though we have for ages considered urban and rural to be polar opposites, we will do well in the future to understand them as equally important parts of a whole. While it arguably has always been the case, it should be clear to us today that there is a symbiotic relationship between urban center and countryside. Both are at their best when they don't seek to cancel out the other but find synchrony between them. The real opposite of "urban" is sprawl and is as detrimental to rural places as it is to urban ones.
Our focus in the years ahead should not be on subtly analyzing whether a place is urban or suburban but on mending the relationship between settlement, countryside and natural environments; ensuring that the places we make or restore are safe, resilient, sustainable and equitable; and repairing the sprawl that serves to divide us.•
__________
Gallagher is a principal and urban designer with Ratio and a professor-in-practice of urban design at Ball State University. Send correspondence to TGallagher@ratiodesign.com.
Please enable JavaScript to view this content.