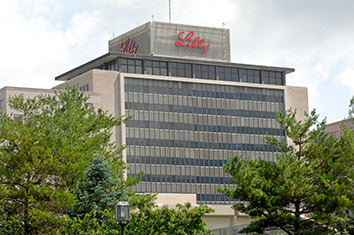 Eli Lilly and Co. said Monday it is beginning clinical trials on its third potential treatment of COVID-19, using an existing drug for rheumatoid arthritis to see if it can keep hospitalized patients alive.
The Indianapolis-based drugmaker said it is launching a global trial for the anti-inflammatory drug baricitinib, which it launched two years ago to treat moderately to severely active rheumatoid arthritis. The drug has been used on more than 100,000 patients in 65 countries.
The first patient in the global clinical trial for baricitinib as a treatment for COVID-19 has been enrolled from a Community Health Network hospital in Indianapolis. In all, 400 patients are expected to participate, and the data is expected to be ready within months.
However, the drug is not without serious safety risks. Baricitinib carries a black box warning, the strictest labeling of prescription drugs. The Food and Drug Administration has cited risks of infections, malignancies and blood clotting from baricitinib.
The FDA approved the drug for arthritis in 2008, but said Lilly could only sell a low-dose version, reducing the number of patients eligible for the treatment.
Lilly has said the idea to test baricitinib started in February when officials with an artificial intelligence platform based in the United Kingdom and unaffiliated with Lilly wrote a letter to the British medical journal Lancet, saying they planned to assess many currently approved medications that might be used in treating COVID-19.
Currently, there are no treatments for the disease, which has claimed more than 432,000 lives worldwide, including more than 115,000 in the U.S.
A few weeks later, the same group submitted a new letter to Lancet in which it specified an interest in baricitinib, saying the medicine's anti-inflammatory effects might be beneficial in treating COVID-19.
Since then, various groups have conducted preclinical studies on baricitinib, and independent investigators also initiated small-scale trials in Italy and Canada, but they have not been placebo-controlled.
All these together have led Lilly to the decision that the drug should be studied further for possible benefits in treating COVID-19, and it initiated discussions with the National Institute of Allergies and Infectious Diseases. Lilly's hypothesis is that baricitinib can be used to inhibit a protein involved in the viral reproduction of the virus.
The trial is a late-stage, randomized, double-blind study to evaluate the effectiveness and safety of baricitinib in hospitalized adults with COVID-19. The study will be conducted in the U.S., Europe and Latin America and include patients hospitalized with SARS-CoV-2 infection who have at least one elevated marker of inflammation but do not require invasive mechanical ventilation at study entry.
The primary endpoint for the clinical trials is the proportion of patients who die or require non-invasive ventilation, high-flow oxygen, or invasion mechanical ventilation by Day 28 in patients treated with 4 milligrams of baricitinib daily compared to a placebo.
This study follows two others being conducted by Lilly in conjunction with partners in other countries. On June 8, Lilly announced that its Chinese partner, Junshi Biosciences, has dosed the first volunteer with another experimental medicine for the disease.
The Junshi compound is known as JS016 and is being injected in healthy participants who have not been diagnosed with COVID-19. Lilly said it expects to begin dosing patients in a complementary clinical study in the U.S. in the coming days.
And, on June 1, Lilly began dosing patients with LY-CoV555 at major medical centers in the United States, including NYU Grossman School of Medicine and Cedars-Sinai in Los Angeles.
Lilly scientists developed the treatment using an antibody identified by partner AbCellera Biologics Inc. of Vancouver from a blood sample taken from one of the first U.S. patients who recovered from COVID-19.
Please enable JavaScript to view this content.