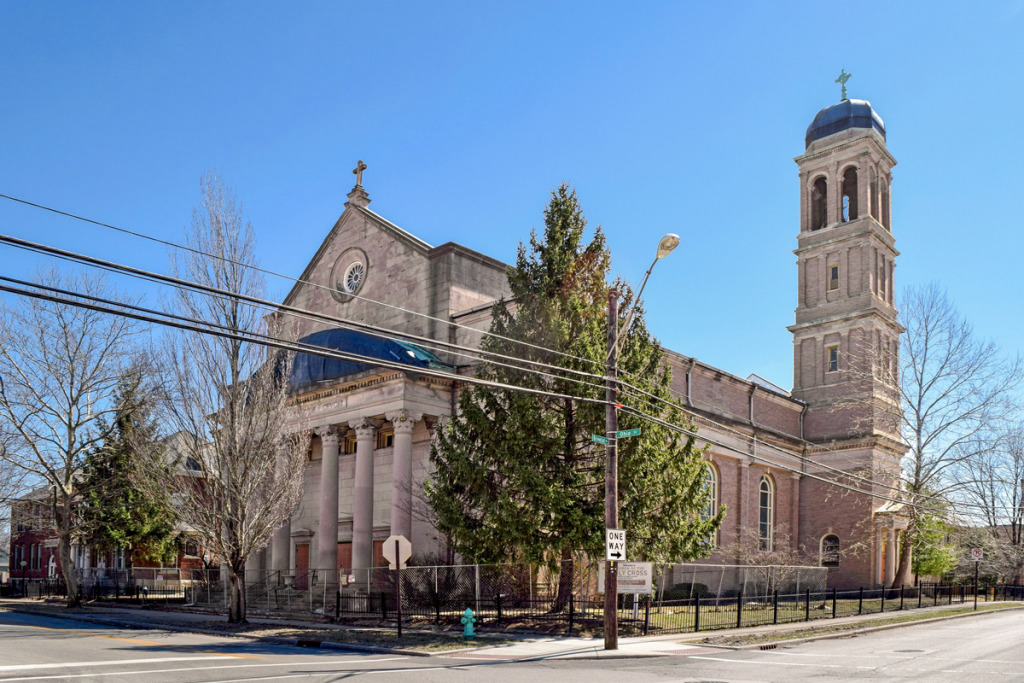 The Holy Cross neighborhood has been on a tear of late. One of the city's oldest settled areas, this enclave just east of Interstate 65/70 downtown suffered through several decades of decline before a revival commenced some 20 years ago.
Newcomers flooded in, ballooning residential property values. And it doesn't hurt that the area includes the 18-acre former Angie's List campus, recently renamed Elevator Hill, which is undergoing a resurgence and shelters a large number of startups and other businesses.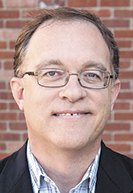 However, the rising tide hasn't lifted all boats.
As the neighborhood rose in stature, its namesake landmark—the Church of the Holy Cross—was left behind. The massive Italian Renaissance edifice, with its 136-foot bell tower, in August landed for the second year in a row on Indiana Landmarks' 10 Most Endangered list, which highlights notable Hoosier structures threatened with destruction.
"We want to bring some attention to [the church] and find a resolution for its future," said Mark Dollase, Indiana Landmarks' vice president of preservation services. "That could very well mean repurposing it for a different use."
The process isn't exactly on the fast track, however. The building has stood empty for five years, and preservation advocates so far have no firm proposals for putting it to a new use. The pandemic has further slowed the brainstorming needed to get something done—even though preventing further decay has wide neighborhood support.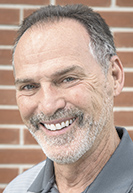 "This church took a lot of blows back in the day, but it's hanging tough," said Patrick Dubach, founder and CEO of the Holy Cross-based residential construction and renovation company Re-Development Group. "It was here for the community. Now I'd like to see us be there for it. If not, then it's almost like we're betraying an old friend."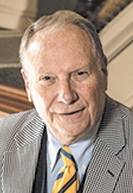 The church opened its doors in 1921, immediately becoming the centerpiece of what at the time was a thriving Irish Catholic neighborhood. It also served as a poke in the eye of the Ku Klux Klan, which, during the early '20s, had tens of thousands of Indiana members and placed its supporters in top state political offices. Its hooded minions regularly staged parades through the city. And the Klan didn't take kindly to either immigrants or the Irish.
"I was raised by a grandmother who would get tears in her eyes talking about the Ku Klux Klan in the 1920s and how much hatred they had for the Irish," said attorney Kevin Murray, a longtime Holy Cross resident and a leader of the effort to find a new use for the old church.
"The Black community in that part of town was incredibly small, and the Jewish community even smaller," he said. "There was no one else for the Klan to hate [there]. And, in the middle of all this, we built this wonderful church. It's the same Irish spirit that helped build this city."
Downward slide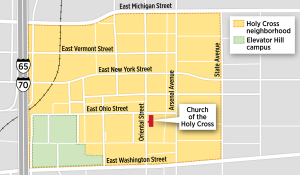 The church remained a neighborhood centerpiece for decades, until demographic changes steadily ate away at its congregation size. Once topping 1,000, membership had shrunk to a few hundred by 2015, when a portion of the building's front facade collapsed, underscoring the need for lots of long-deferred maintenance just to stabilize the structure. Estimates for exterior work alone run to about $2 million.
The Roman Catholic Archdiocese of Indianapolis, which continues to own the building, merged the remaining members into a nearby parish and closed the doors in 2016.
Dubach, who has built and renovated homes in the Holy Cross neighborhood since the 1990s, admits to being tempted by the challenge of finding a new use for the church. But the cost puts the project firmly out of his league.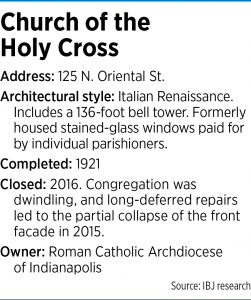 "I would love to tackle something like that, but there's just such a high price tag to do anything with that building," he said. "It was designed to be a church, and I understand that the exterior renovation alone is very, very expensive."
Money is only part of the problem. Repurposing a building designed for a specific function—in this case, to serve as a house of worship—can be very difficult. Unlike an old warehouse or meeting hall, it doesn't readily lend itself to, say, conversion into office space or condos.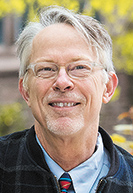 "The blessings and the curses of an elaborate building are usually one and the same," said A. Robert Jaeger, president of Partners for Sacred Places, a national group helping to preserve derelict houses of worship. "There's typically a lot of beautiful decorative elements in a building like this, and that's why people want to be there. But [those elements] also pose problems if they need repair or attention."
Which is certainly the case with Holy Cross—though the building is not quite as striking as it once was. Recently, the archdiocese removed its century-old stained-glass windows and shipped them to southern Indiana for use in a new church there. They were replaced with plywood panels that have cast the church interior into darkness.
Other challenges further complicate reuse. Because the neighborhood is so compact and walkable, the church includes almost no parking. That worked well when the building was a house of worship for neighborhood residents, but it would be a huge problem if the building were recast as, say, a performance venue.
Also complicating reuse is that a functioning parochial school, called Holy Cross Central School, sits next door.
Fighting a trend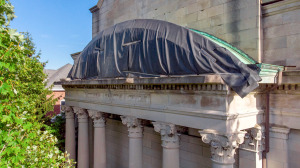 At least Holy Cross isn't alone in its troubles. Far from it.
"There is a larger, national pattern of [older] churches becoming vacant," Jaeger said. "There are no numbers as to how many because nobody's counting them. But we're seeing across the country, in small towns and big cities, that these churches are going through changes in ownership and use."
One advantage Holy Cross enjoys is that it's in a rising neighborhood in a large metro area. Which means money exists to fix the place up, if a plan can be agreed upon.
Compare that to another church on Indiana Landmarks' most-endangered list—Reid Memorial Presbyterian Church in Richmond. Lavishly decorated, the church boasts stained glass windows and interior furnishing by New York's Tiffany Studios. A study found repairs would cost $4.6 million—a huge bill for a small town with several other landmark buildings already empty and in jeopardy.
In Indianapolis, refurbishing old churches has become, if not common, at least not unheard of.
Since 2015, St. Joseph Brewery restaurant has operated out of a former Catholic church at 540 N. College Ave. that closed in 1954.
Also in the downtown area, Meridian Arch condos opened in 2006 in the former Methodist Episcopal Church at 802 N. Meridian St.; Fletcher Pointe condos opened in 2012 in the former Fletcher Place Methodist Church at 501 Fletcher Ave.; and the Temple Lofts apartments opened in Phillips Temple, 1226 Dr. Martin Luther King Jr. St., in 2016.
Indiana Landmarks itself has operated from a former church since 2012, after renovating the old Central Avenue Methodist Church at 1201 Central Ave.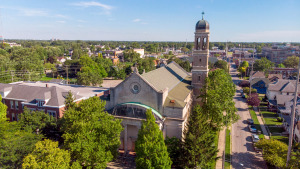 In the case of the Church of the Holy Cross, residents have expressed interest in keeping the structure as some sort of public facility. Murray offers the most fleshed-out, but still only notional, concept—a combination performance venue and Irish cultural center, containing everything from a museum to the offices of various Gaelic groups.
"We don't really have an umbrella organization to unite ourselves, so we could come together and form something like that," he said.
For now, there are no concrete schemes for turning Holy Cross into a cultural center—or anything else, for that matter.
The building's ultimate fate will depend partly on the wishes of the Archdiocese of Indianapolis, which early on turned down a proposal from a local developer to turn the building into housing.
"In the end, it didn't work out," said Greg Otolski, director of communications for the archdiocese. "I don't know all the details, but it would have cost a great deal of money just to repair the building."
The pandemic put further discussions about reusing the structure more or less on hold.
"We would have been doing more this year on this issue, but basically in March our headquarters shut down," Dollase said.
He said he hopes to reconvene interested parties soon, assess where the redevelopment process stands, and find a way to move forward.
"I don't think anybody would rather have an empty lot there," he said. "We just need to bring everybody together again, to continue the dialogue around what's going to happen," he said.•
Please enable JavaScript to view this content.