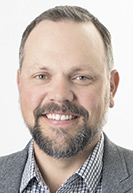 Indianapolis-based Luna Language Services, which provides interpreting and translation services to a client base that includes some of Indiana's largest employers, has been acquired by Philadelphia-based Globo Language solutions.
Globo declined to disclose financial terms of the transaction. The deal closed March 31 but the companies only announced it publicly this week.
Luna was founded in 2001 by Chris Waters, a Carmel native who at the time had just returned to the United States after serving two years in the Dominican Republic with the Peace Corps. The company was originally known as Indianapolis Interpreters before rebranding as Luna in 2014.
The company has 60 Indianapolis employees in addition to a network of independent contractors who provide most of the company's interpreting and translation services. Luna offers in-person, telephone and video interpreting services, plus document translation and other services, in more than 200 spoken languages, plus American Sign Language. Its annual revenue last year was $15.5 million.
Luna's largest customer base is in the health care industry, though it also has clients in the legal, distribution and biotechnology industries. Clients include Indiana University Health, Community Health Network, Franciscan Health, Walmart and Marion County's superior court system.
Waters said the business had grown to a point where it needed new leadership, which is what motivated Luna's interest in being acquired.
"It had gotten to this size where it needed, instead of the founder, it needed somebody with a different skill set," he said.
Another motivator, Waters said, was that Luna felt the need to update its technology, and that being acquired was one way to accomplish this. "Every industry is facing the challenges of technology and how you adapt to it and how you fold into it."
So Luna engaged Carmel-based investment banking firm Periculum Capital last year to scout potential acquirers. That's how Globo surfaced.
"Globo has a whole technology platform that Luna fits into really nicely," Waters said.
Globo's platform, accessible online or via a mobile phone app, allows clients to easily request in-person, phone or online interpreting services. The company also uses artificial intelligence and machine learning to help it predict and plan for times when customers will need interpreting services.
Globo brought in $36.2 million in revenue last year and had about 90 employees before acquiring Luna.
For its part, Globo was attracted by the chance to tap into Luna's network of interpreters.
"They're one of the leading interpretation services in the Midwest, said Globo CEO Dipak Patel.
Patel said Luna's corporate culture also was a good fit for Globo.
Like Luna, the biggest chunk of Globo's work is in the health care arena. Patel said more than 80% of Globo's business comes from insurance companies, hospital systems, physician offices and other health care clients. The remaining business comes from a mix of legal, financial services, education and government clients.
Waters said he and his wife, Luna President Marina Hadjioannou, plan to remain with the company through the end of the year to assist with the ownership transition, at which point they will step away from daily involvement in the company.
Luna will continue to operate under its current name because of the brand recognition associated with it, Waters said.
Both Waters and Patel said there are no plans to eliminate jobs at Luna, and in fact the combined company is in growth mode.
"We're growing quite rapidly and we're going to continue to grow," Patel said. "We just see there's a real opportunity to stand out in this space."
Please enable JavaScript to view this content.