With 24 million pounds of sand and 800 feet of shoreline in place, Fishers is getting ready to open Geist Waterfront Park.
The 70-acre park along Geist Reservoir will debut April 22—about a month later than initially planned—after three years of construction. Access to the much-anticipated beach will begin May 27, with the season ending Sept. 4.
Visitors to the park at 10811 Olio Road will find a 100-yard-long beach along a cove with a channel connecting the cove to Geist Reservoir.
"We think this will be a well-sought-out amenity in our community that has not been available for the general public really in its entire history," Mayor Scott Fadness said.
The city expects more than 150,000 visitors will come to the park during beach season between Memorial Day and Labor Day. Another 100,000 people are anticipated during the cooler months of the year, according to Fishers Parks and Recreation Director Marissa Deckert.
Lifeguards will be on duty during beach hours from 10 a.m. to 8 p.m., and the parks department plans to offer kayak and paddle board rentals. Visitors also will be able to bring their own kayaks and paddle boards and use the launch site. Concessions will be available at the park.
A playground includes an elaborate pirate ship-themed structure along with other equipment.
Trails were planned for a later phase of the park, but the parks department was able to include a partial trail network for this spring's opening. Later construction phases will create walking trails through the woods and along the reservoir. When the project is complete, there will be about 1-1/2 miles of chipped rock-covered trails.
Deckert said the city is looking at different types of programming for the park that could include swim lessons and camps.
Geist Waterfront Park will be free to all Fishers residents, who will use a "smart pass" to access the park. The city is also developing a pricing structure for non-Fishers residents.
The park was designed by Indianapolis-based Browning Day and was planned to be built in three stages. City officials expect the park to be fully complete by 2040.
The Landing, the $16 million first phase of the park that's about to open, also includes a gated entrance, a parking lot with a welcome station, a fishing pier, shelters, a community building with restrooms, greenspace for multi-sport events like triathlons, and an accessibility ramp leading to the beach.
"We just kind of took all those different elements and tried to fit them on the site the best we could," said Tom Green, a project manager for Browning Day who led the design planning for Geist Waterfront Park.
First of its kind
Geist Waterfront Park will be the first public area along the 1,900-acre reservoir, whose perimeter is dominated by upscale residential developments.
Geist Reservoir, named for Clarence H. Geist, the former owner of the Indianapolis Water Co., was constructed in 1943 as an additional water supply for Indianapolis. It was created by damming Fall Creek and became the second-largest man-made lake in Indiana.
Lake Monroe in Bloomington is the state's largest man-made body of water.
"I think that really the point here is that we have an amenity in our community that was not being enjoyed by everyone in our community," Fadness said. "And the city stepped in and made the investment so that now, for current Fishers residents and future Fishers residents, they'll have the opportunity to have access to that natural amenity."
Fadness began the process of putting a new park in place in 2017 when he announced plans to purchase and redevelop Irving Materials Inc.'s 70-acre aggregate mine at the southeast corner of the Olio Street Bridge.
The city bought the land for $15.7 million after an eminent domain proceeding.
The Fishers City Council financed the first phase by issuing $16 million in bonds. City officials said in 2020 the bond sale would not cause a tax increase because debt payments will not start until other city debt rolls off the books in 2024.
To build the cove, workers constructed a dam to cut it off from Geist Reservoir. They relocated more than 10,000 pounds of fish to the reservoir, drained the cove, dredged it and built up the floor of the swimming area, which extends 50 feet from the shoreline with a gradual increase in depth to five feet.
Deckert said six industrial aerators were installed and the dam was deconstructed, allowing water to fill the cove and fish to return.
"This was a complex construction project, and there was a tremendous amount of earthwork that needed to happen to create the beautiful beach that sits here today," Deckert said.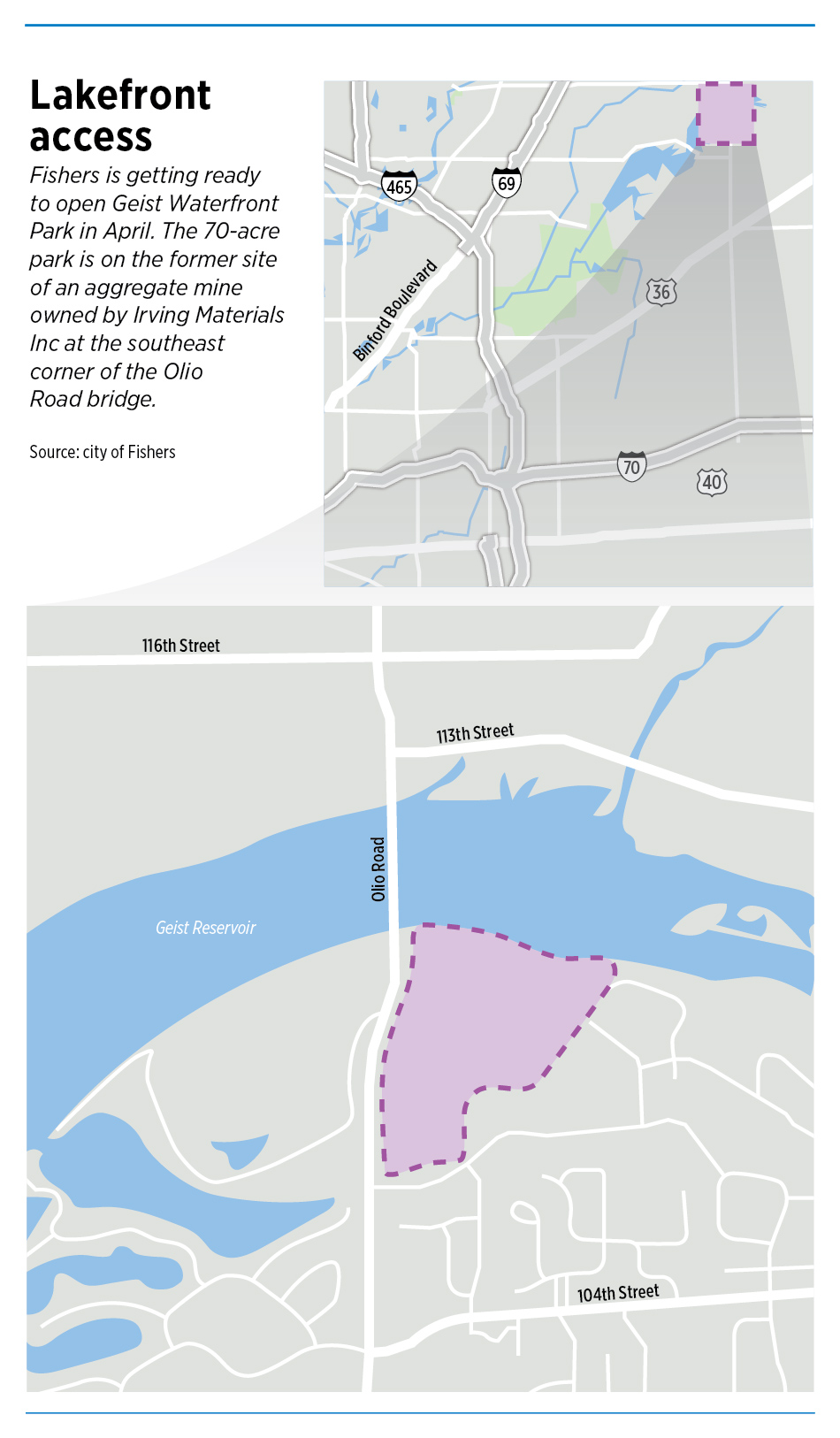 Soil produced by the dredging and boulders and rocks uncovered during construction were used throughout the park. The rocks were also used on the large gateway wall at the entrance.
Green with Browning Day said places he has visited, like Lake Tahoe in California and Nevada, provided inspiration for Geist Waterfront Park. Green lives near the park and said it will be a place he and his family will visit.
"I knew that if I didn't succeed at making this thing cool, then I would get to hear about it from all my friends and family," he said.
Fadness said Geist Waterfront Park is "passive" in the sense that it does not have athletic fields like other parks in the area.
"People are able to engage with nature in general and the environment," he said. "There's a little bit of a state park feel to it in the sense that you're leveraging the natural environment there on a probably broader scale than you would find in most municipal parks."
Future stages
Plans for the next two stages of the park are tentative and will allow future city leaders to reflect on what the park needs. Fadness said his initial two goals— to secure the land for the residents of Fishers in perpetuity and build a functioning park—already have been met.
"The idea was to get the land under control because everything was being developed so quickly," Fadness said. "We really want to get the facility open and have our folks operate it for a few years before we start entertaining any future phases."
The initial plan for the park did lay out the two additional phases, however.
Creekside, the second phase, was estimated to cost $5.7 million. If the initial plan goes forward, that phase is slated to include a boardwalk stretching over wetlands, trails, a waterfront nature pavilion with a fireplace, a nature-themed playscape, an outdoor adventure course and additional restrooms.
The Uplands, the final phase, was estimated to cost $5.3 million and slated to include the restoration of native woodland and prairie ecosystems, an overlook plaza, a non-motorized boat launch, paved and soft-surface nature trails, a wildflower garden, picnic shelters, and screening from the nearby neighborhoods.
"The future phases are not a requirement to make this a wonderful amenity for the residents of Fishers today," Fadness said. "What it does do is it affords future administrations and future leaders the opportunity to invest in property that we secured when we made the original purchase."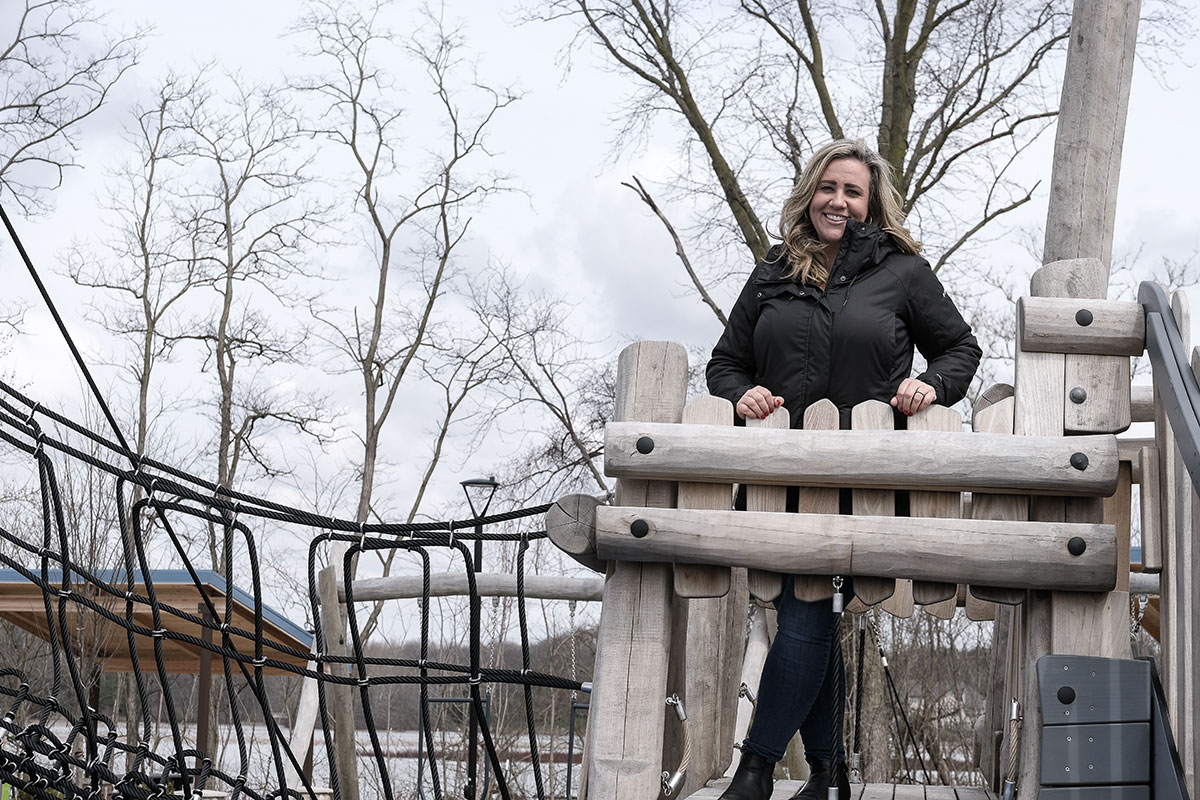 Big investment
Fadness said the Geist project is part of a "historic time period" for the city in terms of parks investment.
The city and Carmel-based CRG Residential broke ground this month on the $135 million RiverPlace project at East 96th Street and Allisonville Road.
The project will include a 381-unit apartment complex, 81 townhouses and 35,000-square-feet of retail space. But it also will increase the size of a planned White River passive nature park to 125 acres.
Construction also began this month on the final stretch of the Nickel Plate Trail in Fishers, which will be completed in 2024. The last leg will include a bridge over East 96th Street and pave the final 1.3 miles of the path from East 96th Street to East 106th Street.
The $6.3 million project was partially funded by a $4.5 million Indiana Next Level Trails Grant.
Fadness said Fishers is also continuing to contemplate building a community center.
"I cannot think of another time where we have made this level of investment in a variety of fronts to really have a world-class park system for our community," he said.
A major goal of adding to the city's parks system and making other quality-of-life improvements is to entice people and businesses to move to Fishers.
"By doing so, we're going to attract really talented folks who want to live here," Fadness said. "And we all know the name of the game of economic development today is having really educated and talented people working in the community. So, I think they all converge on that overall strategy of developing a sustainable city for the future."•
Please enable JavaScript to view this content.