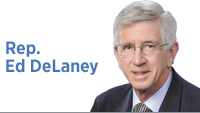 It can be difficult serving in a super-minority surrounded by self-professed "business-minded" Republicans. Their language can be confusing. For example, what is the difference between "management style" and "corporate culture"? They say these things are important and somehow different.
After more than 10 years of struggle, I have given up worrying about these subtleties. However you label it, Republicans are managing by self-satisfaction, whether you call that a style or a culture.
The formula for getting to this state is easy. First, the supermajority defines a prior period when the Democrats were briefly in the majority. That is described as the period of bankruptcy. Then you restart the clock in 2004, the beginning of the Glorious Restoration. The right people were back in charge.
As the story goes, it took but a few years to right the ship of state. The surplus swelled beyond reason. Corporate friends had taxes lowered and business-friendly magazines sang our praises. This period of open self-satisfaction set in about when Gov. Daniels left office and a man far more smug took over. We have been on a path bound for nowhere since. After all, when you are in heaven, what challenges do you admit to? When is the last time the governor or legislative leaders demanded anything of the public? Why challenge people if things are already perfect?
Meanwhile, back at home, far from the Statehouse, teachers lost ground in terms of influence. They saw their wallets shrink and the colleges of education empty out. Parents were kept busy trying to distinguish ISTEP from ILEARN. Wages stagnated. State tax support for universities stayed below 20% while student loan debt rose dramatically. Local roads crumbled while state highways became a focus—not of improved pavement, but of private-public partnerships. The business magazines hardly noticed the drift downward and the accolades only grew.
Ironically, while wallowing in self-praise, the supermajority seems to have forgotten the tenets of leadership. They see little need for preschool. They prefer coal to wind or natural gas. They watch as the small towns they are elected to represent lose schools and people and hospitals. They pretend that their leader in the White House is not blowing up the deficit or ruining the system of free trade that our farmers and manufacturers rely on.
The ballooning state surplus and the mantra of being debt-free are two pillars of self-satisfaction. Why use the surplus or borrow in order to invest? We might benefit from present low rates. We might strengthen our road system or our universities. We might even provide modern transit. But why do any of this if all is well?
Of course, investors avoid businesses and states that behave this way. Young people move elsewhere.
Where does self-satisfaction lead? It leads to a governor who sees mandates on the age of smoking and the use of cell phones as bold agenda items. It leads to an attorney general who lacks self-control, let alone contrition. It leads to a Legislature that ducks responsibility for an education crisis it caused. Oh, for the glory days of bankruptcy when a governor (think Bob Orr) might care about public schools, might make college more affordable (think Evan Bayh) or might even create an entire system of community colleges (think Frank O'Bannon).•
__________
DeLaney, an Indianapolis attorney, is a Democrat representing the 86th District in the Indiana House of Representatives. Send comments to ibjedit@ibj.com.
Please enable JavaScript to view this content.