Catherine Haake woke up early. Her parents had her skip breakfast, then took her to Riley Hospital for Children for a scheduled surgery to remove a bulging tangle of blood vessels on her back. By 9 a.m., the 2-year-old was wearing a hospital gown and waiting in the pre-op area in one of Riley's trademark red wagons.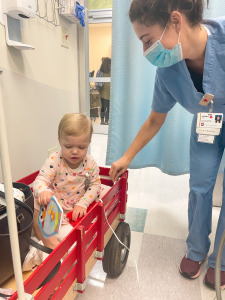 But the anesthesiologist walked in with a change of plans. Because of a pandemic-related lack of hospital beds, Catherine's outpatient procedure would be postponed until further notice.
The reason: If she should suffer a spasm of the vocal cords, as she had done a few months before during an imaging scan, doctors would need to insert an oxygen tube into her airways and hospitalize her, and the hospital had no free beds. Dismayed, the Haakes went home and waited.
"I was exceptionally frustrated," said her mother, Lindsay Haake. "But I completely understood the reasoning."
Four months later, the family is still in a holding pattern. Like tens of thousands of other Hoosiers who need elective surgery, they are worried and frustrated about a delay in hospital treatment for a family member. In the meantime, they are keeping a close eye on Catherine to make sure she doesn't bump or cut her back, which could result in heavy bleeding.
The situation is playing out across Indiana, as hospitals try to dig their way out of the latest pandemic surge that has filled beds and packed emergency rooms. Surgeons and administrators are calling patients, telling them their procedure has been postponed, perhaps for months.
Most of Indiana's hospitals have shelved elective surgeries—the medically necessary procedures that are normally scheduled at a patient's convenience and often require an overnight stay, such as tonsillectomies, hernia repairs and hip replacements.
Hospital officials say they have little recourse, as the latest wave of the pandemic has pushed them beyond capacity due to the high volume of patients, combined with a severe shortage of nurses and other patient-care workers that has forced them to take beds out of service.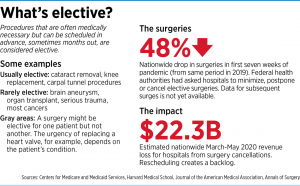 Indiana's hospitals were treating about 2,792 COVID-19 patients as of Jan. 31, about seven times higher than last summer. The pandemic's death toll topped 20,000 Hoosier last month.
In the meantime, hospitals have continued to perform surgeries for serious conditions that can't wait, such as gunshot wounds, heart attacks and cancer.
But the current wave of delayed procedures, which began last fall at many hospitals, is the longest so far, resulting in a backlog of tens of thousands of cases across the state. It's the latest challenge for hospitals already straining to deal with repeated surge-and-wane cycles of a pandemic that is approaching its second anniversary.
"Every time we have had a major COVID-19 surge, placing unprecedented demand on our health care workers, we have had to shift resources to care for those patients who need us," said Dr. Stephen Swinney, chief clinical officer at Ascension St. Vincent Indianapolis. "As a surge worsens, hospital staff are shifted to take care of sick patients admitted to the hospital. We try to do every procedure that we can every day, but when COVID is surging, some procedures have to be postponed."
'They're all feeling it'
Doctors say "elective surgery" is often misunderstood to be something minor or optional, such as cosmetic surgery. But it refers to a wide raft of procedures, from repairing hernias to removing kidney stones, that could involve an overnight stay.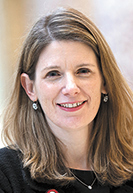 By their nature, elective procedures can be postponed for a while, but not indefinitely. A patient needing a hip replacement, for example, could feel pain increasing by the week, doctors say, and that could keep the patient confined to bed for longer than desired. And a patient needing a heart valve could eventually face heart failure.
"If a patient needs a heart valve, the longer the delay, the more likely their surgery becomes urgent or emergent," said Dr. Michele Saysana, vice president of quality at Indiana University Health, the state's largest hospital system. That means the procedure suddenly becomes serious and time-sensitive, and needs to be scheduled right away.
It's a major frustration for patients, families and doctors, who are trying to take care of medical problems, only to be told to wait.
In the face of that, doctors are searching high and low for hospitals with free beds that can take a patient who needs an elective procedure. Much of the time, they are running into delay after delay.
"Everybody is working in a stressed environment," said Dr. Gerald Harmon, a family-practice physician in South Carolina and president of the American Medical Association. "It's not like I can tell my patient, 'Let's go to another hospital,' because they're all feeling it."
Hospitals in nearly half the states in the country have announced they would postpone elective surgeries, according to Reuters. At least three states—New York, Illinois and Massachusetts—have implemented or recommended statewide delays.
Some health care observers say parts of the system have come to the brink of collapse, notably rural and financially weak hospitals that can't afford to hire expensive replacements for nurses and other health care workers.
And for many hospitals, postponing lucrative elective procedures, such as knee replacements, is taking a huge bite out of revenue just as they need to spend more money on supplies and protective gear. On top of that, there is no statewide system for keeping track in real time of which hospitals have open beds.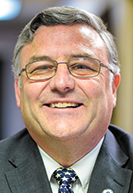 "What we are seeing is a product of the chronic fragmentation of the health care system and poor data flows," said Nicolas Terry, a law professor at Indiana University McKinney School of Law and director of its Center for Law and Health. "Without centralization, it is difficult to determine where the beds are, where [ambulances] should deliver patients, et cetera."
It's all been a big challenge for doctors and medical teams, to have to tell patients their surgeries have been postponed for weeks or months. In many cases, patients have to make new plans to take time off from work or school, and line up transportation and home care with family and friends.
"They find out a day or so before that their elective surgery has been postponed," said Dr. David Welsh, a general surgeon in rural Batesville and past president of the Indiana State Medical Association. "And people are not happy."
Bigger-than-ever backlog
Hospital officials say they can't remember a time when they were forced to delay so many procedures for so long.
Over the years, some hospitals have been forced to deal with short disruptions caused by severe weather or cybersecurity hacks. Others have had patients pour into their emergency rooms after a chain-reaction highway crash or workplace accident.
"But never has the delay in services been so widespread and long in duration as what we have seen with the COVID-19 response," said Brian Tabor, president of the Indiana Hospital Association.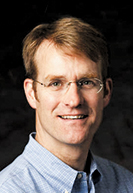 Nearly every hospital in Indiana is dealing with the delays in elective surgery, to one extent or another. They say their intensive care units and emergency rooms are nearing or exceeding capacity, and they are keeping a close eye on which elective procedures can wait a little longer.
Franciscan Health said returning to normal is still unclear, and elective procedures that can wait are not a top priority. "Depending on the specific case type and clinic need, it could be indefinite," said Dr. Christopher Doehring, vice president of medical affairs.
Community Health Network said it is postponing elective surgeries until early February. "But because this is a fluid situation, our team regularly assesses, and the time may change depending on the bed-capacity needs," the system said in a statement to IBJ.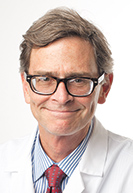 Eskenazi Health said its total number of surgeries actually climbed last year, due to a heavy number of emergency and urgent case, even as it shelved elective cases. And sometimes even calling a case "elective" is a judgment call, because untreated medical conditions can get critically worse faster than expected.
"None of these decisions are lightly taken," said Dr. David Crabb, Eskenazi's chief medical officer.
IU Health said the recent pandemic surge has been so intense and widespread that the hospital system's backlog has grown bigger than ever. IU Health operates 16 hospitals, including Riley Hospital, which was forced last fall to postpone elective surgeries for the first time since the pandemic began in March 2020. Last month, a team of Indiana National Guard workers, made up of clinical and clerical staff, was dispatched to Riley to lend a hand to its overwhelmed staff.
Catherine's journey
For the Haake family, the delays in getting treatment for their young daughter have been unsettling. Catherine was born in August 2019 with an abnormal connection of blood vessels known as arteriovenous malformation that resulted in a bulge on her back, between her left shoulder and her spine.
"There were no symptoms, other than the bulging spots on her back, which were raised and discolored," said Lindsay Haake.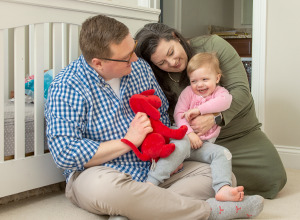 In an effort to confirm the diagnosis, doctors had ordered an MRI scan last spring. To help Catherine get through the close-quarters imaging process, the technicians gave her a sedative.
But during the process, Catherine suffered a convulsive movement of the vocal cords that blocked airflow into the lungs. The technicians had to use a manual resuscitator to help her breathe, a process called "bagging."
"They put a resuscitation bag on her mouth and provided her oxygen because her levels were dropping," Haake said. Her daughter has since been diagnosed with asthma.
But last fall, the parents were eager to get Catherine's tangled blood vessels treated. They scheduled an outpatient surgery at Riley for September, before the omicron variant, assuming she could go home the same day. The procedure would be performed by an interventional radiologist and a plastic surgeon.
But the timing would be unfavorable. The highly contagious delta variant was sweeping across Indiana, filling emergency rooms and intensive care units with COVID-19 patients. Officials at Riley decided to play it safe and began rescheduling elective surgeries that would require an overnight stay. Catherine's history of breathing problems raised concerns with doctors that she might have complications during her outpatient procedure, requiring hospitalization.
Catherine's father, Dan Haake, had to drive his two older children to school but arrived at Riley that day in time to hear the anesthesiologist say the procedure was being postponed.
"That was definitely frustrating," he said. "But at the same time, I understood the predicament they were in."
There are signs the delays might be letting up. Last week, as hospitalizations began to fall, IU Health officials said they were planning to resume elective surgeries this month. But they also warned that it could take weeks or months to work through the backlog.
They did not say how long it might take to get to a case like Catherine's.
"Now we have to start slowly, because we still have a significant COVID burden," said Dr. Paul Calkins, associate chief medical executive. "… It's going to take a while to ramp back up to serve all these folks that are waiting for us. But we're hoping to get to everybody as quickly as we can."•
Please enable JavaScript to view this content.