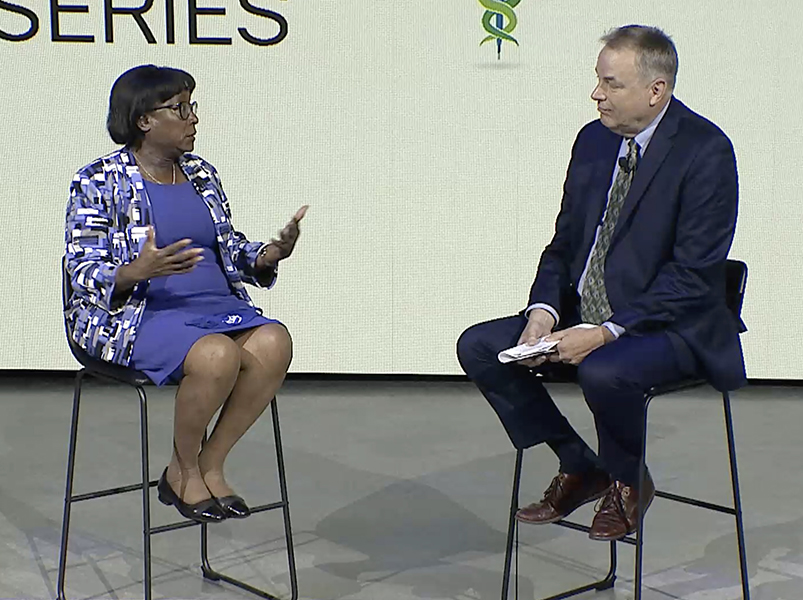 Marion County will delay moving to Stage 5 of Indiana's Back on Track recovery plan while health officials wait to see whether the number of COVID-19 cases holds steady or decreases.
"We have a greater potential for transmission of COVID-19 compared to any other county," Dr. Virginia Caine, director of the Marion County Department of Public Health, said Thursday morning during IBJ's Health Care & Benefits Power Breakfast panel discussion. "So we will not be moving to Stage 5 along with the governor's recommendation."
Gov. Eric Holcomb said Wednesday he was moving Indiana to Stage 5 starting on Saturday, a move that essentially lifts all restrictions, except for some social distancing requirements and regulatory conditions for larger crowds. Gov. The state has been in Stage 4.5 since July 1.
Holcomb's executive order allows local governments to impose more restrictive guidelines. Marion County has issued more stringent orders than the rest of the state throughout the pandemic.
Caine did not say when she expects Marion County to move to Stage 5. She said she was concerned that Marion County's population density might increase the number of cases sharply if officials did not take the right steps.
(See video below: Dr. Virginia Caine discusses Marion County's approach to reopening and how it's different from the state's.)
Marion County has been following a slower timeline for reopening than other counties. It didn't enter Stage 4 until June 19, one week after the rest of the state.
"Recently, we were doing wonderful and got down to 4.2% positivity rate," she said. "We were averaging no more than 25 cases a day. At the peak, we were seeing 300 cases daily. And so we went to Stage 4.5. … Unfortunately, because of population density and some other aspects, we saw our cases come right back up in a second peak. So we're moving a little bit more cautiously, in increments, just to make sure we're not going back in the wrong direction."
The positivity rate is a measurement of the number of all people tested for COVID-19 divided by the number of people who tested positive. Marion County's positivity rate for the past seven days is 4.7%, compared to the statewide rate of 3.9%.
Earlier this month, Mayor Joe Hogsett said bars and nightclubs could reopen at 25% capacity indoors and 50% capacity outdoors. Bar-top service will still be closed, and no dancing or live entertainment will be allowed. Customers must be seated at tables containing no more than six patrons and are required to wear masks when walking around. Bars and nightclubs also will have to close at midnight.
But in many other counties, Holcomb's order to move to Stage 5 lifts capacity limits on restaurants, bars, nightclubs, fitness centers, convention centers, amusement parks, cultural and tourism sites, horse-racing facilities and raceways. Holcomb said guidelines that call for six feet of social distancing could still reduce the capacity numbers.
Holcomb previously lifted most of the state's travel and business restrictions while keeping in place limits on crowd sizes for restaurants, bars and public events. He has credited the mask order and other actions with holding down the state's COVID-19 death and hospitalization rates.
On Thursday, the Indiana State Department of Health reported that 920 additional Hoosiers have been diagnosed with COVID-19 through testing at the state laboratory, the Centers for Disease Control and Prevention and private laboratories, bringing to 114,236 the total number of Indiana residents known to have the novel coronavirus following corrections to the previous day's dashboard.
A total of 3,322 Hoosiers are confirmed to have died from COVID-19, an increase of 17 from Wednesday, the state health department said.
Please enable JavaScript to view this content.