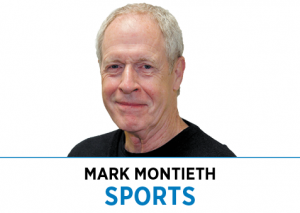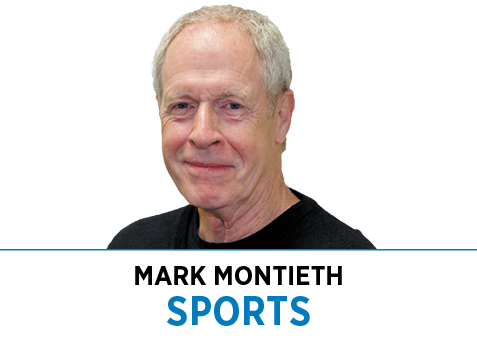 Indiana University coach Bob Knight once grabbed a player by the jersey during a game and yanked him toward the bench. Another time, he put his hand on a player's neck and appeared to choke him during practice. Both acts were inspired by turnovers. Most famously, he once threw a chair across the court while a player from the opposing team was preparing to shoot a technical free throw.
Pacers coach Bob "Slick" Leonard was known for blistering tirades in the locker room and on the practice court and once went after a lackadaisical player with a hockey stick at halftime of a game. To protest officials' calls, he threw a rack full of balls onto the court and kicked a ball into the stands. On rare occasions, he even put his hands on referees.
Purdue coach Gene Keady could scream with the best of them and once broke a locker room door after violently shoving it open following a verbal assault on an underperforming player following practice. He was known to take off his sport coat and slam it on the court or throw it into the stands.
Those are three of the greatest basketball coaches ever to pace a sideline in the state of Indiana, or any other state for that matter. Knight and Leonard are in the Naismith Basketball Hall of Fame. Keady is in the National Collegiate Basketball Hall of Fame and has been nominated for the Naismith Hall. All three have been admitted to the Indiana Basketball Hall of Fame.
Legends all. But would their methods fly today? Surely not for long.
For fans who grew up following the teams of those coaches, watching today's mentors operate with relative calm and decorum can be a bit jarring. But society has changed dramatically since those three began coaching in the 1960s. That means players have changed, which means coaches have had to adjust their approach, which means everyone following the games has had to adjust their perspective.
Some people will tell you today's players are softer, less respectful of authority, hold themselves less accountable and are as likely to quit as fight through adversity. Others would say they are more sophisticated and less likely to put up with the bullying tactics of a leader who has faults of his own. It's all likely true, to varying degrees.
Regardless, today's coaches—Hall of Famers included—have had to change with the seasons to get their points across, much like musical artists who adjust their styles to stay current.
Today's athletes are more empowered, for better and for worse. The Wild West atmosphere of social media emboldens them to speak out but also sets them up for harsh criticism from strangers. The undisciplined nature of summer AAU competition de-emphasizes fundamentals, deflates the stigma of losing, inflates egos and reduces the authority of the high school coach. In college, recent NCAA rules changes have shifted the balance of power toward the players, who now can transfer without sitting out a season and, if the opportunity arises, sell themselves to the highest bidder.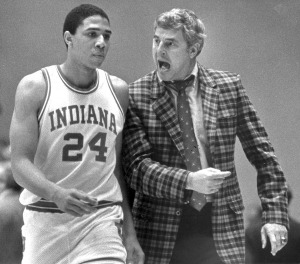 Even the ramped-up pace of the game has taken away some of the authority of coaches, who call fewer plays from the sideline. Parents also are generally more permissive than in past decades, meaning many athletes are unaccustomed to being told things they don't want to hear.
Making adjustments
It all combines to make athletes more vulnerable to social pressures. Some have succumbed to self-acknowledged mental health problems. Earlier this month, two Big Ten basketball players took time off for that reason. Patrick McCaffery, an Iowa guard whose father, Fran, coaches the team, cited anxiety issues that "inhibited my preparation and performance on the court." A few days later, Illinois' Skyy Clark stepped away for the purpose of "prioritizing myself and my family's well-being." Both players had been starters.
None of which means today's players aren't as good as in past decades or that the games aren't as entertaining. Nor does it mean the modern coaching methods aren't better and simply a reflection of progress.
Doug Mitchell, who coached at North Central High School from 1992-2018, said he had to soften his approach over the years. The volume was lowered and the language sanitized. He has some regrets about aspects of his early hard-nosed approach, although the feedback he gets from players of that era remains positive.
"Things are just different," he said. "If I could go back and think about how I tried to motivate my players, I would do it and say things a lot differently than I did. You can push kids without being so direct."
Jack Keefer adjusted, too. He coached at a small Grant County school, Oak Hill, for four years before taking over at Lawrence North in 1976 and retiring in 2022. Like Mitchell, he's a member of the Indiana Basketball Hall of Fame who saw it all.
"I was proud of the way I was able to adjust to different groups," he said. "You had to keep current."
That might mean cleaning up the language when addressing players or ordering up fewer "punishment drills" in practice such as run-'till-you-drop sprints. Keefer recalls a time as a high school player at Oak Hill when his coach was angry because some of the players had stayed out too late on New Year's Eve. He told them to run sprints and then went to his office to watch a bowl game on television.
"We were so stupid we kept running," Keefer said. "The kids today would go home. They're a different breed."
Purdue coach Matt Painter grew up a red-clad fan of Knight's IU teams and wound up playing for Keady at Purdue. He absorbed some of the methods of both coaches into his approach but not their personalities. Although capable of verbal tirades at times, he's rarely been called for a technical foul and hasn't thrown anything during a game.
"People are always going to model success," he said. "I've tried to steal from other coaches but not model their behavior. You can't steal somebody else's personality. You still have to be yourself."
Purdue's head coach since 2005, Painter said he's more patient than when he began. Practices have become shorter and are somewhat less demanding to avoid fatigue late in the season. He's softened his messaging.
"You learn to frame your words better," said Painter, who was inducted into the Indiana Basketball Hall of Fame last year. "The message is the same, but you try to be more constructive. I still yell. I still get on them, but our staff has done a better job of recruiting toward Purdue. We've gotten intelligent and skilled players across the board.
"I do think you have to keep people on edge. There are some guys you have to yell at more, but it's got to be something that's thought out so there's a purpose to it. If you're getting on them, you better know how they're going to react."
'Look at the positives'
What happens on the high school and college levels obviously filters up to the NBA, where Pacers coach Rick Carlisle works. Carlisle has been an NBA head coach since the 2001-2002 season, with a one-year gap between his first stint with the Pacers and his first season with Dallas in 2008. He's low-key by nature but has made constant adjustments.
He doesn't face some of the issues high school or college coaches faces, such as meddling parents and alumni, but has to deal with highly paid adults—most of whom are paid more than he is—who can demand respect. A hockey stick probably wouldn't help him get his point across.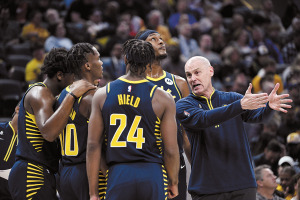 "It's so much different than even five years ago, really," he said.
"Social media has added different variables. Texting and all that plays a part. Most coaches follow their players on social media, so they keep up with what's happening with them on and off the floor."
Carlisle, who won an NBA championship with Dallas in 2011, chooses his words carefully when talking with the media, making sure to hand out praise even after one-sided losses. He sees "some good things" in even one-sided defeats, such as Saturday's 130-112 home-court loss to Memphis, when his two best players—Myles Turner and Tyrese Haliburton—sat out with injuries.
"I'm going to look at the positives," Carlisle said, then proceeded to point out Chris Duarte's strong performance after a long layoff as well as the contributions of two other reserves, T.J. McConnell and Terry Taylor.
"Except for some tough stretches tonight, the group was battling," he said. "It's an ongoing work in progress."
Carlisle has worked diligently on his communication skills throughout his coaching career, learning to focus on telling players what to do rather than what not to do.
"Paragraphs and phrases laced with 'don't do this' or 'don't do that' are not effective," he said.
"It's not just today's NBA player," he added. "This could go for any corporate workplace. That's why there are so many corporations that invest in teaching effective leadership methods."
Concessions
Even the old-school coaches were adjusting back in the day as their careers wound down. Carlisle recalled going to Bloomington with fellow Pacers assistant Dick Harter to meet with Knight during the NBA lockout season of 1998-1999.
"We went to dinner afterward, and it was one of the most fascinating conversations I've ever been part of," he said. "At that time, coach Knight was talking about some things he was doing that were adjusting to today's player—concessions that he was making for today's player based on the way things had changed and the way these kids had been brought up."
Authority figures aren't usually comfortable with making concessions. The word implies weakness, compromise, loss of power. But they are a reality for all coaches who want to survive in their profession—and aren't necessarily a bad thing.
"Evolution is constant," Carlisle said. "If you're not in a constant growth mode, you're going to get left behind."•
__________
Montieth, an Indianapolis native, is a longtime newspaper reporter and freelance writer. He is the author of three books: "Passion Play: Coach Gene Keady and the Purdue Boilermakers," "Reborn: The Pacers and the Return of Pro Basketball to Indianapolis," and "Extra Innings: My Life in Baseball," with former Indianapolis Indians President Max Schumacher.
Please enable JavaScript to view this content.