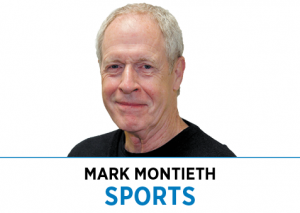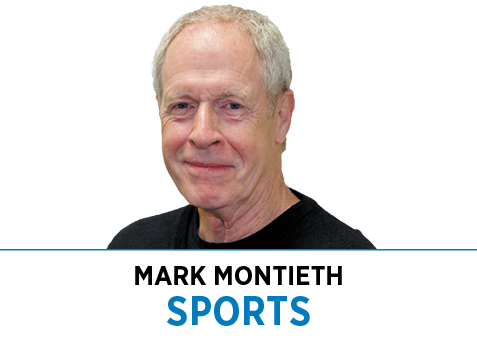 Season 57 for the Pacers is underway. This time around, the goal is qualifying for the playoffs rather than for the draft lottery.
It would be about time. The Pacers haven't suited up for a postseason game since 2020 when they lost in the first round to Miami in the COVID bubble in Orlando. They haven't advanced past the first round since 2014 when they reached the conference finals for the second year in a row.
That was nine years ago, a/k/a four coaches and five starting point guards ago. The Pacers are coming off one of their least-stable stretches in franchise history but now at least have the appearance of a solid nucleus that can grow together. They also have the lowest payroll in the league ($130.2 million) and two first-round draft picks in 2024, tools for prying loose more talent.
They could have adequate personnel to end their postseason drought, but those players are still young and poorly acquainted. They will have three new starters from last season most nights. NBA chemistry experiments usually take time, and sometimes blow up.
The Pacers also have a potential depth problem—not a lack of it, but too much of it. That might seem incongruous for a non-title-contending team, but credit the front office for addressing the roster nuances. Some players could wind up frustrated by their roles.
When you get right down to it, the Pacers' locker room is like every workplace. Some of the employees are underpaid, some are overpaid (well, maybe one), some are overlooked, some are rising stars, and some risk being shown the door.
Predicting a record is futile without knowing the season's injury reports in advance, but here are the broader themes:
◗ The best player will be Tyrese Haliburton, the only team member to have been selected to an NBA all-star team.
Haliburton had the best season a Pacers point guard has ever had last season, averaging 20.7 points on 49% shooting (40% from 3-point range) and 10.4 assists. No other point guard in franchise history has averaged as many assists and only one—Malcolm Brogdon, in 2020-2021—has averaged more points. And Brogdon was really a hybrid guard who looked to score more than pass.
Personal stats aside, Haliburton's value was best expressed by his absence. The team was 6-19 without him, 29-28 with him.
Just 23 years old and as cheerful as spring sunshine, Haliburton is poised to become the most popular Pacer since Reggie Miller. The front office has declared him the face of the franchise and has rewarded him accordingly. He's in the final year of his rookie contract, then will shift to the five-year, $260 million extension he signed in July. For perspective, Miller earned $104.5 million over 18 seasons.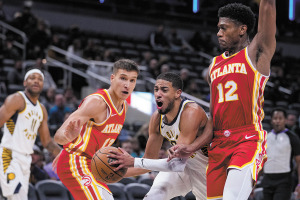 "I've never been around a more complete, empathetic, understanding-of-what-the-real-world-is, loving, taking-care-of-the-small-people, truly-committed-to-community leader like him," President of Basketball Operations Kevin Pritchard said. "I've never seen it. I've never seen a connector like Tyrese ever. Like, ever."
With that kind of endorsement and that kind of contract, expectations will be high. They should be. The talent around him has improved, so it will benefit the team if he shoots and scores less often (but not too less often) and focuses more on involving teammates. It goes against the nature of basketball for a point guard to lead a team in scoring, and rarely brings success. It's happened in six Pacers seasons, and all had losing records.
More than ever, Haliburton's leadership will be tested. He's a connector, sure, but he also should set a high standard for discipline and effort and challenge his teammates when necessary.
◗ The most influential player, however, could be Bruce Brown.
The free agent signee experienced firsthand what goes into winning a championship last season with Denver. He was a fan favorite there. A coach favorite, too. Michael Malone, at the Nuggets' victory celebration, promised Brown would be re-signed.
The Pacers said otherwise with a two-year contract that will pay Brown $22 million this season, more than three times what he was paid in Denver, about double his projected value and more than a Pacer has ever earned in a single season. That's also more than he's worth, but the signing was widely praised because of the circumstances. The Pacers not only had the money to spend, they needed to spend it.
The NBA's collective bargaining agreement requires teams to exhaust at least 90% of the salary cap in player salaries to qualify for the end-of-season distribution to teams that avoid the luxury tax. The Pacers have nine drafted players on rookie contracts and another, former second-round pick, Jordan Nwora, earning a reasonable $3 million. They had to overpay Brown to qualify for the rebate. They also have an option on the second year of Brown's contract, so the risk is short term.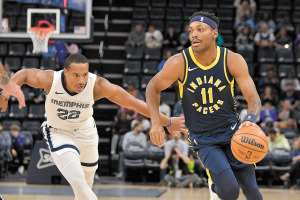 Brown, a former second-round draft pick, becomes a versatile role player earning a star player's paycheck. He'll need to justify it as best he can to avoid resentment from fans and teammates, especially as a defender. The Pacers allowed more points than all but one NBA team last season and had the fifth-worst defensive rating. They have a new defensive coordinator in assistant coach Jim Boylan, but it doesn't matter who's coordinating if the players aren't capable and willing.
Brown will need to assume more leadership and embrace the challenge of moving from a penthouse to a fixer-upper as rosters go, all while maintaining his focus and motivation amid an unexpected financial windfall.
Bennedict Mathurin was a first-team all-rookie selection last season, and Myles Turner's eighth season was his best. They are dependable and in ascending stages of their careers (Turner is only 26). The other early-season starter, trade acquisition Obi Toppin, is entering his fourth season. He turned down a contract extension to bet on himself and becomes a free agent after the season, so he'll be highly motivated.
Brown qualifies as the Pacers' primary X factor. He can be either inspirational or distracting. It's his call.
◗ Keep an eye on Aaron Nesmith, who earlier this week was signed to a three-year contract extension and appears capable of finally showing why he was drafted 14th overall three years ago.
Nesmith played two semi-promising seasons in Boston, where he was stuck behind all-star talent at his position but took a big step forward last season with the Pacers. Essentially doubling his playing time (25 minutes) and field-goal attempts (8.1), he averaged 10.1 points and hit 37% of his 3-pointers. He's a solid defender, too. In fact, defense might be his best leverage for wedging his way into the lineup for more playing time.
◗ Keep the other eye on Ben Sheppard, who was overshadowed in the draft by lottery pick Jarace Walker but not in the summer and fall games.
Sheppard, drafted 26th overall, was sneaky good in summer league and preseason play. He averaged 9.5 points in the four exhibition games earlier this month and offered intangibles. He pulls off the difficult task of making hustle plays while still playing under control. He averaged less than one turnover in the preseason, when he earned minutes with the second unit.
Turner recently called the 6-foot 6-inch Sheppard "the big surprise" of the team, and Haliburton said Sheppard and Nesmith had been the best players in training camp.
Like Nesmith, Sheppard has plenty of competition for playing time at the wing position but appears capable of forging a path. Eventually.
◗ Don't get too attached to Buddy Hield or Daniel Theis, although both are good players capable of contributing to winning teams.
Theis, in fact, already has. He was a starter on the Boston team that reached the NBA Finals in the 2021-2022 season until injuries intervened, and he excelled on the German national team that won the FIBA World Cup tournament over the summer. He scored 21 points and grabbed seven rebounds in the championship-game victory over the U.S. team.
He's had problems with injuries throughout his career, including last season when he played in just seven games for the Pacers, but he is capable of major production when healthy. He had 25 points and 16 rebounds for Boston in a game against Minnesota in February 2020, and 23 points and 12 rebounds for Chicago the following season. He was revitalized by his World Cup experience and eager to help some NBA team this season.
Hield, meanwhile, hit 288 3-pointers last season, second-most in the NBA and more than any Pacer has ever made (Reggie Miller's peak was 229). He justified the volume by hitting 42.5% of them. A notoriously poor defender throughout his career, he showed improvement in that area and set a career high for steals. He's also durable, rarely sitting out games because of injury.
The problem with both of these guys is that they have dared to live longer than 30 years. As established veterans who have reached their ceiling, they are out of sync with a roster filled with sprightly youngsters still learning the game. They deserve to play—somewhere—but it's illogical to have them taking minutes from young players on a rebuilding team that realistically can't expect to advance far in the playoffs.
Besides, Hield is in the last year of his contract, and Theis' contract includes just one season after this one—that one at the team's option. It only makes sense to get something in return for them rather than lose them to free agency next summer, and both are better suited to filling a role for a contending team than playing off the bench for the Pacers.
They shouldn't be given away, but no reasonable offer should be refused.•
__________
Montieth, an Indianapolis native, is a longtime newspaper reporter and freelance writer. He is the author of three books: "Passion Play: Coach Gene Keady and the Purdue Boilermakers," "Reborn: The Pacers and the Return of Pro Basketball to Indianapolis," and "Extra Innings: My Life in Baseball," with former Indianapolis Indians President Max Schumacher.
Please enable JavaScript to view this content.