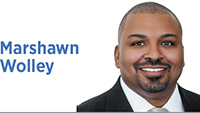 Learning more about Black businesses should be good for all financial institutions.
The Consumer Financial Protection Bureau is considering a rule to have financial institutions collect data on race similar to the way data is collected for home mortgages.
Concerns expressed by local financial institutions have included the cost of the regulation and suggestions that entities like the U.S. Small Business Administration already collect the data.
Even Black-led community development financial institutions—or CDFIs—have raised some concerns and made suggestions to improve the rule. But despite those modest reservations, organizations such as the African American Alliance of CDFIs are supportive of the rule.
The rule is important because there seems to be a gap between traditional banks and Black consumers of financial services and Black-led financial institutions. While conceptually, banks have every incentive to close deals regardless of race, the data we have from Black businesses suggests there are major challenges within the banking industry.
A 2021 Federal Reserve survey focused on firms owned by people of color found that only 13% of Black-owned firms received all the non-emergency funding they requested, compared with 40% of white-owned firms in the 12 months before the survey. Additionally, while firms of color account for 18% of small employers, they are growing faster than white-owned employers—11% from 2014 to 2016, compared with 1% for white-owned companies.
And according to a 2021 Harvard Business Review article, Black women are the fastest-growing segment of entrepreneurs—researchers found that 17% of Black women were in the process of starting a business, compared with 10% of white women and 15% of white men. Conceptually, Black businesses should be a growing segment of most bank loan portfolios, but are they?
The Federal Reserve study found that "even among firms with good credit scores, Black-owned firms were half as likely as white-owned firms to receive all of the financing they sought." So, understanding how to get more financing to conceptually creditworthy borrowers should be of benefit to the finance industry.
Bank utilization in the Black community is also different than in other communities. Another Federal Reserve study, this one released in May 2020, found that 46% of the Black community was unbanked or underbanked, compared with 32% of the Hispanic community and 14% of the white community nationally.
Documented discrimination at financial institutions includes red-lining, in which Black families are denied loans to buy in certain areas, and high-profile cases of "banking while black," in which Black customers are questioned or detained by police when taking their own money from banks. In addition, banks often leave Black neighborhoods, and there are documented disparities in the amount of information Black prospective customers receive when applying for a loan.
While there are generally three sides to any story, financial institutions haven't really been able to tell their side. Worse, since they don't have the data, they can't improve.
Andre Perry, a senior fellow at Brookings Metro, calculated that, if the number of Black-owned businesses reached parity with white-owned businesses, relative to their respective populations, and had revenue equal to that of non-Black-owned businesses, the impact to the economy would be $52 billion.
While the debate over the mechanics of the CFPB rule wages should continue, investing in collecting data on Black businesses and then properly leveraging that data could be a significant tool and of great benefit to financial institutions.
Collecting race data on business lending is more of an investment in an underserved market than a cost.•
__________
Wolley is President and CEO of Black Onyx Management, Inc. Send comments to ibjedit@ibj.com.

Click here for more Forefront columns.
Please enable JavaScript to view this content.