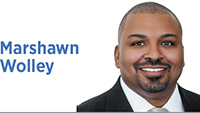 When did "diversity and equity" become a bad term?
According to a "Parents Bill of Rights," these two words are now euphemisms for Marxism—which, as a pronouncement, was certainly news to lots of folks.
Recent discussions on critical race theory have revealed more about anxieties over a changing society, what is not understood about a nearly 50-year-old academic critique on racism, and the worst kind of political ambition than anything else.
As with any theory, critical race theory has variations, but central tenants include that race is a social construct and that racism benefits white Americans.
Any theory should be judged by its explanatory power, and one aspect CRT offers is an analysis of systemic racism, institutional racism and even an exploration of the possibility of color-blind racism.
The theory also recognizes that people are more than just their race.
The controversy is all politics.
CRT is an advanced, graduate- or law-school-level theory. You have to understand how systems work before you critique them. The theory is advanced, which is why critiques of CRT have struggled to even explain it.
But the real question is, if "diversity and equity" are now terms that are to be dismissed, what language is supposed to replace them?
There are even more basic questions, like, do opponents of CRT believe racism exists? What does racism look like? Is it even possible to be racist anymore?
Is there any concern about the racial disparities in society? How might one explain them without the benefit of CRT concepts?
CRT doesn't have to be the only analysis that addresses race and power relationships, but I do wonder, how would CRT critics describe the relationship between race and power in society?
Better yet—what solutions do opponents of CRT offer to replace "diversity and equity"?
Will these solutions be compelling to people who experience the reality that CRT is able to explain?
The Pew Research Center surveyed over 10,000 U.S. adults last September and found that about half the country thought it very important for people in the United States to "educate themselves about the history of racial inequality in our country." In this study, 81% of Black respondents believed that being Black hurts a person's ability "to get ahead in our country these days" and 82% of the same respondents believed being white helps people get ahead.
In fact, 59% of all respondents said being white in America helps—are they wrong, too?
Do Black people not understand racism, systemic racism, institutional racism?
If Black people are wrong about their own lived experiences, why do others know better? Are Black people somehow culturally or intellectually inferior in some way that keeps them from being able to make accurate observations about their own lives? Do those who take issue with "diversity and equity" have ideas about what Black people are doing wrong in life to make them think that diversity and equity matter?
What about all the white people who agree with Black people about racism in society? Are they afflicted with the same malady infecting Black people?
CRT is a powerful critique of racism in society. If culture warriors have a theory of racism in society that people of color could find compelling, I'd like to hear it.
The current discussion on CRT seems designed to shut down an emerging conversation on diversity, equity and inclusion happening across the country. No solutions are offered. Just anger and grievance.
The reality is, making "diversity and equity" problematic is the problem.•

Click here for more Forefront columns.
Please enable JavaScript to view this content.