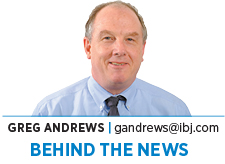 Protective Insurance Corp., which was founded nearly a century ago and employs 500, soon will disappear from Indiana's public company rolls, and part of the reason is Steve Shapiro, a guy you probably have never heard of.
The trucking insurer, which announced in February that it is being acquired by Ohio-based The Progressive Corp. for $338 million, might have remained an independent public company for decades into the future had Shapiro, as a company board member, not riled up the three top executives so much that they quit in unison in May 2016.
That development—shocking for a firm known for steady, evenhanded management— set the stage for Protective to accelerate growth, a move that ultimately weakened performance and put it on a path to a sale.
The sale of Protective, known for decades as Baldwin & Lyons, is a testament to the reality that seemingly innocuous developments, such as Shapiro's appointment as executive chairman in late 2015, can alter the course of companies that appear on an independent course.
Examples abound. Would athletic retailers have circled Indianapolis-based The Finish Line Inc. in 2018 had the board six years earlier not eliminated its two classes of stock, a move that received little attention but significantly reduced takeover barriers? Or would New Castle-based Ameriana Bancorp still be independent had an Illinois-based activist investor not stumbled across the firm in 2013 and started demanding better performance? (Ameriana sold for $69 million in 2015, and Finish Line sold for $558 million in 2018.)
The trio of Protective executives—CEO Joseph DeVito, Chief Financial Officer Patrick Corydon and Deputy Chairman Gary Miller—went on to launch a competing trucking insurer, Fishers-based DMC Insurance. They aren't commenting today, but DeVito held nothing back in his 2016 resignation letter.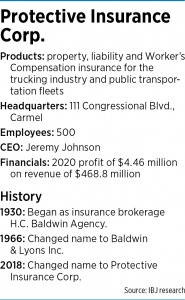 In the letter, he said Shapiro "does not have the necessary background or experience" to serve as executive chairman, a position he received "as a result of his family's ownership of stock." He said Shapiro had made dubious hiring decisions and pursued questionable growth strategies.
"Whoever was behind this obvious attempt to humiliate me personally and embarrass me publicly and professionally succeeded," DeVito wrote. "For that they should be ashamed."
The company stumbled after the trio left and saw a revolving door of leaders. As the rating agency A.M. Best wrote in an August 2019 report, "In the past two years, the group's emphasis was on growth rather than profitability in its attempt to strategically expand within its trucking fleet niche. The current management team is in the process of reunderwriting its business and has taken a number of remedial actions to restore profitability."
But Shapiro, 58, told IBJ the story is not so black and white.
It's true that the company opted to expand at what turned out to be a challenging time for the whole auto-insurance industry, said Shapiro, who left the board in 2018 and serves as chief investment officer of North Vernon Wealth Management in Highland Park, Illinois.
But he said results under prior management were not as rosy as they appeared at the time. The loss reserves that management recorded for 2013 through 2015 proved to be "very inadequate," resulting in charges later that dragged down results.
"It wasn't like it was great, and all of a sudden it went sour," Shapiro said.
With performance sputtering, Protective's board in late 2018 began exploring a sale, but put the kibosh on that process in February 2019 in light of the disappointing level of interest and potential pricing.
In the spring of 2020, Shapiro swooped in—teaming with a Connecticut investment manager and New York insurance executive on a bid to buy the voting stock they didn't already own for $18.30 a share, or a total of more than $44 million.
The board turned down the offer that June but opted to launch a broader effort to explore a sale, a process that included reaching out to 24 parties. The board considered a handful of overtures, including a new offer from Shapiro's group, before entering into exclusive negotiations with Progressive in January.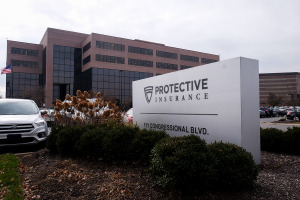 Progressive, which initially dangled $20.25 per share, ended up sealing the purchase at $23.30—almost exactly where the stock was trading when DeVito, Corydon and Miller resigned.
Getting back to even might sound respectable, given that voting shares traded for less than $15 in January. But it's less satisfying when you consider that, in that same span, the S&P 500 rallied 88%.
The Progressive deal gave shareholders a boost that otherwise might have taken years.
As A.M Best noted in a September 2020 report, "The group's operating results have … stabilized … and are on a trajectory of gradual improvement." Best maintained its negative outlook for Protective, noting the company is less profitable than its peers and can't change that reality overnight given "the long-tailed nature of its products."
When Protective announced its sale to Progressive, Best said it viewed the deal positively, saying the company "will become part of a larger organization with a strong market reputation and expanded geographic footprint."•
Please enable JavaScript to view this content.