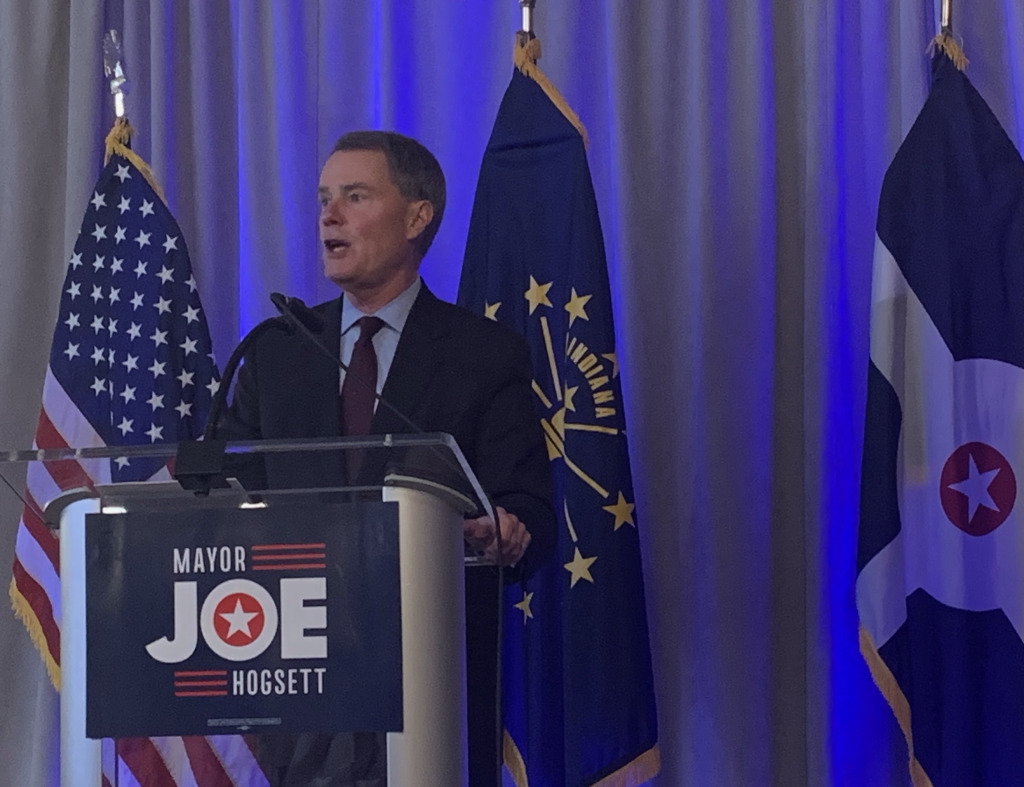 Mayor Joe Hogsett announced Tuesday night that he will seek a third term, setting the stage for a Democratic primary contest against Robin Shackleford, now a state representative.
"I stand before you to declare, that with your help, I intend to seek a third and final term as the mayor of Indianapolis," Hogsett told supporters at the Indianapolis City Market just before a fundraising event for his re-election campaign.
In his announcement speech, Hogsett noted that the pandemic left him with some unfinished business in his second term.
"Three years ago I stood before you on a night of celebration and opportunity," Hogsett said of the night of his reelection in 2019. Weeks later, the World Health Organization released a report detailing the dangers of COVID-19.
Hogsett said the pandemic prevented the city from "basking in the light of our best days."
He noted the accomplishments of the city during the pandemic, such as doling out federal COVID funding and hosting the entire NCAA men's basketball tournament, but said that's not what he's focusing on.
"All I can see are the things left undone," Hogsett said. "The train of progress brought to a screeching halt in March of 2020."
Among the things he wants to see to fruition is the full implementation of his three-year, $150 million violence reduction plan, which includes $9 million in new policing technology, funding for a hundred new officers and $45 million in funding for local organizations' anti-violence efforts.
He said he also wants to continue to work on a public-private partnership to revitalize the City Market, as well as the redevelopment of the Elevator Hill area, the old downtown jail and a lot next to the Old City Hall. And he wants to continue to push the Legislature to improve road funding for Marion County.
Hogsett said he sees "incredible opportunity over the next four years as we bring to bear a bold vision for the future of downtown."
Going for a third term will put Hogsett in competition with Shackleford for the Democratic nomination.  Shackleford is vying to be the city's first female mayor and first Black mayor.
Hogsett is the first Indianapolis mayor since Bart Peterson in 2007 to seek a third term. Peterson, a Democrat, was upset by Republican Greg Ballard, who went on to serve two terms.
The last Indianapolis mayor to serve more than two terms in office was the late Bill Hudnut. Hudnut spent four terms in office (1976-1992), making him the longest-serving mayor in city history.
Hogsett has previously expressed support for term limits. In 2015, he said "Eight years is long enough to accomplish what you want to accomplish," according to WFYI.
In his seven years in office, Hogsett has lifted a 35-year moratorium on new streetlights, and created a $1.1 billion five-year infrastructure plan and a three-year, $150 million anti-violence plan. 
Despite his focus on public safety, critics have raised concerns about rising violent crime in the city. In 2018, the average number of homicides per month in the Indianapolis Metropolitan Police Department's jurisdiction was 13. That rate hit a peak in 2021 with nearly 21 homicides per month. As of September, this year's monthly average was 17.
Before becoming Indianapolis mayor, Hogsett served as Indiana Secretary of State from 1989 to 1994 and chair of the Indiana Democratic Party from 2003 to 2004. He also ran unsuccessfully for three positions: U.S. Senate in 1992, Indiana's Second Congressional District in 1994 and Indiana Attorney General in 2004. From 2010 to 2014, Hogsett was the U.S. Attorney for the Southern District of Indiana.
Shackleford, chair of the Indiana Black Legislative Caucus, announced her candidacy for mayor Thursday. At her event at the Madam Walker Legacy Center, Shackleford emphasized that Hogsett hadn't made his intentions clear and said that she and Hogsett have had conversations. They found neutral ground on topics such as ending the process by which the Marion County Democratic Party chooses candidates, she told IBJ.
It won't be the first time Hogsett has faced a primary opponent. In 2019, he won 84% of the Democratic primary vote to defeat Denise Paul Hatch before beating former Republican Jim Merritt, a former state senator, in the general election. In 2015, he defeated Democrat Larry Vaughn in the primary with 89% of the vote before winning the general election against Republican Chuck Brewer.
At this point, Hogsett has a huge funding advantage: he had $2.4 million on hand and in investments in January, while Shackleford's pre-election reports show her House campaign has just over $8,000.
The two announcements seem to already be drawing lines within the Marion County Democratic Party. While Shackleford, chair of the Indiana Black Legislative Caucus, was supported Thursday by most of her caucus, Sen. Greg Taylor was slated to appear at Hogsett's event. 
Shackleford was part of a group of Black Democrats that advocated for Bell's resignation as party chair. She eventually did. Shackleford also led a group of candidates in the May 2022 primaries who chose not to participate in the county party's slating process in protest of so-called discriminatory practices.
On Thursday, Shackleford told IBJ the Marion County Democratic Party "is in the process of healing."
Please enable JavaScript to view this content.