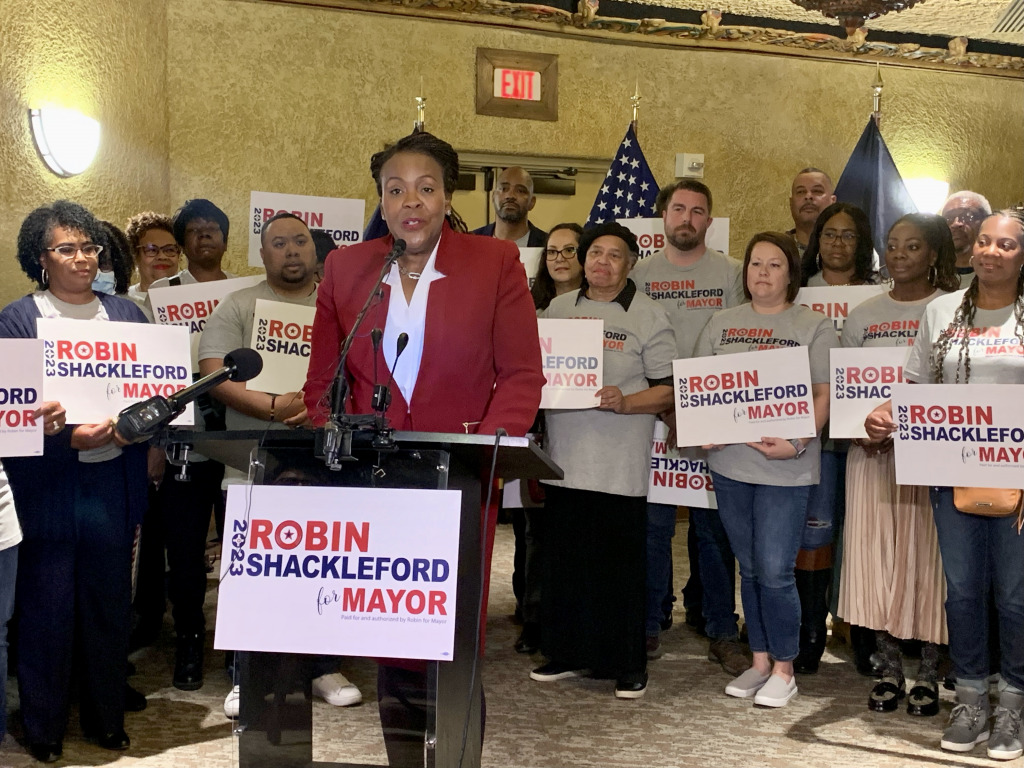 State Rep. Robin Shackleford, the chair of the Indiana Black Legislative Caucus, announced Thursday at the Madam Walker Legacy Center that she will seek the Democratic nomination to run for mayor of Indianapolis in 2023, a decision that could pit her against incumbent Mayor Joe Hogsett in the Democratic primary next May.
Hogsett is expected to announce his decision about seeking a third term before Thanksgiving. He told WISH-TV on Wednesday that he was "50/50" on seeking another term, but he already has a fundraiser on the calendar for next Tuesday and supporters say privately he is likely to run. At Shackleford's announcement, she emphasized that Hogsett has not made his intentions clear yet.
If elected, Shackleford, 52, would be the city's first African American and first woman to be elected Indianapolis mayor.
In a statement announcing her candidacy, Shackleford said Indianapolis is "a tale of two cities."
"One with good roads where residents don't worry about putting food on the table and feel safe in their homes," she said. The other is one "with pothole-ridden streets where residents struggle to get enough to eat and worry that at any moment a stray bullet will travel through their wall and strike their child."
"We need to bridge the gap between the two different versions of Indianapolis and prioritize making Indy a safer place to live work play and raise a family."
Some of her priorities include addressing root causes of crime, fixing the $1 billion road funding gap, increasing affordable housing, decreasing the achievement gap, eradicating food deserts and promoting an inclusive Indianapolis.
Shackleford is an independent life and health insurance broker at Family First Life who has represented the east side of Indianapolis in the Indiana House for 10 years. She is the ranking minority member of the House Public Health Committee and serves on the Courts and Criminal Code Committee, and the Financial Institutions and Insurance Committee. In 2019, became chair of the Indiana Black Legislative Caucus, which writes and supports legislation aimed at increasing economic opportunities for minority Hoosiers.
Last month, IBJ named Shackleford one of its 2022 Women of Influence honorees. 
If Hogsett decides to run again, Shackleford will not be his first opponent in a mayoral primary. In 2019, he won 84% of the Democratic primary vote to defeat Denise Paul Hatch before beating former Republican Jim Merritt, a former state senator, in the general election. In 2015, he defeated Democrat Larry Vaughn in the primary with 89% of the vote before winning the general election against Republican Chuck Brewer.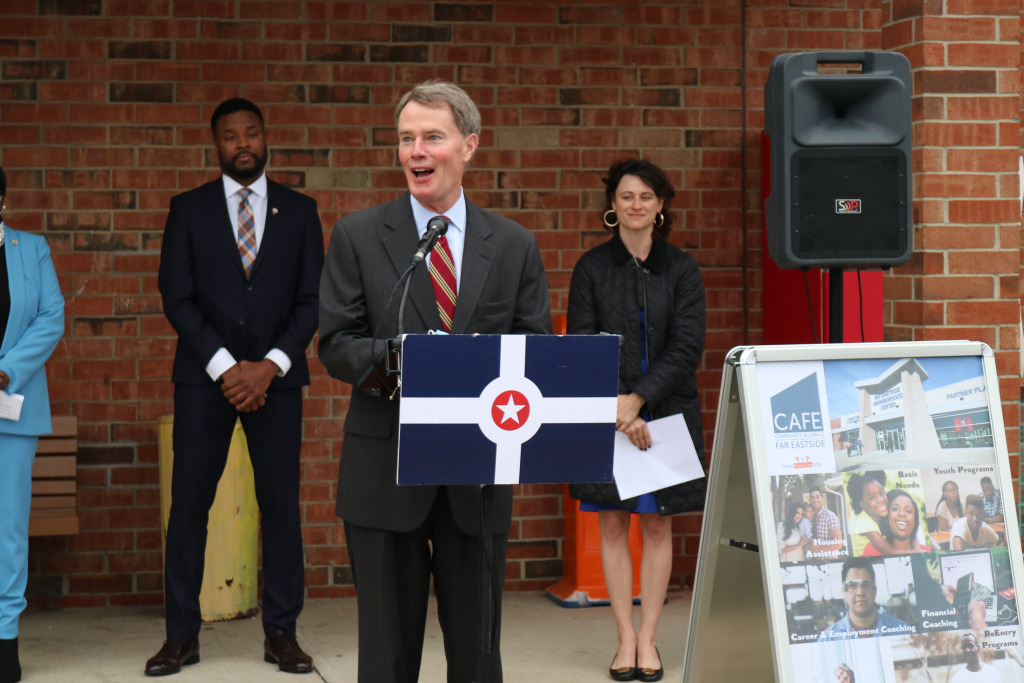 But Shackleford would be by far the best-known and most experienced Democrat to challenge him.
Hogsett would have a huge funding advantage: he had $2.4 million on hand and in investments in January, while Shackleford's pre-election reports show her House campaign has just over $8,000.
"I will say that we have started fundraising," she told IBJ. "I will be reaching out to large and small donors."
Shackleford's political career began with an unpaid internship with the Indiana Democratic Party while she was in graduate school at Indiana University-Purdue University Indianapolis. She later became a legislative assistant at the House of Representatives, where she became connected with mentor Rep. Bill Crawford. Crawford, who died in 2015, encouraged Shackleford to run for his seat prior to his retirement. 
Shackleford, who did not face an opponent Tuesday in her race for reelection in Indiana House District 98, has been critical of Hogsett and the Marion County Democratic Party's slating process, which she has called discriminatory. Slating is a process by which election hopefuls agree not to run in a primary if they are not the party's endorsed candidate. 
She was a leader of a group of Black candidates who refused to participate this spring's Democratic slating, although she had previously participated and been slated in previous years, all but ensuring her primary wins. After the May primary, Hogsett called for an end to Democratic Party slating and expressed support for open primaries.
Shackleford and other Black Democrats also called earlier this year for the resignation of Katie Sweeney Bell, then-chair of Marion County Democratic Party who had Hogsett's support. Eventually, Sweeney stepped down. 
Shackleford told IBJ Thursday that she's continuing her push for an alternative to slating.
"When I sat down with the mayor and we discussed my intentions to run, we also discussed slating," Shackleford said. "He did say that if he did run, he would be an advocate for ending slating."
Regarding her past concerns with the Marion County Democratic Party, Shackleford said the rift is on the mend.
"Our party is in the process of healing, and it's going to take time," Shackleford said. "There may still be a little division there, but everyone is working on [the idea that] we're all one family now."
Marion County Democratic Party spokesman Jeff Harris said Wednesday that Shackleford had not shared her plans to run for mayor with party officials. On Thursday, Shackleford said she's met with party officials and had discussions with Hogsett about her run. A spokesperson said it's possible Harris was not aware of these conversations.
Shackleford told IBJ in early September that she was exploring a run for Indianapolis mayor. At the time, she said Hogsett's decision about a third term would not impact her decision-making. "My candidacy will not depend on anyone else's candidacy," she told IBJ.
As a lawmaker, Shackleford's ability to pass bills is hurt by her position in the minority party. Republicans hold a so-called supermajority in the Indiana House and Senate, which means they have a quorum even if Democrats choose not to participate. For Democrats, passing legislation typically means finding a Republican lawmaker to serve as primary author.
In 2021, however, Shackleford was the co-author of bipartisan policing reform legislation in House Bill 1006 that was signed by the governor. The law largely bans the use of chokeholds, penalizes officers for intentionally turning off vehicle or body cameras, and makes it easier for the Indiana Law Enforcement Training Board to decertify bad-acting officers.
She has also authored bills regarding health care, childcare, small business development and racial bias training in hospitals, but none of those bills passed.
Shackleford previously was a project manager for both Crowe Horwath and Engaging Solutions consulting firms and has worked as a policy and research specialist for the Indiana Health Care Association. Shackleford also worked for former Indianapolis Mayor Bart Peterson as diversity affairs director.
Please enable JavaScript to view this content.