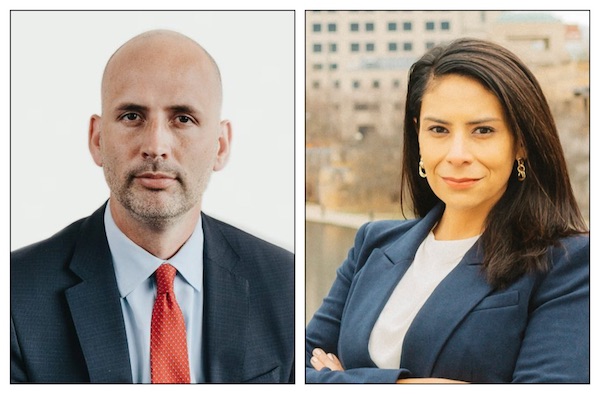 In a political panel at Castleton United Methodist Church on Tuesday evening, the two candidates for Marion County prosecutor clashed over how the office should be run.
Democratic Prosecutor Ryan Mears and Republican candidate Cyndi Carrasco disagreed on the role of a prosecutor in enforcing laws at the panel, which was hosted by the North Shadeland Alliance and moderated by WFYI's Jill Sheridan.
Mears' decision to not prosecute cases involving simple possession of marijuana or abortion was a hot topic, with Carrasco saying a prosecutor's oath requires them to apply the laws made by legislators. 
Mears argued that applying the law equally to all people sometimes requires prosecutors to decide not to apply laws that disproportionately affect people based on their race—such as marijuana possession laws—or gender, like abortion laws. He compared Carrasco's ideology to prosecuting Black individuals for using a white water fountain during the Jim Crow era, which yielded a mixture of cheers and boos from the crowd.
Although Carrasco disagreed with the blanket decision not to prosecute certain crimes, she said violent crime will be her priority.
"I'm not interested in pursuing doctors or nurses for abortion issues or people who are using a joint of marijuana," Carrasco said. 
Carrasco offered several criticisms of the way Mears runs his office. She called it a "revolving door" for repeat offenders, and said the rate of violent crime has increased since he took office.
Carrasco pointed to frequent news coverage of Indianapolis homicides and a poll done by IndyPolitics.org in which 77% of respondents said the county is less safe than it was a year ago. The same poll had Mears ahead of Carrasco, but with a large number of undecided voters.
Mears said the Prosecutor's Office has never had higher conviction rates at trial for homicide cases. He pointed to this result as an example of his cooperation with the Indianapolis Metropolitan Police Department, despite the Indianapolis Fraternal Order of Police's endorsement of his opponent and "no confidence" vote in his office.
Carrasco also emphasized that Mears was chosen by a Democratic caucus after the late Democratic Prosecutor Tim Curry's resignation, rather than by all voters in Marion County.
While much of Carrasco's campaign has included criticizing the plea deals Mears' office has made, he said he wouldn't criticize his opponent.
"You're never going to hear me go negative," Mears said.
The Indiana Statehouse and the city of Indianapolis are often at odds over policy decisions. Carrasco, who has worked for nearly 16 years in the Statehouse, said she would be able to work better with the Indiana General Assembly to change laws as the office sees fit.
Mears spent 12 years as a deputy prosecutor in Marion County. Regarding his decision not to prosecute abortion cases, Mears said it was also a signal to the Indiana legislature that Indianapolis does not support the state's new abortion law. 
He also suggested a change in the way judges are chosen in Marion County, since they are often "blamed" when people with criminal histories are  released and commit violent crime. He said judges, like the prosecutor, should be on the ballot.
"Those judges are appointed by Eric Holcomb, the governor," Mears said. "How many people live in Marion County? You do not have the right to vote for your judges."
If elected, Carrasco said she would eliminate any programs in the Prosecutor's Office that are duplicated elsewhere in order to save money so  prosecutors could be paid more. Those could include violence-reduction and reentry programs, which the Office of Public Health and Safety also takes on.
Archived footage from the discussion can be found on the North Shadeland Alliance Facebook page.
Please enable JavaScript to view this content.