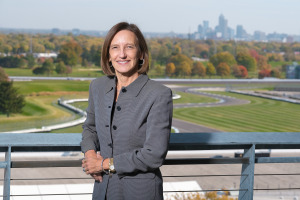 Allison Melangton's energy, organizational skills and wide network of professional contacts make her a force to be reckoned with in both sports and philanthropy. Yet Sandy Knapp, the legendary first executive director of the Indiana Sports Corp., can't recall their first meeting.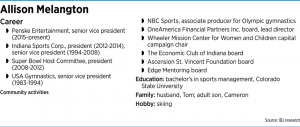 "Allison was just this tiny slip of a girl and very quiet," Knapp said. "In a group, you might not have noticed her."
They met in the summer of 1983, when Melangton, a recent Colorado State University graduate with a degree in sports management, was working for the U.S. Olympic Committee in Boulder, Colorado.
Knapp was in town for a USOC meeting, but she was also recruiting energetic people interested in helping make Indy a sports capital.
Melangton, enthralled by the scheme, approached Knapp for a fateful discussion that she, for her part, remembers perfectly. A few weeks later, she joined the staff of USA Gymnastics, which had recently moved to Indy. During her 11 years there, she would make a deeper impression on Knapp. To put it mildly.
"She was tough. She was professional. She was decisive," Knapp said. "So even though my first recollection was of this petite girl, I learned that there was an iron fist inside that velvet glove."
The real acid test came in 1992 when Knapp became chair of the board of USA Gymnastics and then its executive director when the previous executive director quit. Feeling distinctly out of her depth (and not even in Indianapolis anymore, having moved to Texas), she relied on Melangton and a small cadre of other staffers to make things work.
Melangton is "the perfect combination of a really smart woman who has her head on straight and who really cares about what she's doing and the commitments that she makes," Knapp said. "If she makes a commitment, you can count on her."
After decades of civic service, it's difficult to count all the commitments Melangton has made and fulfilled. Among a great many other jobs, she served as president of the Indiana Sports Corp. from 2012 to 2014; worked nine Olympic Games, six of them as an associate producer for NBC Sports (winning five Emmys in the process); served as president and CEO of the Super Bowl Host Committee from 2008 to 2012; and oversaw the 100th running of the Indianapolis 500 in her current role as senior vice president of Penske Entertainment (formerly Hulman Motorsports).
Melangton also led the United Way of Central Indiana Campaign and 100th Year Celebration in 2018 and the Wheeler Mission Women and Children's Center Capital Campaign from 2019 to 2021.
For such efforts Melangton, in recognition of her service to Indianapolis, is the 29th recipient of the Michael A. Carroll Award.
IBJ bestows the honor annually on a man or woman who has demonstrated the former deputy mayor's qualities of determination, humility and service. Carroll was among six people killed when two small planes collided over southern Marion County on Sept. 11, 1992.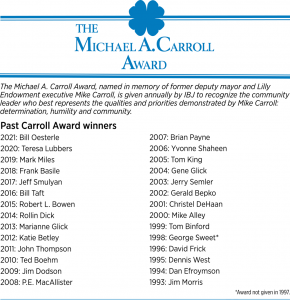 'I hope this works out'
Though Melangton, 61, has spent her professional life advancing Indianapolis' interests, she was born (and spent her entire childhood) in Maine. Her father, Norman Cummings, put skis on the feet of his two daughters (Melangton and her older sister, Lynn) as soon as they could walk. And he was dead serious about improving their skills.
"My dad was a very accomplished ski jumper," Melangton said. "He competed in college and competed at the Olympic Trials. From a young age—I think I was 4—he put my sister and I on skis. Instead of riding lifts, he taught us to sidestep all the way up the hill, and then ski down. It strengthened our legs, gave us balance and taught us to be comfortable on skis."
Though she's still a ski buff, by the fourth grade she started applying her strong legs and sense of balance to gymnastics—a pursuit she followed through high school and college.
After her encounter with Knapp in 1983, Melangton lined up a job with USA Gymnastics and shortly thereafter found herself living in a strange city where she didn't know a soul. Undaunted, she located a roommate with whom to share expenses, and the very next day reported to work.
"I remember walking into the building and thinking, 'I hope this works out,'" she recalled. "But the second I entered the office, the people were so nice and welcoming. They became the first community of people that I was exposed to."
It was her first chance to develop what many see as one of Melangton's superpowers—the fact that she knows so many people, from lower-level employees to the city's most prominent movers and shakers. She started boosting her contact list by immediately becoming a volunteer.
"There's nothing better than bringing two people who don't know each together by having them work on a volunteer project next to each other for four hours," she said. "It's a great way to meet people."
'Community showed up'
Reviewing Melangton's entire amateur-sports career would make for a book rather than an article. But there are two achievements of which she's most proud: her role in bringing the Super Bowl to Indianapolis and overseeing the 100th running of the Indianapolis 500 in 2016.
"I think that, professionally, those events are a tie," she said.
Melangton, who served as CEO and president of the 2012 Indianapolis Super Bowl Host Committee from 2008 to 2012, helped mastermind the city's bids for the game and also organized the local Super Bowl XLVI festivities. Widely considered one of the most successful in history, the event brought more than 1.1 million visitors to downtown.
It was such a success that Melangton was chosen to head an ultimately unsuccessful attempt to land the 2018 Super Bowl. While most people simply wouldn't have the bandwidth or the energy to handle something so large, Melangton did it while also facing a frightening family crisis. Her husband of 35 years, Tom, came down with a mysterious heart malady that sent him to the hospital multiple times with heart attacks. After long months of fear about the future, an implanted defibrillator alleviated the problem.
When Melangton looks back on the Super Bowl era, she dwells not on her own work and travails but on the contributions of the roughly 8,000 volunteers who helped make Indy's Super Bowl happen.
"I felt like the entire community showed up to help," she said. "I was part of the nucleus of people that pushed it forward, but thousands of people gave it everything they had to make that event a success."
Her near-supernatural organizational skills were also essential. For instance, right after Indianapolis won the right to host the Super Bowl (a full four years before the 2012 game), people started approaching her on the street, handing her their business cards and volunteering their services. Instead of losing those cards in the bottom of her purse, Melangton set them carefully aside. She soon had about 200.
"I took every business card I had, and I wrote on them the day I saw the person and where I saw them," she said. "And then, during the last year before the Super Bowl when I needed assistance with specific things, I started calling these people and saying, 'Remember me? We met outside of Harry & Izzy's, and you said to call if we needed help.'"
'It felt like such a buzzkill'
Melangton is also particularly proud of the Super Bowl's scarf-knitting program, which created 10,000 one-of-a-kind scarves that were distributed to the game's volunteers. It was such a viral success that, during game week, acquiring one became a status symbol for VIP visitors.
Yet it began almost as an act of desperation.
"Right after we got the game, my voicemail kept filling up with people who wanted to help," Melangton recalled. "But we weren't ready for volunteers yet. It felt like such a buzzkill. I remember going home that Friday thinking I had to find a way to get all this amazing energy focused in the right direction."
She and a friend spent the weekend white-boarding ways to get those eager beavers involved. They decided to have people all over the state—and eventually, all over the nation and world—start knitting commemorative scarfs.
"The reason I'm so proud of that program is not because people were knitting scarves," Melangton said. "It's because of why they were knitting them. Volunteers were knitting them for other volunteers, because they wanted them to stay warm while they were outside."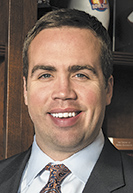 Even with the Super Bowl a decade gone, Melangton can still rattle off the names of particular scarf-knitters who put in extra effort. But that's part and parcel with her legendary attention to detail. She rarely forgets anyone, whether it's a corporate board member or a rank-and-file worker.
"People want to help her because they all know how personally invested she is in them," said Ryan Vaughn, who was president of the City-County Council during preparations for the Super Bowl and served as president of the Indiana Sports Corp. from 2014 to 2022, succeeding Melangton in the role.
"She was always so positive and excited about the opportunity and was always willing to make herself available to answer any questions," Vaughn said. "I've always been so impressed with how someone so busy could always be available to mentor and meet with young people who were just starting out and looking for advice. Her genuine caring, follow-up and follow-through are what helps her build so many meaningful connections. She's very special in that way."
'Tell me why I'm here'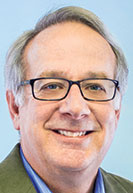 Melangton brings the same skills and energy to volunteer causes. The one that stands out is her leadership of the Wheeler Mission Center for Women and Children Capital Campaign. She was approached about it over lunch one day by Rick Alvis, CEO of Wheeler Mission, and an associate. They opened the conversation by asking her what was going on in her life.
Turns out, quite a bit.
"I went into this long list of things I had on my plate, and I could see their eyes getting bigger," Melangton recalled. "I finally said, 'Let me stop for a minute, and you tell me why I'm here.'"
Alvis fessed up, asking her to lead the fundraising program for a multimillion-dollar expansion of the Wheeler Mission homeless facilities. It would offer 164 permanent beds, including 30 transitional apartments for mothers with children, plus 40 emergency shelter beds, 15 more full-time staff members, and expanded on-site medical and mental health clinics.
Melangton said no. At least at first.
"Sitting there at lunch, it sounded overwhelming," she recalled. "But then I went home and thought and prayed about it. I thought about the women and children in Indianapolis who are on the streets, and I decided that was exactly what I was supposed to be doing."
Alvis said Melangton brought her vaunted organizational skills and formidable list of contacts to bear immediately
"We were having a challenge in a particular area, and she said, 'Have you talked to the mayor about this?'" he recalled. "I said, 'No, we've been trying to get to the mayor for three years, with no success.' So she picks up her phone and calls him and said, 'We've got a problem here that we need some help with.' I sat there and shook my head. The mayor's been a great friend ever since."
Originally, Wheeler hoped to raise $12 million for the project. With Melangton's help, it got $15 million—in spite of the fact that much of the fundraising took place during the pandemic. The center opened in August 2021.
Melangton said the issue resonated so strongly with her because she spent time talking to the women and children using Wheeler's services.
"It didn't feel grueling because I loved every person I was working with," she said. "I've listened to the women about how they got there and the things that can happen in life that you can't control. I've sat in the children's room with the kids and wanted to take every single one of them home with me. I'm passionate about this because this makes a difference."
'Our charge is to love people'
Melangton has to be passionate about the projects she tackles. Otherwise, she said, she couldn't go as hard as she does. And she can go very hard indeed.
For instance, in 2014 she left the Indiana Sports Corp. after 16 years (the last two as president) to become senior vice president at Hulman Motorsports (now Penske Entertainment). One of the reasons was the chance to take on an event that was just as daunting (though in different ways) as the Super Bowl—the 100th running of the Indianapolis 500, which took place in 2016.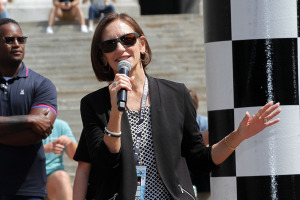 "It was so different from the Super Bowl, but just as impactful to me," she said. "Because the number of people at the track was four to five times greater than the number of people at the Super Bowl."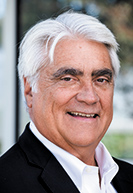 Melangton pulled off the first sellout in the history of the race, packing north of 350,000 people into the stands and grounds of the famed oval. Mark Miles, her boss at the Indianapolis Motor Speedway, was well aware of her can-do reputation, having also been extensively involved in Super Bowl bids and hosting preparations.
Miles remembers that, during the Super Bowl years, Melangton was always the first in the office in the morning and the last to leave in the evening. During the lead-up to the 100th Indy 500, she took that practice to the next level. She and a cadre of other female staffers set up air mattresses and slept at the IMS offices during May.
"It just wasn't worth it to go home if they lived in Carmel and had to be back before dawn," Miles said. "She inspired the group to just turn our offices into a dormitory and stay there."
Melangton is more than willing to go above and beyond for an interesting challenge. Or for a just cause.
"You have to really care about it if you're going to spend hundreds of hours of volunteer time on it," she said. "I'm a person who believes that, if we wake up every single day believing that our charge is to love people and make the world a better place because we're on it, then that's what I'm supposed to do. I try to live every day through that filter."
By the same token, Melangton won't hesitate to remove herself from a task if her enthusiasm flags or if she doesn't feel like her skill set is truly necessary for success.
For instance, she served as an associate producer for Summer Olympics gymnastics coverage from the Los Angeles games in 1984 to the Brazil games in 2020. For each Olympiad, she took a month or more off of work, headed to the host city and worked nonstop to make sure gymnastics coverage (usually for NBC) went off without a hitch. Finally, after the 2020 Summer Games in Brazil, she handed over the reins to someone else—a decision she doesn't regret in the slightest.
"I loved every single minute of it, but I'm a firm believer that everything has an expiration date," Melangton said. "And when I realized I wasn't jumping out of bed every day in Brazil and charging into the International Broadcast Center, I knew it was time."
'I have some more runway'
Though she knows when to quit a particular assignment, Melangton said she's definitely not ready to relinquish her current position—or, God forbid, quit working entirely.
"I feel like I have some more runway in which to make an impact," she said. "And in my current workplace, I feel like I'm having a positive effect. But on the day when I don't think I am, then I need to look at making a different choice."
For now, however, Melangton is content with her life as it is—hanging out with her husband; their grown son, Cameron, and his wife; and their two extended families. She also skis regularly and enjoys boating vacations.
In classic Melangton fashion, her typical workday still runs about 12 hours. But as Mark Miles points out, even in the midst of a major assignment, she can still occasionally get sidetracked. If the cause is right. For instance, during the frantic lead-up to the 100th Indianapolis 500, the two of them were driving around on some last-minute errand when they noticed a distraught woman with an infant stranded on the side of the road, next to a disabled car.
"So Allison, of course, insists that I slam on the brakes," Miles recalled. "I spent the rest of the afternoon with her. She helped get the woman's car taken care of and connected her with the right services to help her. Honestly, I don't know how many people would have even stopped in a situation like that, let alone devoted the next several hours to a complete stranger.
"But that's pretty indicative of Allison's heart."•
Please enable JavaScript to view this content.